Arrieta on Harper's ejection: 'I need him in RF'
Philadelphia Phillies starter Jake Arrieta called out teammate Bryce Harper following his fourth-inning ejection, saying he needs him in right field.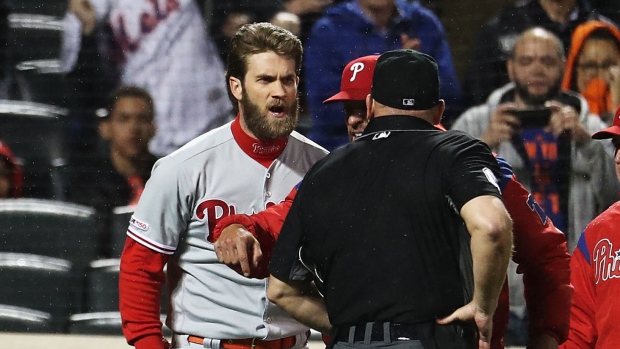 The Philadelphia Phillies lost 5-1 to the New York Mets Monday night in a game that saw Bryce Harper get ejected in the fourth inning.
After the loss, Phils starter Jake Arrieta called out his teammate.
"Look, I mean, [Harper's] got to understand we need him in right field. I don't care how bad the umpire is. He wasn't great for either side. I'm out there trying to make pitches, and he misses some calls. So what? We need him out there. I need him in right field, I need him at the plate, and he wasn't there. So that hurts," Arrieta said via the Philadelphia Inquirer.
"We were flat from start to finish. Two-hour delay, it doesn't matter. We have to be ready to play. We weren't, and it showed. The dugout was flat. The defense wasn't good. Didn't throw the ball well as a staff overall. We got beat. We started at 8:45. I don't think our guys were ready to play. We've got to come out tomorrow ready to play."
When the dust settled, Harper seemingly agreed with his starter.
"It just can't happen from my side," Harper said. "In a game like that against the Mets, division rival, it just can't happen, for me, myself and this team as well. We're a better team with me in the lineup, and I've got to stay in there."
With Philadelphia trailing by one run, Harper was called out on strikes by home plate umpire Mark Carlson to begin the fourth inning. Four batters later, Harper was tossed from the dugout and angrily came out to confront Carlson before being restrained by manager Gabe Kapler.
"I'm usually zero to 100. Calm, then bam!" Harper said.
"He made some comments in the dugout that were inappropriate that caused his ejection," Carlson told a pool reporter, adding the language Harper used was "personal." Carlson added he thought there was physical contact during the dispute stemming from Harper bumping Kapler into him.
"That decision will be made by Major League Baseball after watching the video," crew chief Brian Gorman said when asked if the contact was intentional.
Kapler said Harper should not have been tossed.
"Normal chirping from the dugout. I don't know how he was selected," the manager said.
Monday night was Harper's 12th career ejection but was the first time since July of 2015 that a player on the Phillies was tossed from a game.
The two teams will continue their series from Citi Field on Tuesday night, with Zach Eflin getting the ball for Philadelphia (12-10) and Zack Wheeler countering for the home side Mets (12-10).