Wings no longer interested in Phaneuf
Keep up to date on the latest trade, draft and free agent speculation and rumours from around the league. Friday's round-up includes reports that the Detroit Red Wings are no longer interested in acquiring Toronto Maple Leafs captain Dion Phaneuf.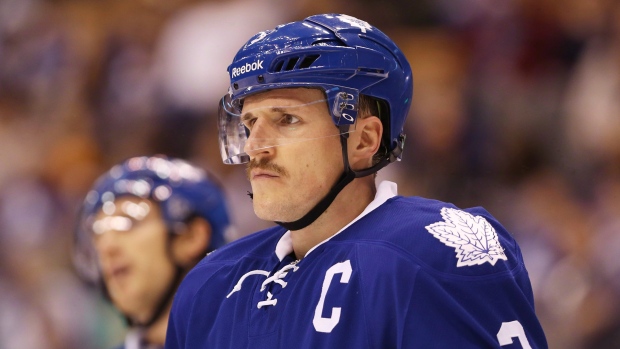 The NHL's off-season is upon us and teams are already looking to re-shape their rosters for a more successful 2015-16 season. Keep up to date on the latest trade/free agent speculation and rumours from around the league.
"No"-town
If the Toronto Maple Leafs are to find a new home for captain Dion Phaneuf, it might not be in Detroit.
M Live's Anasar Khan reported on Twitter Friday that the Red Wings "are no longer interested in pursuing a trade" for Phaneuf.
The Red Wings were rumoured to be interested in the 30-year-old blueliner at the trade deadline but were unable to agree with the Leafs on a fair return. The Wings instead struck a deal with the New Jersey Devils for veteran D-man Marek Zidlicky.
The Wings have seen key turnover this off-season with head coach Mike Babcock joining the Leafs as head coach and Grand Rapids Griffins (AHL) head coach Jeff Blashill taking over the big club.
Phaneuf is one of many Leafs veterans believed to be on the trading block as the Brendan Shanahan regime looks to re-shape the club's future.
Speaking of which…
Starting High
Phil Kessel is being shopped around ahead of the draft, but the asking price for the scoring winger remains high.
TSN Hockey Insider Pierre LeBrun of ESPN.com reports two rival executives as saying the Leafs' asking price for Kessel is too high.
"Two hockey executives from rival teams said that over the past several weeks the Leafs have a price for Kessel that is way, way too high. So the executives are staying away until it comes down. Can't blame Toronto for starting high. Why wouldn't you?
"They're going to have to eat more of his salary than they think right now," said one of the rival executives."
Kessel's partial no-trade clause includes only eight teams the 27-year-old can be traded to – the Boston Bruins, Chicago Blackhawks, Los Angeles Kings, Minnesota Wild, Montreal Canadiens, New York Rangers, Philadelphia Flyers and Pittsburgh Penguins, but can always be expanded if Kessel is intrigued by another deal.
TSN's Darren Dreger reports that while the Leafs are shopping both Kessel and defenceman Dion Phaneuf, they're willing to take both players into next season if the right offer isn't made.
Cap Casualties?
Winning a Stanley Cup comes with some costs. Appearing on NHL Live, TSN's Darren Dreger reports Patrick Sharp and Bryan Bickell could both be on their way out with the Chicago Blackhawks this off-season, with Sharp being connected to the Washington Capitals.
Dreger also notes defenceman Brent Seabrook may have been floated ahead of the Trade Deadline, but thinks the Blackhawks will find a way to keep him now.
St. Louis Shakeup?
LeBrun reports another team to keep an eye on leading up to the draft is the St. Louis Blues.
LeBrun reports veterans David Backes, T.J. Oshie, and Patrick Berglund could all be available, among others.
"Utterly disappointed with another playoff failure, change is in the offing within their core roster if there's a deal that makes sense. Word is the Blues would like to move apples for apples in any deal, which is a very difficult thing to do in the cap system, particularly in a summer when so many teams are looking to shed salary, not add any.
But if there's a deal out there that makes sense, word from rival executives is that the Blues are more open-minded than ever to move one of their long-standing core guys, whether that's David Backes, T.J. Oshie, Patrik Berglund or other veterans.
It's a delicate proposition in the sense that the Blues, by bringing back head coach Ken Hitchcock for one more season, are signaling that they're taking another run at it and why oddsmakers have listed them as a top-five contender for next season. But in in a perfect world, the Blues would like to return with a new face or two among their core."
Time is Running Out
The Minnesota Wild placed forward Matt Cooke on waivers for the purpose of a buyout Thursday, another move to free salary cap space for goaltender Devan Dubnyk.
But Michael Russo of the Star-Tribune reports Dubnyk and the Wild are still far from closing a deal ahead of free agency, which begins July 1.
"From what I understand, there has been little headway toward a new deal. In fact, maybe things changed yesterday or today, but there hasn't been a ton of communication between GM Chuck Fletcher and agent Mike Liut since that original meeting at the combine."
Russo said the two sides are expected to talk in Florida during draft week, but because of differing schedules, may not sit down until Dubnyk is also allowed to talk to other teams ahead of free agency.
"Liut and Fletcher are supposed to meet in South Florida during draft week about Dubnyk. But because of the GM's Meetings and Awards Show, Fletcher won't arrive in Fort Lauderdale until Thursday -- the day Dubnyk and Liut are also permitted to speak with other teams."
Oilers' Perspective
After TSN's Darren Dreger broke the news that several teams – including the Oilers – are interested in current New York Rangers' back-up Cam Talbot, David Staples of the Edmonton Journal broke down the situation from the Oilers' perspective.
Staples notes the abundance of goalies on the market and cautions the Oilers on overspending for a commodity not yet proven.
"There's little to differentiate in the available goalies, as only Kari Lehtonen of Dallas is a proven starter, but he shows signs of being past his best before date. Dreger contends there's a huge and heated market for Talbot. Perhaps he's using one source, Glen Sather, a bit too much.
There's no need for the Oilers to be desperate or to scramble. There looks to be more decent goalies than team's looking for a starter."
Half the Price
Two veteran players with big contracts are available on the market, with their teams also willing to take on some of their salaries to facilitate a deal.
Chip Alexander of the News & Observer reports Alex Semin is available in a trade, even if the Hurricanes retain part of the winger's salary.
"Semin, coming off an unproductive season, has three years remaining on a contract that pays him $7 million a year. A buyout would be expensive – $14 million, paid out over six years – but would free up salary and provide another roster spot.
Semin could also figure in various trade scenarios, even if Carolina has to retain part of his salary.
Asked about plans for Semin, Francis said, "It's too early to say. We're looking at all the options. Is it best to keep him here or should we do something else? At the right time we'll do what's best for our organization."
Alexander also notes the possibility of a buyout for Semin.
The other veteran available is Vincent Lecavalier. Tim Panaccio of CSNPhilly reports Flyers GM Ron Hextall has not submitted a buyout offer to Lecavalier and the preferred option is still a trade.
"Flyers general manager Ron Hextall told CSNPhilly.com that he did not submit a buyout offer to embattled forward Vinny Lecavalier, via his agent, Kent Hughes.
Just as last summer, the Flyers will continue to attempt moving the center-turned-winger in a trade this offseason. The Flyers had two near-deals going last June at the draft. One with Florida and one with Nashville. Both fell through."