Atkins: 'On the low side, probably three months' for Travis recovery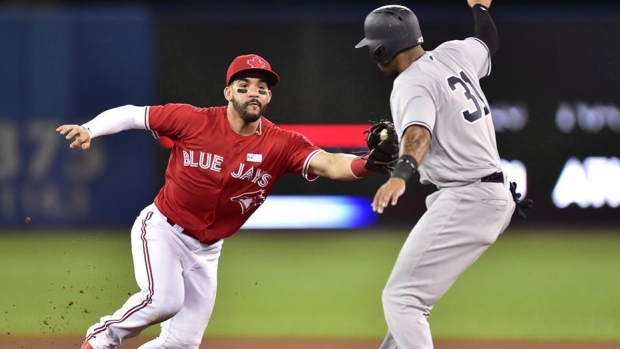 Ross Atkins was hesitant to put a concrete timeline on how long Devon Travis' latest right knee surgery will keep him out.
But even the best case scenario provided by the Toronto Blue Jays general manager isn't one that sounds overly positive.
"Usually, these procedures are a couple of months and into three and four months," Atkins said prior to Friday's series opener against the Chicago White Sox at Rogers Centre. "On the low side, probably three months. We'll see. There's nothing concrete about it. We're still learning about it. We're hopeful that we could see him again (this season), but certainly we don't want to put anything concrete out there about this year."
While Atkins didn't want to call Travis' season over, there isn't much wiggle room with a three-to-four month window, which would land between mid-September and mid-October.
Travis underwent surgery on the same knee last November to remove a flap of cartilage that, along with a bone bruise, ended his season during the playoffs.
That injury kept him out of game action for four-plus months until he returned late in spring training on March 24.
This time around, a debridement procedure was performed to clean up frayed cartilage, but Atkins said they were "pleasantly surprised" by the nature of the injury and the damage doctors found.
"The more we learned and the more information we got, the better it got for us," Atkins said.
"It's subtle and the difference is magnitude, really, in that it's less."
Travis is no stranger to the disabled list.
After struggling with shoulder issues and eventually undergoing two separate surgeries late in 2015, Travis returned last May to slash .300/.332/.454 with 11 home runs and 50 RBI in 101 games before the knee injuries cropped up.
Likely thanks in part to the late start to his spring, Travis crawled out the gates this season with a .130 average during the month of April, but he carried the Blue Jays at points during May, piling up 16 doubles, four home runs and 19 RBI to go along with a .364/.373/.646 slash line.
One of the reasons Atkins was hesitant to put a concrete timeline on Travis' stay on the DL is the 26-year-old second baseman's work ethic.
Travis has already arrived at the Jays' complex in Dunedin to start the recovery process.
"You use all the information and so much of it is the player and how much you believe in their work ethic and their commitment," Atkins said. "That's the biggest piece of the equation and, fortunately, we have a ton of faith and a ton of confidence in Devon.
"We'll see. Because of how much we believe in him and his commitment and how much he wants to be on the field, how hard he'll work to return, we just don't want to get too firm with a timeline just yet."
It's a huge blow to the Blue Jays' hopes of hanging around in the wild-card race, as they will be forced to go with a platoon of Ryan Goins, who has hit just .167 over his past 60 at-bats, and Darwin Barney.
Manager John Gibbons ruled out any chance of the now-healthy Steve Pearce seeing any time at second base.

SANCHEZ GETTING CLOSER
Aaron Sanchez took to the mound Friday for a 25-pitch bullpen session, the first time the 24-year-old has been on the bump since May 19.
"He's progressing exceptionally well," Atkins said.
With the blister issues that have plagued him for most of the season now healed, Friday was a big step for Sanchez, who is expected to travel with the team to Texas for the start of a four-game series with the Rangers on Monday.
Sanchez will need a rehab assignment, but Atkins believes a return prior to the July 10-13 All-Star break could still be a possibility.
"I think there's a chance of that," Atkins said. "It's just a day-by-day thing because of the nature of a blister."