Aubin-Mercier supports safety measures despite fight cancellation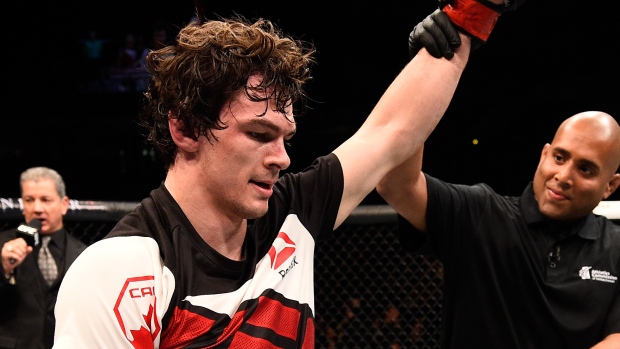 It cost him a chance to fight this weekend, but Canadian UFC lightweight Olivier Aubin-Mercier says he supports measures taken to prevent the unsafe practice of extreme weight cutting in mixed martial arts.
Aubin-Mercier was scheduled to fight Gilbert Burns this weekend at UFC Fight Night in Orlando, but the promotion's medical team cancelled the fight after Burns showed up to fight week at a weight considered unsafe for his cut.
"I think it's good that they do that [regulate fighters' weights]. It was just unfortunate that I was the first one that they would do it to," Aubin-Mercier told The TSN MMA Show. "I think it's a good idea, but I'm not lucky on this one. I guess you have to look at the good side and it can be a really positive thing for the sport, so I'm trying to think like that."
Sources told MMA Fighting that Burns showed up weighing 186 lbs., which is 30 pounds above the non-championship lightweight cutoff of 156 lbs.
Aubin-Mercier had already arrived in Orlando when he learned of the fight cancellation.
"I received a call to tell me that the fight was off. At first I didn't really know why and I was trying to get info, but it was really hard," Aubin-Mercier said. "The day after, I talked to [UFC matchmaker Sean] Shelby and he told me everything about how big he was and how the commission decided to cancel the fight because it was not healthy for him"
Aubin-Mercier said that he was not offered to fight at a catchweight and that he would have accepted the fight at 160 or even 165 pounds if Burns would have agreed to give him a percentage of his purse. The promotion is now working to reschedule him after the decision was made to not seek a replacement opponent for this card.
"I wanted to fight this weekend, but they told me that they are looking for something for me as soon as possible, so probably in the next two or three UFC events I will try to. They were really sympathetic about my situation and I was feeling better after he [Shelby] called me."
Aubin-Mercier is 10-2 overall and 6-2 in the UFC. He last fought in September against Tony Martin in Pittsburgh, winning by split decision after having previously won two in a row by rear-naked choke submission.
A new fight was offered for the UFC's Fight Night card in London, England on March 17, but his team advised him against taking it.
"They asked me to fight there [at UFC Fight Night in London], but me and my coaches didn't think it was a good idea, since I had already done a little bit of a weight cut. To do another weight cut and to take another plane wasn't such a good idea for fight week. So I decided not to take it," Aubin-Mercier said.
Aubin-Mercier is interested in fighting a few weeks after that at UFC 223 in Brooklyn, N.Y. on April 7.
"I would like to fight in New York. It would be easier for me than London for sure. I think it would be a good idea to fight there and a good experience too," said Aubin-Mercier.
Despite the cancellation, Aubin-Mercier has decided to make the most of a bad situation by staying in Orlando and enjoying some time in a warmer climate.
"I'm going to Universal today and tomorrow, probably going to see some fans at Disney," laughed Aubin-Mercier. "…I'm still going to try to have fun. It's nice weather here and it's really terrible in Montreal"