Babcock: 'Freddie was outstanding' in Leafs' win over Jackets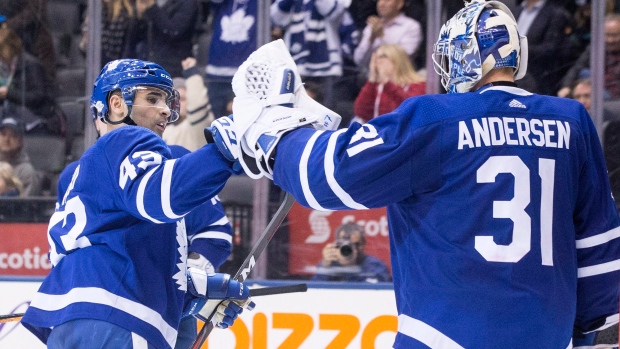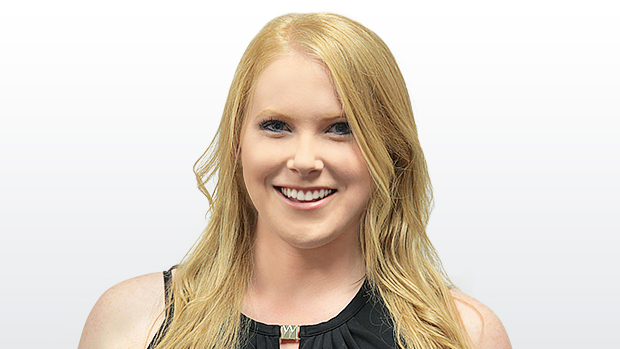 TORONTO – On a night when the Maple Leafs played far from their best hockey, Frederik Andersen turned in one of his most electrifying performances in recent memory.
Taking on a Columbus Blue Jackets team that had put 50 and 51 shots on net respectively in their previous two outings, Andersen made a career-high 54 stops while Nazem Kadri scored his fourth career hat trick as they led Toronto to a 6-3 victory Wednesday. It was the Leafs' ninth win in their last 10 games.
"That's Freddie's effort. Freddie was real good; we weren't very good for some reason," said Leafs coach Mike Babcock. "They had jump and we didn't. But we scored early and then we were able to score on our chances and Freddie was outstanding and we had some guys who really battled.
"I didn't think we were at any time that good, but we battled hard and found a way to get ourselves a win."
In ceding 57 shots to the Blue Jackets, Toronto not only surpassed their previous season-high of 48 shots against on Dec. 6 against the Calgary Flames, they became just the third team this season to allow 52 or more shots against in a game. Meanwhile, Columbus joined the 1955-56 Chicago Blackhawks as the only NHL team to ever fire 50 or more shots on net in three straight games.
By game's end, the shot attempts favoured Columbus 91-56.
The final score didn't swing in the Blue Jackets' favour, but if it weren't for Andersen, the Leafs may have found themselves in insurmountable trouble early on. While Toronto was able to jump out to an early 2-0 advantage off first period scores from Dominic Moore and Kadri, Andersen turned aside 18 of 19 shots in the first frame alone just to keep them up by a goal.
Columbus was in total control in Toronto's end, skating circles (literally) around the Leafs and torturing them with a strong cycle game. As the night wore on, the Leafs never achieved higher than 36 per cent possession in any period.
The last time Andersen was in a game as busy as Wednesday's was on May 19, 2015 when he played for the Anaheim Ducks, facing the Blackhawks in a triple-overtime playoff contest. Even then he still only made 53 stops. The 57 shots he faced on Wednesday was the second-most by any NHL goaltender this season.
"We were prepared for that, they've been throwing a lot of pucks on the net the last few games," said Andersen. "It's fun to face a lot of shots especially when [the guys] were giving me a good lane to see the puck. They had some periods where they were pressing a little bit more than usual, but it was a fun game. It wasn't the prettiest game but we found a way to win."
As ready as they were for the onslaught of shots, the business of beating a team that was dominating them in the defensive zone became significantly harder when Jake Gardiner left the game after playing just 5:44.
Babcock said after the game that Gardiner was dealing with "some sort of spasm" before the game and tried to play through it, but the medical staff couldn't get it to relax in time to return to the ice. The rest of Toronto's blueliners played nearly 20 minutes or more in his absence, making Andersen's strong night all the more timely while his blueliners were fighting fatigue.
"You look up at the shots you have against you, it's pretty tough to get confidence," said Travis Dermott, who was plus-2 with two assists. "But when you have a guy like Freddie behind you, he's going to stop the majority of those for the majority of the night, so it definitely gives us confidence.
"It's great having a guy like that back there."
In front of Andersen, Kadri's line with Patrick Marleau and Mitch Marner provided the only offensive spark the Leafs would have consistently, combining for 10 of the 16 points Toronto generated. They made Andersen's sensational night worthwhile, as well as highlighting the need for Toronto to recapture their balanced offensive attack that would take some of the pressure off Andersen to steal so many wins.
"What I said to the guys going into the third period is I said, 'Here we are, we're set up perfect.' I hadn't thought we'd played great, so let's get out and play," said Babcock. "Obviously, Mitch and Naz and Marleau had it going, they had it on a string; they were scoring enough that it left the rest of us able to leave with a win here tonight.
"And Freddie was outstanding. But it's good we have a day off tomorrow and can take a breath and get going again."
TAKEAWAYS
Men on fire
It's safe to say that no forwards have benefited from Babcock's line blending 10 games ago than the newly-formed Kadri line. On Wednesday, they were the only dangerous-looking forward line Toronto had, earning a decent measure of zone time and capitalizing on their chances. When it was all said and done, Kadri had registered the fourth hat trick of his career – the first at home – and his five total points set a new single-game career-high. In a game where the Leafs struggled to get any traction in the offensive zone, Kadri's line led the way with 38 per cent possession with a combined 10 shots on goal. As a unit, the Kadri line tallied 10 points in the game, adding to the 25 points they collectively amassed in their previous nine games. Since the addition of Marner, Kadri has found new life and put the 20-game cold streak (during which he scored just one goal and had one assist) firmly behind him. Since Jan. 24, Kadri has six goals and seven assists in 10 games. Marner has had similar success playing alongside Kadri – Wednesday marked the fifth even-strength goal Marner has scored in the last 10 games, compared to just three in his first 49 games shuffling between the Leafs' third and fourth lines. Marleau took a little more time to get his scoring touch back, but has now registered four points in three games. Babcock said after the game he didn't know exactly why Marner and Kadri have clicked so well when they had no chemistry to speak of last season, but Marner said it's the line's ability to play with so much speed that helps set them apart. The unit is also generating offence from their defence and has learned each other's tendencies quickly, as evidenced on the perfect backhand feed from Kadri to Marner on Joonas Korpisalo's doorstep in the second period.
Moore to offer?
With the trade deadline rapidly approaching, rumours have swirled about the Leafs potentially shopping around for a fourth-line centre, a move that would mirror what they did last February in bringing in Brian Boyle. Moore has already had to fight off Eric Fehr and Frederik Gauthier to be the Leafs' bottom-line centre, and on Wednesday he looked eager to keep proving he's the man for the job. It was a strange start to the game for him, though, with Tyler Bozak taking the contest's first shift in his spot between Kasperi Kapanen and Leo Komarov. Moore didn't get on the ice until nearly five minutes in. But on that first shift, Moore not only stripped one puck to keep the Leafs in the offensive zone, he backhanded the game's opening goal past Korpisalo from a sharp angle on a great individual effort. It was Moore's first goal since Nov. 30 in Edmonton, and just his second point in 23 games, offensive numbers that would make any forward sweat. But in that role, Babcock isn't looking just for scoring but for sound 200-foot play and a good faceoff win percentage. Moore has only been above 50 per cent in that category in two of his last five games (including Wednesday, at 56 per cent), and it's become a pattern late in games for Babcock to send out Bozak for defensive zone draws in Moore's place. With an increasingly small window to prove he's the man for the Leafs' fourth-line role, Moore needs every game from now until Feb. 26 to be as good or better than what he produced against Columbus. He finished the night plus-1 with one shot on goal in 10:59 of ice time.
Home, sweet home (at last)
The Leafs spent much of November and December on the road, which set them up for a busy end to the regular season at home. That hadn't been as promising a prospect for the Leafs this season, and as they prepared for a five-game homestand out of the All-Star break they had won just three of their previous 10 contests at Air Canada Centre. But Toronto found its offensive legs in the friendly confines of home, scoring 26 goals as they swept their second-longest homestand of the season. Of the Leafs' final 22 games, 12 of them will be in Toronto.
Next game
Toronto hits the road for a weekend back-to-back, starting in Pittsburgh on Saturday.