Babcock: Keeping Rielly on his strong side is key
Maple Leafs coach Mike Babcock says having blueliner Morgan Rielly play on the left side puts the defenceman who makes the most plays with the puck in the best situation to make things happen which is why he's sticking with his new-look defence pairings, Mark Masters writes.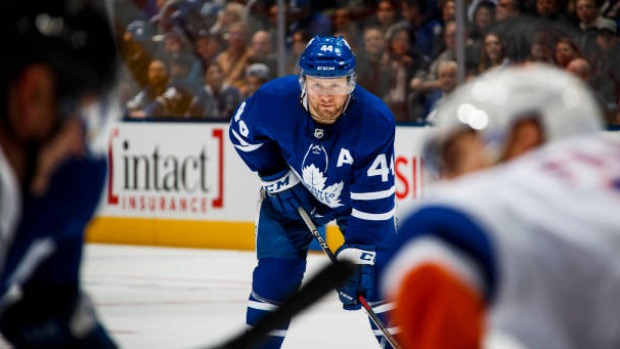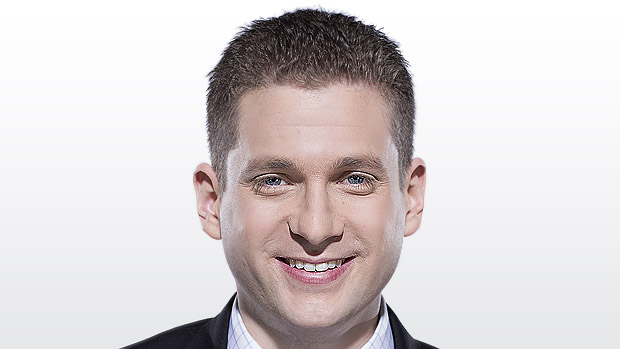 TSN Toronto reporter Mark Masters checks in daily with news and notes on the Maple Leafs, who practised at T-Mobile Arena in Las Vegas on Wednesday.
What did Mike Babcock see in the final 40 minutes in Denver that made him want to stick with his new-look defence pairings?
"I saw Morgan Rielly on the left side," the Toronto Maple Leafs coach said succinctly.
After the first period in Tuesday's game against the Colorado Avalanche, Babcock put his blueliners in a blender. Rielly, who had shifted to the right to play with lefty Jake Muzzin since the bye week trade, was reunited with Ron Hainsey. Muzzin joined Nikita Zaitsev while Jake Gardiner played with fellow lefty Travis Dermott, who shifted to his off side to make it work.
"It's nice," Rielly acknowledged when asked about returning to his natural side. "That's where you're most comfortable. That's where you want to be."
Babcock had made it clear from the first practice after Muzzin was acquired from the Los Angeles Kings that he wasn't thrilled with the idea of moving Rielly, amid a breakout season, to his off side. The coach wants the defenceman who makes the most plays with the puck to be in the best situation to do that. The original alignment was designed to help Muzzin get comfortable. So, this shuffle seemed destined to happen sooner than later.
"It was something we've been talking quite a bit about," Babcock said after the game Tuesday, "just because we think Mo should play on the left. We think he provides way more offence, way more shots and he's a better player over there. It's important to have your best guys play in their best spots."
Rielly had one goal and four assists in the six games playing on the right side.
"We have a group where we're willing to move around if we have to," he said, "but I think I speak for most defencemen – you're more comfortable on your natural side and that's just the way it is."
But with five lefties in the top six someone has to switch and that someone will now be Dermott, who got some experience on the right with the Marlies last season. Thursday will mark the first time Dermott starts an NHL game on his off side.
"I feel comfortable on the right side and playing with Jakey is lots of fun," the 22-year-old said. "I think we play a similar game and he plays a game that I aspire to play like … I feel like our minds pretty much are in sync, which it makes it easier."
Babcock downplayed the significance of the shuffle.
"I think we make way too big a deal out of it," he said. "After the power play, after penalty kill, the lines are different every time, the D [pairings] are different. On offensive-zone faceoffs, we often go with different D than we would in the D zone."
And regardless of where everyone lines up, there's no disputing the addition of Muzzin has been a huge plus. Toronto is 5-1-1 since the 2014 Stanley Cup champion joined the squad.
"We're way deeper through six so you're not as paranoid about who's on the ice and when they're out there," Babcock noted.
----
William Nylander has eight points in nine games and looks a lot like the guy who rode shotgun with Auston Matthews last season. So, is Babcock toying with the idea of reuniting the pair?
"No, not yet," he said. "I tried that early, if you remember. I tried putting the line back together and they weren't ready to go. When everybody's up and running that might happen, but until I see you're at the top of your game that's not what we're doing."
Nylander played with Matthews after resolving a contract stalemate with the team, but struggled to adjust after the long layoff. It's only recently that the 22-year-old Swede has felt more like himself.
"I feel way more comfortable skating and creating chances and staying on it and getting those second chances," Nylander told a group of reporters including Leafs Nation Network.
Nylander made a great play to set up Nazem Kadri for a goal in the third period on Tuesday, winning a puck battle on the forecheck, maintaining possession and feeding the centre for a tap-in on the doorstep.
"Amazing," gushed Kadri after the game. "He had eyes in the back of his head. We've been able to generate some pretty solid chemistry."
"It just feels like my legs are going," Nylander said, "and now I have the conditioning to stay on those second pucks and keep going and staying hungry."
But Babcock still needs to see more before Nylander reclaims his old spot in the lineup.
"Yeah, he's just got to keep getting better with and without the puck and be dominant and the more dominant he gets, quicker with the puck he gets, the more opportunity he'll get that way."
The coach noted that playing in a sheltered role against third lines and third defence pairings is also helpful when it comes to getting Nylander feeling good and back on track.
----
The right winger currently playing with Matthews has looked pretty good of late. Kasperi Kapanen has three goals in the last two games. The chemistry between the pair was evident on Toronto's first goal Tuesday.
The Matthews line was on the defensive against Colorado's top line when the 21-year-old Toronto centre intercepted a pass by Samuel Girard. Kapanen immediately took off.
"As soon as Matty gets it in our zone, I'm always looking at the d-man and seeing what the position is and where they are and see how my speed is and if I'm standing still then it's a little bit different," Kapanen explained, "but if I'm moving a bit … obviously I'm going to try and get a breakaway or at least a one-on-one or something."
"We've talked about it," said Matthews. "He can obviously fly and when he gets out like that and if nothing's open maybe shoot it him, he can catch it, or bank it to him."
On this occasion Matthews lofted a perfect pass into thin air, which Kapanen gloved down. Could it have been placed better?
"No, I don't think so," Kapanen said. "It's better, to be honest, to catch it and drop it than to put it in front because you never know where it's going to bounce."
When executed at such a high level, the play is almost impossible to defend.
"At some point you might think you can catch it," observed Gardiner, offering the perspective of a defenceman, "and obviously that whole time he's been skating past you so if you have to hesitate for a split second you're probably going to get roasted."
"It's terrible to defend," said Dermott. "Very tough. And not much you can really do to plan for it. Coaches want you to be tight up to the guy, but when you have a guy like Kappy coming down on you when he's going forward and you're going backward there's not much you can do."
Indeed, not even Nathan MacKinnon could catch Kapanen once he was in the clear.
Now, Matthews and Kapanen have connected like this a few times this season. Kapanen said this latest play was reminiscent of the hook-up they had in Chicago in the first week of the year. That goal also came in the first period.
"No different than a quarterback in football that goes long every once in a while," Babcock noted, "otherwise they're standing on top of you. You got to create some space underneath so you can make some plays. We'd rather make those (underneath) plays, to be honest with you, but you have to loosen it up especially at the start of the game when there's no room."
A play like the alley-oop can help set the table for the rest of the game.
"It opens up space underneath," Matthews said. "You push them back and that's more speed coming under whether it's me, Pat (Marleau) or the D that's jumping in and if and they play up tight then Kappy can fly and just put the puck in the area."
----
Lines at Wednesday's Leafs practice:
Forwards
Hyman-Tavares-Marner
Marleau-Matthews-Kapanen
Johnsson-Kadri-Nylander
Lindholm-Gauthier-Brown
Ennis
Defencemen
Rielly-Hainsey
Muzzin-Zaitsev
Gardiner-Dermott
Holl-Ozhiganov
Goaltenders
Andersen
Sparks
Power play units at Wednesday's Leafs practice:
Rielly
Matthews-Kauri-Marner
Tavares
Gardiner
Kapanen-Johnsson-Nylander
Marleau