Babcock shrugs at cries for change
The Maple Leafs' head coach says team's current slump won't sway his thinking on his line combinations, his defence-minded structure or his deployment of personnel.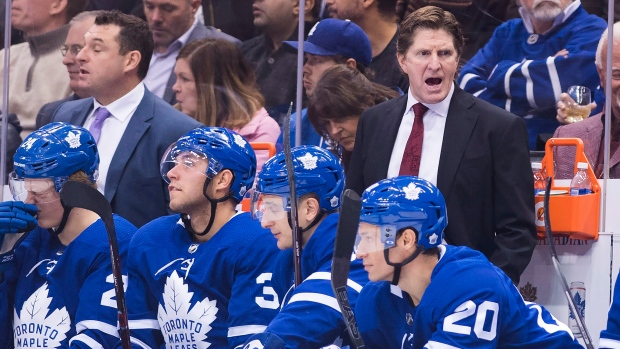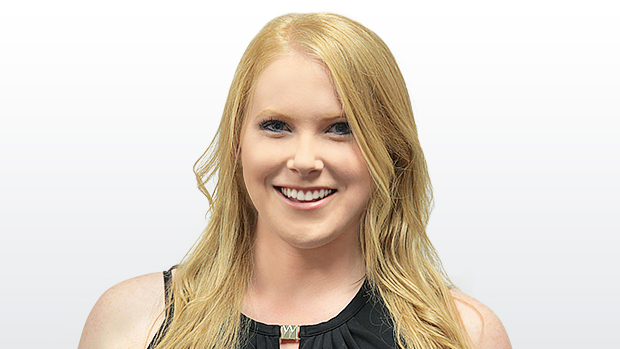 TORONTO – Mike Babcock has heard the criticism.
The Maple Leafs' head coach knows all about the cries for change – to his line combinations, to his defence-minded structure, to his deployment of personnel.
But when the team convened for practice on Wednesday after losing for the sixth time in eight games the night before, Babcock's lineup remained mostly unchanged, save for Dominic Moore slotting in at fourth-line centre for Frederik Gauthier.
The message was clear even before he verbalized it: Babcock will not be swayed by the opinions of others.
"This is how I kind of look at it: I think they hired me to decide," Babcock told reporters Wednesday when asked about outside pressures. "So that's kind of how I approach it. …I'm just going to keep on keeping on. In your lifetime, you get to decide what you react to."
No matter how you break it down, the last three weeks haven't been kind to the Maple Leafs. Since getting top-line centre Auston Matthews back on Dec. 23 the Leafs are a mediocre 4-3-3. Their last regulation win was all the way back on Dec. 28 against the lowly Arizona Coyotes; that was also the last time Toronto's once-potent offence produced more than three goals in a game.
The numbers from Toronto's best forwards have been similarly disappointing – Nazem Kadri has one point in his last 17 games, Patrick Marleau is in a six-game point drought, Matthews has two points in his last six games and Mitch Marner has two points in his last eight.
That, coupled with Toronto losing their last three games by way of critical mistakes in the final minutes, is an easy recipe for change. In this case, Babcock doesn't see shaking things up as a way back into the win column.
"We can move guys around if we feel it's going to help us get better," he said. "I think when I look at our last couple games, I think we're in a good situation…I guess I don't feel like you guys [in the media] do, how's that? Not one bit. But when I do, we'll change some things."
Babcock mixed and matched his lines earlier this season, with varying results. But the season's second half is a different story. Toronto is entrenched in a playoff spot with an 11-point cushion on their nearest Atlantic Division rival in Detroit. Assuming April will bring a postseason berth for the Leafs, the goal isn't to still be searching for chemistry when it arrives.
"This makes you stronger as a team and as linemates too," Marleau said of the recent slide. "That little [bit of] perseverance where you're getting the chances and you just stick with it. Sometimes working through spells like this will make you that much better."
While Marleau admitted there's been "a tad" of frustration setting in with the continued lack of scoring, Babcock has a solution for that – shoot the puck.
In the same recent eight-game stretch where wins have eluded Toronto, the Leafs have peppered goaltenders with more than 30 shots in six contests. Four of those games went to extra time, which pads the shot totals, but ultimately too many pucks were thrown away on pass attempts rather than being used to challenge opposing netminders.
"We had lots of opportunity to shoot the puck which we passed on. I think that can lead to a lot more offence," said Babcock. "I think the better teams play defensively, the more you have to shoot to break them down. That creates more randomness rather than thinking [about] pretty plays."
Another contributing factor to the Leafs' lagging offensive numbers is a dearth of power play time caused by a struggle to draw penalties. Toronto sits 28th in the league in power play chances this season (129), and they've scored just three man-advantage goals since the Christmas break while averaging less than 2.5 opportunities per game.
By comparison, over those same nine games, opposing teams have drawn 30 penalties against the Leafs (3.3 opportunities per game).
"We have to spend more time in the offensive zone rolling around," said Babcock. "I think when you do that you force teams into making more mistakes."
That would be a pleasant change for the Leafs, who have been pushed into too many errors of their own lately. While the decision to leave his lineup as is may not be popular, Babcock is adamant it's not driven by complacency over that aforementioned 11-point playoff buffer.
"I live scared every day ­– every single day," Babcock said. "Not as much in the summer, but all winter. That's how I live."