Babcock: Tavares is Leafs' 'consumer of knowledge'
John Tavares' even-keeled, zen-like approach to the game has served him well during his career as is evident by his 33 goals and 30 assists in his first season with the Toronto Maple Leafs, Mark Masters writes.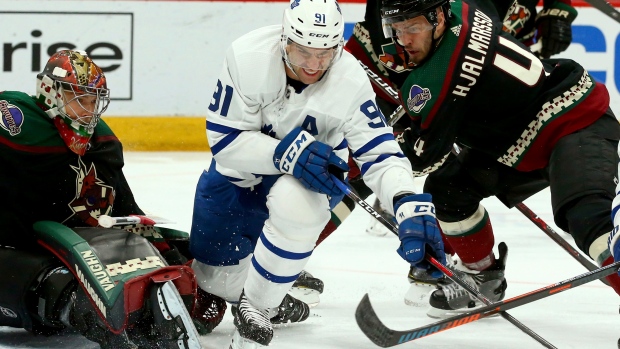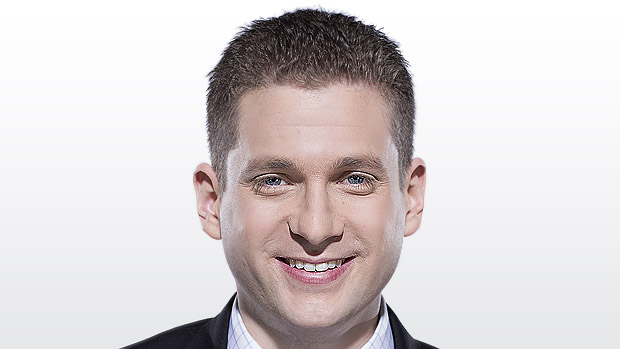 TSN Toronto reporter Mark Masters checks in daily with news and notes on the Maple Leafs, who practised at Gila River Arena in Glendale, Ariz., on Monday before flying to St. Louis for Tuesday's game against the Blues.
The Maple Leafs put forward one of their weaker performances of the season on Saturday against the Coyotes in Arizona, but it could've been much worse. An errant slap shot by Derek Stepan whizzed right through the Toronto bench at one point barley missing the players and coaches. And while everyone else was ducking for cover, John Tavares stared down the danger.
Kind of. The 28-year-old centre was staring straight ahead.
"I guess I was just pretty confident it wasn't going to hit me," Tavares said with a grin.
His teammates were amused and amazed.
"I was kind of scared," said Auston Matthews, who had raised both arms to create a shield in front of his face. "I mean, obviously I know he didn't mean to do it, but it came pretty close to hitting a couple of guys. Our whole bench and even coaches flinched and (Tavares) was just in deep thought, thinking about, I don't know what, but thank God it didn't hit him and didn't hit anybody, because that puck came off pretty hot."
"I had to dodge it pretty quick," said Mitch Marner, who turtled backward off the bench. "I knew if I didn't I was going to eat it."
"I could, peripherally, kind of see him winding up to shoot it down the ice," Tavares recalled. "I just didn't think it was going to hit me. And it kind of came off his stick a little bit funny so I don't think I was expecting the way it came into the bench like it did."
So, what exactly was going through his mind at that moment?
"I don't know," he admitted. "Sometimes you just kind of go into your own little zone. I know, for me, it's a good way to kind of refocus and try to get ready for my next shift so, yeah, just glad it didn't hit me."
Head coach Mike Babcock describes Tavares as a "consumer of knowledge." He is someone who is always trying to be better and is a student of the game ... even during the game. Marner has certainly picked up on the zen-like approach adopted by his linemate.
"I keep it pretty light on the bench," the 21-year-old said. "I don't want to stress about plays that happened already so if there's anything we can talk about that will help us for the next play that's what we do, but other than that I kind of just let him be."
Tavares received several texts from friends and family as the still picture of Saturday's close call went viral on social media. He also took heat from his teammates, a couple of whom heckled him during his media session.
But Tavares is known for being a serious, thoughtful guy even off the ice.
"He's serious," agreed winger Connor Brown. "I've golfed with him so he's a little bit like that on the course. He likes to (mull) over his putts, looks at it from all four angles."
That even-keeled approach almost cost Tavares on Saturday, but throughout most of this pressure-packed season it has served him well. With 33 goals and 30 assists already in the bank he's on pace for career-high numbers. His longest point drought is just two games.
And considering his unflappable aura it was no surprise to hear Tavares' take on Toronto's ugly performance in Saturday's loss to the Coyotes.
"We just got to get back on track," he said. "We've been playing some really good hockey. It was just one of those games where they played well and we weren't at a level where we can be at consistently … excited about turning the page."
----
Babcock usually lumps himself and his assistant coaches in with his players after a particularly bad loss noting that the staff didn't do enough to prepare the group. But that wasn't the case after Saturday's setback, which saw the Leafs get outshot 27-9 at even strength.
"They did exactly what we said they were going to do," Babcock fumed after the game. "We created a plan to have success against them, we didn't work hard enough to make that happen."
After a day off, Babcock put his players through a high-paced practice, but nothing unusual. Given some time to digest the disappointment, how did he assess the effort?
"We just weren't good," he said. "We didn't execute. We didn't play fast. We weren't physical on offence, we didn't spend time in the offensive zone. I mean, you go through the whole thing and we weren't good and that's going to happen sometimes. You never want it to happen, but it's reality.
"The difference between talent from team to team, even though we all think it's great, it's not very much so if you play right you win."
It's a bit easier to stomach the loss when you consider the Leafs had been on a 7-1-1 stretch prior to the dud in the dessert.
"We've been playing real well, maybe our best point (of) the year, actually," Babcock noted, "and then we had a dip here last game so we want to get back on track as fast as we can."
It won't be easy on Tuesday night against a Blues team that has won 10 straight and actually handled the Leafs easily earlier this season winning 4-1 on Oct. 20.
"I don't know if you remember, but the last time they played us they probably played their best game until recently and they smacked us around, to be honest with you," Babcock said. "They were way better than us. So, we got that to go off and then, obviously, their record. And that we didn't like our last game."
----
Andreas Johnsson skated with teammates for the first time since sustaining a left leg injury during Thursday's game in Las Vegas.
"I'm glad I'm better than I thought I would be and I felt good on the ice today," said Johnsson, who slotted back in on the third line with Nazem Kadri and William Nylander. "Not 100 per cent, but it's much better."
Babcock wasn't sure if Johnsson would be available for Tuesday's game, but noted, "Little John looked like he had some jump here today." (Tavares is "Big John" in Babcock parlance.)
Johnsson made it clear he didn't like the hit by Knights defenceman Brayden McNabb, which was whistled as a kneeing penalty.
"I don't think it was a clean hit," the 24-year-old said. "I think he actually thought he was going to miss me and he was just trying to hit something to stop me. I just tried to make a move there and I felt like I beat him and when I saw the replay I feel like he was trying to hit something and luckily it's not a bad spot ... No knee. That would be the worst, of course."
Johnsson has been among the hottest Leafs of late with nine points in his last six games surging into third place in the rookie scoring race behind only Elias Pettersson of the Vancouver Canucks and Buffalo Sabres rookie Rasmus Dahlin.
"I've been very comfortable for a couple weeks," he said. "I feel like I've been finding good tempo in the game, good timing and feeling comfortable and doing more stuff with the puck and being in the right position without the puck."
----
Asked how he sees defenceman Travis Dermott developing in the next few years, Babcock suggested the 22-year-old is going through the same growing pains experienced by Morgan Rielly.
"You remember Mo? So, Mo was a guy who moved the puck, could skate around, but was minus all the time and hadn't sorted it out in the D zone. That's why it takes d-men so long in the National Hockey League … [this] is how good you have to be defensively and that's his biggest thing. When he learns how to sort out the rush, when he learns how to play in his zone, when he knows the time on the clock and the score in the game, those are things you'd like to happen overnight, but don't usually happen overnight.
"In saying that, Dermy's a real good player for us and plays well and is important. But, in the overall understanding of the game without the puck, that's his biggest challenge."
----
Lines at Monday's practice:
Forwards
Hyman-Tavares-Marner
Marleau-Matthews-Kapanen
Johnsson-Kadri-Nylander
Lindholm/Ennis-Gauthier-Brown
Defencemen
Rielly-Hainsey
Gardiner-Dermott
Muzzin-Zaitsev
Holl-Ozhiganov
Goaltenders
Andersen
Sparks
Power play units at Monday's practice:
Rielly
Matthews-Kadri-Marner
Tavares
Gardiner
Kapanen-Johnsson/Ennis-Nylander
Marleau