Babcock tinkering with Toronto blueline
Maple Leafs coach has been flexing minutes early this season as he searches for the right mix of defenders behind Jake Gardiner and Morgan Rielly, Travis Yost writes.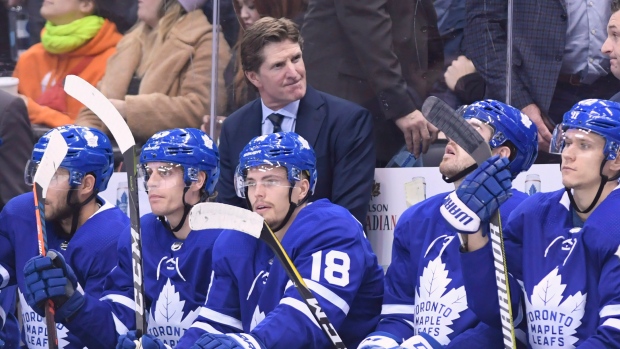 With a 109-point pace and one of the NHL's best goal differentials, the Toronto Maple Leafs have very little to complain about right now. But that hasn't stopped Mike Babcock from tinkering with his defence in the early part of the season.
The blueline always figured to be a fluid situation for the Maple Leafs this season. The Leafs have one of the league's deepest and most versatile forward groups in the league, and Frederik Andersen is as entrenched a No.1 goaltender as you will find around the league.
The defence has remained a bit of a work in progress, though. The team just hasn't had the same success drafting and developing players on the backend over the last few years relative to the forwards. This season, efforts have been focused on finding the right mix of players to pick up minutes behind guys like Jake Gardiner and Morgan Rielly.
At first glance, the Leafs don't look particularly different from any other team in the league. They have utilized seven defencemen, with one spot game from call-up Justin Holl. What's interesting is how Babcock has already started flexing minutes around on a game-by-game basis – an attempt, I think, at finding the right mix for a team that needs to not only skate into the postseason, but do damage when they get there.
To illustrate this, let's focus on Toronto's seven core defenders and how they have been utilized in the early parts of the season. The below graph shows 5-on-5 ice-time on a rolling basis – to me, this is the game state where you tend to see coaches get a bit more aggressive with ice-time management, and that's certainly been the case in Toronto this season. (Highlights indicate "top-four" usage.)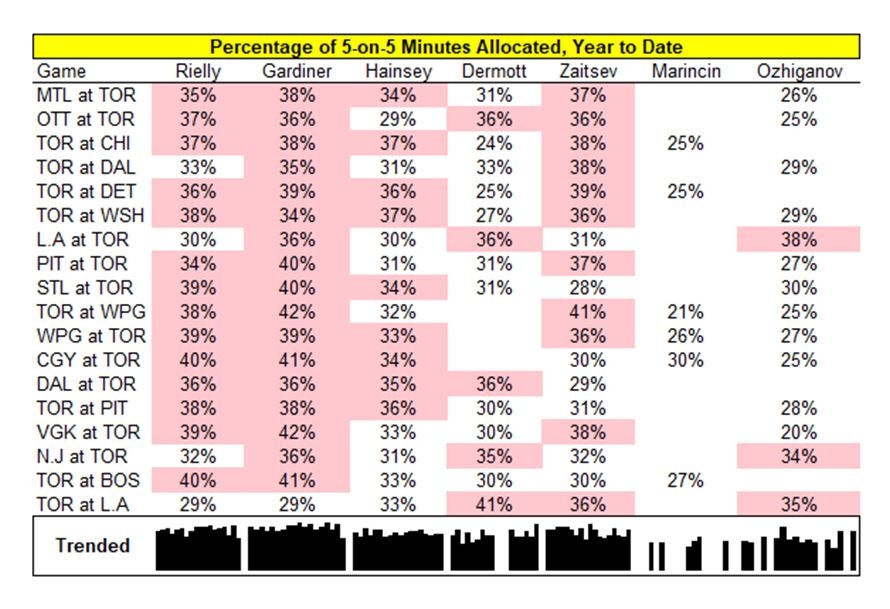 As expected, Rielly and Gardiner have been the anchors of the Toronto defensive corps. Rielly has, on average, played about 36 per cent of 5-on-5 minutes for the Leafs this season; Gardiner is a shade higher at 38 per cent. It's exceptionally rare that one of these guys sees limited action, and usually it's correlated with a game that's loaded with power-play/penalty-kill situations or blowout scenarios.
What's more interesting is the mix of usage across the other five defencemen. The most notable item pertains to Nikita Zaitsev, who opened up the season as a consistent top-four (in many cases, top-two) defender at 5-on-5. In the last 10 games or so, he's seen a reduction in minutes. Zaitsev is leaned on heavily when it comes to the penalty kill, but it's pretty clear to me that the coaching staff is giving a bit more preference to some of the younger skaters who are better at transitioning the puck.
Zaitsev's loss has ultimately been the gain of a guy like Travis Dermott, who has been used more at even strength. In three of the last six games, Dermott has seen first-pairing minutes. That's a remarkable jump for a guy who spent half of last season in the AHL.
Now let's bring in special teams minutes. The below table shows power-play and penalty-kill opportunities added on top of their 5-on-5 usage: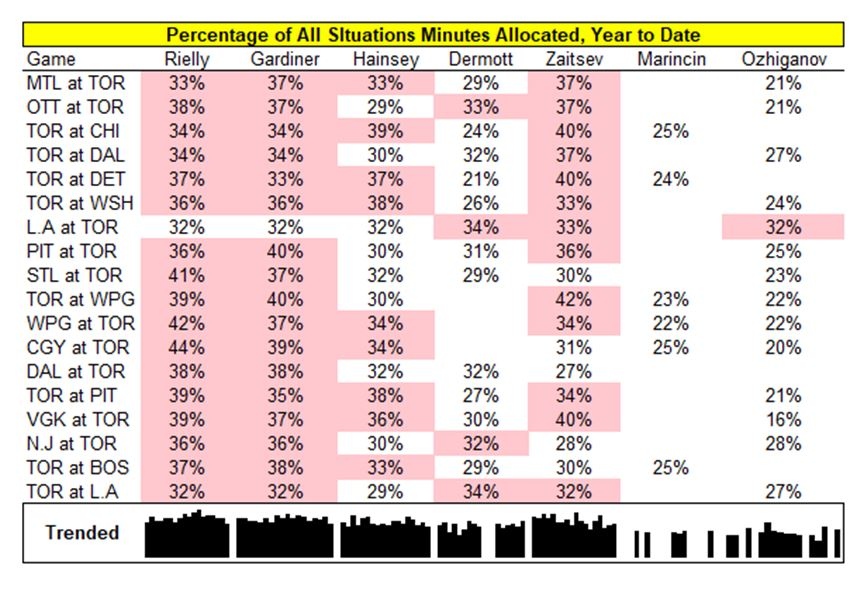 When you bring in special teams, the gap between Rielly and Gardiner shrinks (there really isn't a large one to begin with, but Rielly is the first power-play unit fixture and sees spot penalty-killing minutes as well). These two players really are interchangeable for Babcock, and likely will remain that way going forward.
So who sees their usage change, relative to other defencemen, when we incorporate special teams? Martin Marincin has a reputation as Toronto's sixth defenceman but I don't see much of a difference between his usage and that of Igor Ozhiganov. It does make you wonder what the game plan is for Ozhiganov going forward – he's on a very cheap one-year contract and is used accordingly. But you do have to wonder if there's more value in playing something of a specialist in those minutes as opposed to Ozhiganov, who doesn't have a full minute of either power-play or penalty-killing time to his name so far this season. He is as insulated as any player on the Leafs roster, and seems to be a prime target for replacement in the coming months. That's a far cry from a player like Ron Hainsey, who is seeing less usage this season but still is relied upon heavily to kill penalties.
At any rate, this is something I suspect we will continue to monitor as the season progresses. The Leafs have a lot of weapons across their lineup, but the defensive situation is still in flux. And for as long as William Nylander remains unsigned, you will continue to hear trade rumours about the Leafs targeting a defenceman for this very reason.
Even if Nylander does sign, which he has to do by Dec. 1 to be eligible to play this season, I anticipate that this lineup will continue to evolve as the season progresses.