Backlund: 'We have nothing to lose now'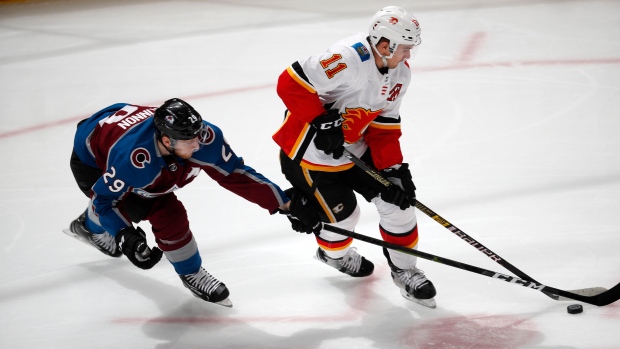 The Calgary Flames are on the brink of elimination after dropping Game 4 in overtime to the Colorado Avalanche.
Flames forward Mikael Backlund had a chance to even the series in overtime, but Philipp Grubauer made a desperation save to deny Backlund with his left leg while lying on the ice.
"It's tough," Backlund said post-game. "I took a bad penalty and then I had a chance to redeem myself, and instead, they score in front of me again. It's going to be a long night – a tough night.
"We have nothing to lose now. I don't think a lot of people think we can do it, but we know we can. We've faced a lot of adversity this year and if there's any group that I believe in and know they can do it, it's this group right here.
The Flames, who entered the playoffs as the Western Conference's top seed, now head back to Calgary trailing the series 3-1. Head coach Bill Peters said his team must take it one game at a time as they hope to come back in the series.
"We've got to go home and play our best game in Game 5," Peters said. "That's what we have to do; we have to win one game and take it from there. I liked a lot of things we did tonight. Goaltending is good again. We had some looks that could've changed the complexion. It was 2-1 there, if we can chip a few pucks and get a few pucks out, but we weren't able to do that."
Goaltender Mike Smith made 49 saves in Wednesday's loss after allowing six goals on 56 shots in Game 3, but refused to bask in his personal success post-game.
"It's about winning, the team winning," he said. "I'm just one little cog. It's nice to have personal success, but when you don't get the results, it doesn't matter. You need to do more. This one stings, especially when you have the lead with 10 minutes left in the third."
Game 5 will take place Friday in Calgary.