Backstrom scores SO winner to edge Flames
Nicklas Backstrom scored the winner in a shootout and goaltender Pheonix Copley earned his first win for the Washington Capitals in a 4-3 win over the Calgary Flames on Saturday.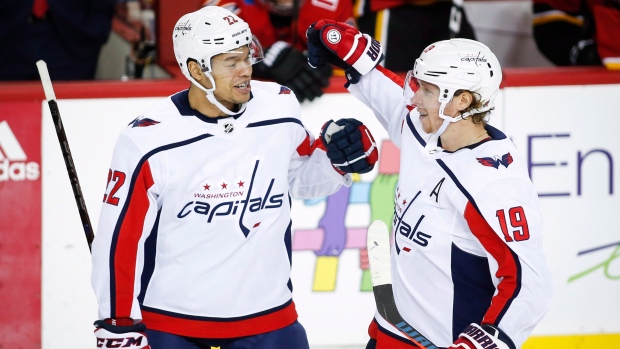 CALGARY — Pheonix Copley went the distance for his first NHL win.
The Washington Capitals goaltender stopped 27-of-30 shots in regulation and overtime, plus three of four in the shootout, for a 4-3 win over the host Calgary Flames on Saturday.
The 26-year-old backup from North Pole, Alaska, a community near Fairbanks and not actually the North Pole, was making just his third career start and his fifth NHL appearance Saturday.
"I'll remember this one for awhile," said Copley, who was mobbed by his teammates after Nicklas Backstrom scored the shootout winner.
"Obviously the first win means a lot, so it feels good. It wasn't an easy game. They came back and it was good everyone kept battling."
Matt Niskanen, Jakub Vrana and T.J. Oshie also scored in regulation time for Washington (5-3-2) in the afternoon matinee.
Evgeny Kuznetsov scored a goal in the shootout and assisted on a pair of goals. Captain Alex Ovechkin also had an assist.
Matthew Tkachuk, Travis Hamonic and Elias Lindholm countered for Calgary (5-5-1) in regulation, who collected a point for the shootout loss but dropped their third game in a row.
Johnny Gaudreau had two assists to reach a career 200. Sean Monahan scored in the shootout.
Flames goaltender Mike Smith turned away 24-of-27 shots in regulation and overtime before giving up two goals on four shootout attempts.
Smith repelled T.J. Oshie and defenceman John Carlson in the shootout, while Copley held off Tkachuk, James Neal and Gaudreau.
The Flames trailed 2-0 early in the first period and 3-2 late in the third. Calgary head coach Bill Peters liked his team's recovery from a 9-1 drubbing at the hands of the Pittsburgh Penguins two days earlier.
"That's probably as hard as we've worked from start to finish as a group," the Flames coach said.
"We didn't get down. The bench was real good. Lively and vibrant. Lots of positives, but we would have liked to get the extra point."
With Smith pulled for an extra attacker, Tkachuk tipped in a Rasmus Andersson shot at 18:33 of the third period to pull the Flames even.
"Obviously you don't want to let something like that affect you," Copley said. "There's still a lot of hockey left and big moments in the game."
Calgary had a power play 15 seconds later when Kuznetsov put the puck over the glass for a delay-of-game penalty, but the hosts couldn't generate the winner with a man advantage.
Copley hoisted the Stanley Cup with the Capitals last spring when he was called up from the AHL for the post-season. The six-foot-four, 200-pound goalie didn't appear in any playoff games.
2016 Vezina Trophy winner Braden Holtby will get the majority of starts for the Caps this season, but Copley had some prep for Saturday's marathon.
He played in a 6-5 shootout loss to the Florida Panthers on Oct. 19 when he relieved Holtby after the first period.
"Cops made some great saves back there," Backstrom said Saturday. "It was nice to get this one for him and get this one off his back."
The Flames face the Maple Leafs in Toronto and the Sabres in Buffalo, N.Y., in back-to-back road games starting Monday.
The Caps don't play again until Thursday's game in Montreal against the Canadiens.