Battle of Ontario is significant again
With the Toronto Maple Leafs and Ottawa Senators separated by just two points in the standings, battling for second in the Atlantic Division, the buzz has returned to the provincial rivaley. Kristen Shilton writes.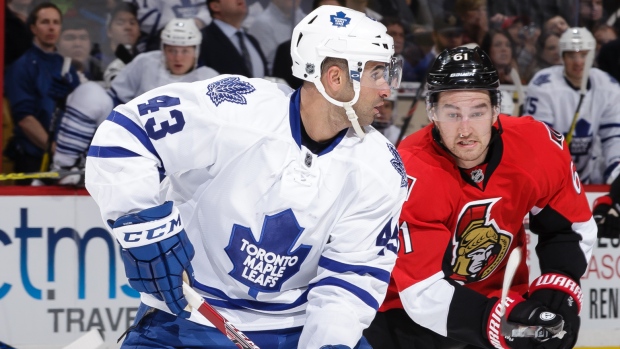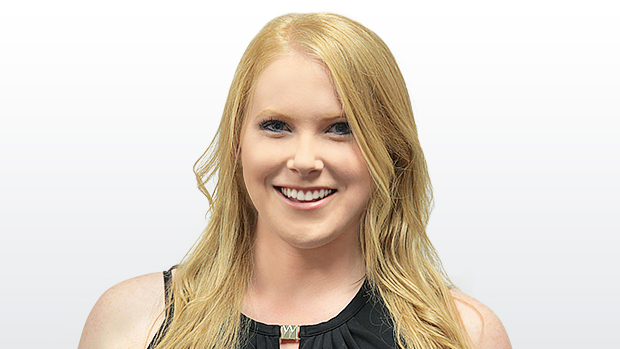 TORONTO – As faces around the Toronto Maple Leafs dressing room have changed, so too have the times.
Far from being basement-dwellers, the Maple Leafs welcome in the Ottawa Senators on Saturday sitting two points behind them for second place in the Atlantic Division.
The Battle of Ontario is suddenly a battle again.
"It's great to have a buzz around games like these, especially in the dog days of January," said Nazem Kadri. "Just being able to play for something instead of constantly being a spoiler, it's definitely a nice feeling."
Kadri has endured many lean seasons with Toronto, where the number of games with significance dropped off quickly in the second half. Coming off a lackluster showing in defeat against the New York Rangers on Thursday, after losing just one of their previous 11 games in regulation, Kadri isn't worried Toronto is headed for a free fall.
"I mean, hey, we've been playing great, we know that," he said. "Obviously it wasn't our best effort against New York and we want to bounce back. Good teams don't lose two in a row, especially against a division rival, close in the standings, so the game has great magnitude."
The Maple Leafs haven't lost back-to-back games since a three-game slide from Dec. 11-15. They have responded to each loss since with a multi-goal win in their next outing.
Toronto has a 1-0-1 record against the Senators this season, with the victory coming one week ago in Ottawa. That game was the second night of a back-to-back for Toronto, and they blew a two-goal lead in the second period, but two points would put them ahead of the Senators in the Atlantic. Ottawa has won four of their last five and are confident they can build on that success in the "capital of hockey."
"I'm in the era where, the early years [of the battle] were a little bit more [relevant] than recent years, but maybe it's building up here again," said Erik Karlsson. "As the standings are looking right now, we're both right there. We're going to have to fight for the points for a chance to get in [the playoffs] because there are some teams knocking on the door behind us."
Jean-Gabriel Pageau played a major role for the Senators a week ago by neutralizing Auston Matthews for much of the game. Matthews didn't register a shot until 3:21 remained in the second period, and his line with Connor Brown and Zach Hyman produced some of their worst possession stats of the season. But in the third frame, Matthews, who finished 35.7 percent in the faceoff dot, purposely lost an offensive zone draw to Pageau, only to go forward and retrieve the puck to feed Brown for a goal.
"It was risky, you need a lot of confidence to do," Pagueau said. "It's great for your confidence when you can contain a player like that for two periods, but then you see why he's a great player, he just kept working hard and working at it and it finally ended up on his side. You have to be aware of where he is for 60 minutes, not just two periods, which is how he tricked us."
Less tricky is how the Senators have clogged the neutral zone and made it hard on the Maple Leafs to use their blistering speed over the previous two meetings.
"That's where we struggled in the beginning last time we played them," Connor Brown said of finding open ice. "We have to get it behind them - there won't be too many controlled entries - and play in their end. We turned the puck over too much, we were too careless with it. The more we play in their end, the better we'll feel."
Morning skate notes
Martin Marincin

will return to the Maple Leafs lineup for the first time since being felled by an injury on Dec. 10. With

Morgan Rielly

set to miss his second straight game with a lower-body injury, Marincin will be paired with

Nikita Zaitsev

, while

Jake Gardiner

and

Connor Carrick

will be reunited as the second pairing. "I just want him to be himself, but do it every day so we can count on him," Babcock said. "If you do your job and you bring it every day…you get to do even more. When you don't do your job, pretty soon [your boss] is micromanaging you and doing your job for you. The best thing about players is when they do it every single day, and you can count on it getting done. That's what we need from him."
For the second time since being traded last February, former Maple Leafs captain

Dion Phaneuf

is back in Toronto to face his former team. The blueliner was all business before the game, but his former teammates said they still get excited to go up against him. "It's fun, to be honest with you," said Kadri. "I know Dion pretty well and I like to try to get under his skin sometimes and I know he's a tremendous competitor as well so he's going to do the exact same thing to me. Off ice we're friends and he's great, but on the ice he's not taking it easy on anyone out there so neither should we."
The Maple Leafs have had just four power plays in their last three games, so few that Matthews has gone two straight games without man advantage minutes. Babcock was asked about whether fewer power plays are allotted by referees at this stage of the season, and he said he has a good idea going into a game of how many are going to be doled out. "I look at the sheet before and see who refs the game, and I tell [assistant coach] DJ [Smith] how many penalties were getting called. I know how many they're going to call. I've been around a long time."