Bergeron does heavy lifting for Bruins
It's been something of a roller coaster season for the Boston Bruins. Travis Yost looks at the continued excellence of Patrice Bergeron and the Bruins' struggles when Bergeron is off the ice.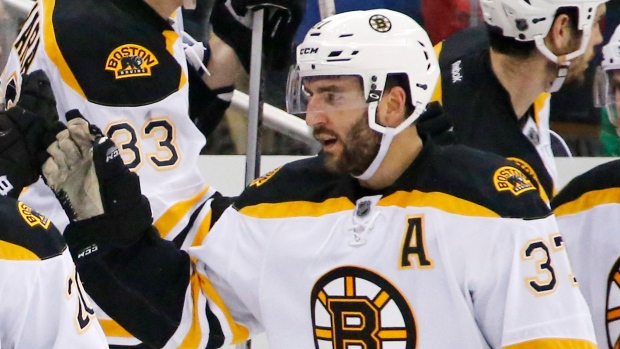 It's been something of a roller coaster season for the Boston Bruins. Partly due to heightened expectations and partly due to major injuries undercutting performance, Claude Julien's team - despite an impressive 7-1-2 record over their last 10-games - is still fighting to preserve their current playoff spot.
There are two degrees of concern with where Boston sits in the standings today. On one level, there is just a four-point gap between them and chasing Ottawa. The two play tonight in a game with massive implications, and Ottawa has a game-in-hand. The mere fact that Boston's probably - and not definitely - headed to the postseason is scary enough.
On another level, I don't think this is the kind of season Claude Julien or Peter Chiarelli had in mind. Even assuming that the Bruins hold on to their position, we are still looking at a very likely scenario where they (a) enter the post-season as a wild-card team; (b) concede home-ice in most (if not every) match-up; and (c) draw a team the likes of the New York Rangers, Montreal Canadiens, or Tampa Bay Lightning in round one. For a team with Stanley Cup aspirations, it's not ideal.
Figuring out what's went wrong with the Boston Bruins this year is a worthwhile task, but it's important to remember that we are viewing this team through the lens of heightened expectations - that is to say, Boston's still a quality hockey team, but their performance doesn't live up to what we've come to assume from such a dynamite club.
One of the contributors Boston's slight drop-off has been the play/performance of their second and third-tier talents at even-strength - an issue we visited over, and over, and over with prior Pittsburgh Penguins teams under Dan Bylsma. The Penguins were always good enough to roll through a regular season on the merits of play from otherworldly talent like Sidney Crosby and Evgeni Malkin, but when push came to shove in the postseason and the talent margins between teams became razor-thin, their depth (or lack thereof) was exposed.
Boston has something of a similar situation. The Patrice Bergeron line, as has been the case for about seven years now, is dynamite. There's no other way to describe their ability to dictate play in a manner that forces the opposition into uncomfortable situation after uncomfortable situation. More on Bergeron in a bit.
The group that's been getting Boston into trouble is the 'Not Patrice Bergeron' group. Now, there are different expectations for second/third/fourth lines and second/third defence pairings, but it's important to highlight the degree to which elements of this team have changed over the past few years. As such, I've created a rolling possession graph for the Patrice Bergeron group and the Not Patrice Bergeron group, separated by years.
There are a few things that I think are immediately noticeable. One, the 2010-2011 Boston Bruins team - the one that won the Stanley Cup - was not an 'elite' possession team. But, they were good enough, and had one of the strongest goaltending performances in recent history from Tim Thomas en route to the title. In the three seasons since then, the Bruins have more or less blown the doors off of the Eastern Conference. They were a 100+ point team in 2011-2012, a 100+ point (prorated) team in the lockout season, and a 100+ point team in 2013-2014, winning the Presidents' Trophy.
If you look at Boston's position in the standings in any of those seasons, then look at how they've dominated the run of play at 5-on-5, then the success shouldn't be surprising. For the most part, Boston's best group has sat around a mind-numbing 60% Corsi%, with their depth players towing about a 51.5% Corsi% the last five years. That's a really, really strong performance, and one of the big reasons they (along with comparables in Chicago and Los Angeles) have been such a load to handle in the playoffs.
But, most notably, you can see where the decline begins for this team -- right around the time the hockey calendar year turned from 2013-2014 to 2014-2015. The Bergeron group is still humming along, trying to pull the team into the playoffs. They are no longer getting as much help from the depth. The Not Patrice Bergeron group has slipped to about 49% Corsi% at even-strength, and as you can see, that number is dropping - not rising. It's only the second time in the last six seasons that it's happened for an extended period, which feels rather discouraging.
Whether or not the Bruins' depth rebounds in time for the playoffs is up for debate. Some will say that the talent is in place to make that happen, others will say the talent that's been stripped away through trades and free agency has created a hole that's tough to patch internally.
Like most teams around the league, a lot of Boston's playoff success is going to come down to how much their best players can carry the mail, so to speak. The difference this season is that Patrice Bergeron, Zdeno Chara, and Tuukka Rask might have just a bit more weight on their shoulders.