Bernard ready to embark on second Olympic act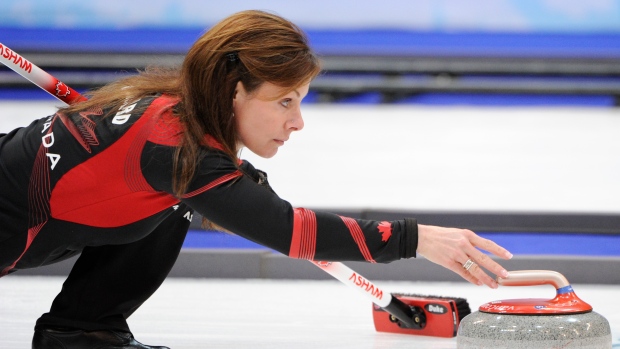 Appearing in an Olympic Games is considered an once-in-a-lifetime opportunity for most amateur athletes. For curler Cheryl Bernard, the thrill is twice as nice.
Bernard claimed silver at the 2010 Olympics in Vancouver and retired from competitive curling in 2014, joining TSN as a commentator shortly after.
So when she got a call from Rachel Homan just a few days following the Roar of the Rings Olympic trials in Ottawa, Bernard assumed the first-time Olympian was looking for some advice from a fellow skipper.
But, Homan had a different request on her mind. She wanted Bernard to serve as the team's alternate for the Winter Olympics next month in Pyeongchang, South Korea.
The 51-year-old admits she was shocked with the request, but once she was reassured she wasn't taking the spot away from regular fifth Cheryl Kreviazuk (Kreviazuk was aware she wouldn't be eligible ahead of the trials), Bernard didn't hesitate with her answer.
"I didn't even have to phone her back and think about it. You get very few opportunities in your life to wear a maple leaf and to join a team like that," Bernard told TSN.ca. "To be part of it in some small way is going to be an awesome journey and I'm really excited about it all."
Bernard lost an extra end heartbreaker to Sweden's Anette Norberg in that Olympic final in 2010 and also owns a Scotties silver medal from 1996. Team Homan is hoping the experience of having an Olympic silver medalist on their side will pay major dividends in South Korea.
Bernard doesn't expect she'll need to jump in with many inspirational speeches during the Olympics, but if the Ottawa foursome gets a little rattled, she'll know what to say.
"It's a different animal all together than a worlds. I think the only thing that can get in your way is yourself. If you start to think that this is everything and everybody is watching and you just have to get out of that and really have a lot of perspective about life. You're out there, you're prepared, and you're doing your very best. It is just a curling game.
"That being said, this is a team that is absolutely prepared. They know exactly what they're doing," she said.
Some other roles Bernard will have include rock matching, charting the ice and scouting the competition.
Bernard still curls regularly with her Olympic team in a handful of club events throughout the year. However, most of her curling time is spent in TSN's broadcasting booth commentating games and says she probably knows Team Homan better than most players thanks to her job.
With countless hours in the booth, Bernard has noticed a change with the team, especially when it comes to their skip.
"Rachel suddenly became more than a last rock thrower. Last year, she kind of became the leader on the team and she was more aware of what she could do to get the best of the three in front of her," explained Bernard. "If she needed to chat more, then that's what she would do. If she needed to call a different game at a certain time in the game, then that's what she'd do."
Team Homan won their third Scotties Tournament of Hearts (their first with Joanne Courtney) last year before posting a perfect 13-0 record at the world championships a few weeks later. They lost only once during the December trials in their hometown and are considered the favourite to stand atop the podium in Pyeongchang.
Of course, it won't be easy.
Team Homan got a taste of that with a mini Olympic preview at last week's Continental Cup. Half of the women's teams set to compete in South Korea were in London and proved they won't be easy to take down as Homan's crew struggled in their first event since the trials.
Bernard says it's a reminder that winning at this level is never a walk in the park.
"We've all needed those reminders over the years when we play," said Bernard. "You can get a little complacent. You just won probably the biggest event of your life, one of the toughest for sure, and you can come down the other side. A little reminder in certain ways is never a bad thing."
And Bernard can't believe how tough the women's field will be at the Olympics.
Scotland's Eve Muirhead is the most notable as she's a former world champion and already a two-time Olympian at just 27. Others include China's Bingyu Wang, Japan's Satsuki Fujisawa, Anna Hasselborg of Sweden, Switzerland's Silvana Tirinzoni and Nina Roth of the United States. At the end of the day, there are four or five teams that have a legit shot at the gold.
Bernard won't have much down time over the next five weeks or so. She's currently with Team Homan at the Canadian Open in Camrose, Alta. She'll be in Penticton, B.C., later this month for a full week of TSN duties at the Scotties before catching a plane to Pyeongchang a few days later.
Team Homan kick off their Olympic schedule Feb. 15 against Kim Eun-jung and the hometown favourites from South Korea.