Bernier embracing chance to face Leafs
Maple Leafs reporter Mark Masters has the latest as the team wraps up their three-game California trip with a stop in Anaheim to play the Ducks.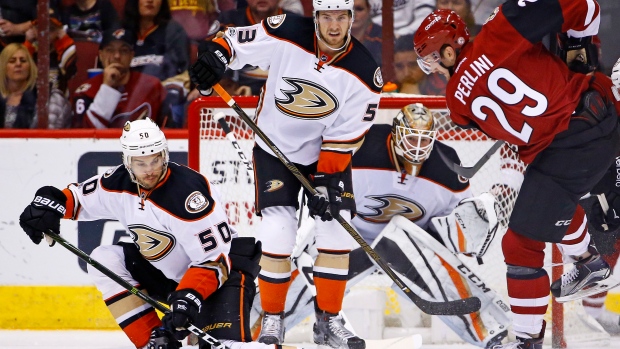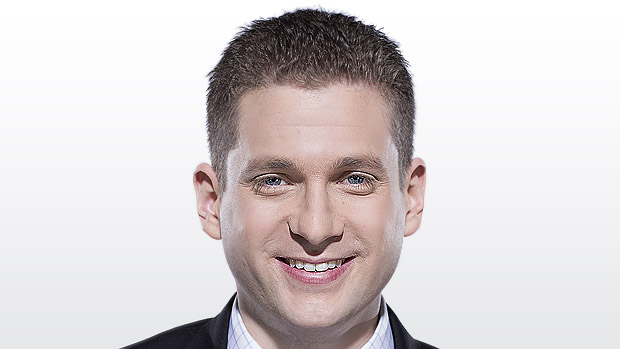 Maple Leafs reporter Mark Masters has the latest as the team wraps up their three-game California trip with a stop in Anaheim to play the Ducks.
* With John Gibson still out with an injury, Jonathan Bernier starts his fourth straight game for the Ducks on Friday. Is he motivated to beat his old team? "Yeah, definitely," he said. "You want to prove they made the wrong decision." Bernier's career in Toronto started strong as he posted a .923 save percentage and stole the starting job from James Reimer during the 2013-14 season. But last year, he struggled early losing the trust of new head coach Mike Babcock before being shipped to Anaheim in an off-season trade. "You look back and there's a lot of things I would've done differently," the 28-year-old said. "I gained a lot of experience going through ups and downs in Toronto, but I believe I came out of it stronger as a person and a player." Bernier insists there's no hard feelings. "They've done a tremendous job with the rebuild, that's for sure. I've watched a few games and they're playing really well. They have a lot of skill offensively and they're definitely going in the right direction. Toronto is always going to be a great place for me. I have great memories and playing for a team like that is pretty special." What specifically did he learn from his struggles in Toronto, which saw him at one point sent to the AHL on a conditioning stint? "Just more focusing on the process and not focusing on the result and not looking too far ahead. In my last year, I started to worry about the end result instead of just focusing on the process and that makes a big difference to a goalie."
* The Ducks are coming off their bye week and Randy Carlyle is well aware that teams have struggled in their first game back from the five-day break (7-14-4 not counting games in which both teams are coming off bye weeks). So, the coach has implemented a plan to try and prevent a letdown. "We tried to make all that information available prior to them leaving," Carlyle said. "And then we set out a schedule for them to participate to some degree in off-ice conditioning during their break. We understand that if you got five days you're not going to the gym every day. We know that. We wouldn't expect them to. But, the last two days our expectations were for them to participate and have some sort of workout." Carlyle also said he went easy on the guys in the first practice and morning skate back. "We want to utilize the energy that we have built up."
Carlyle didn't travel anywhere during the break for two reasons. One, he was sick, including a bout of strep throat. And, two, he wanted to stay close in case something happened during the trade deadline. As for his thoughts on bye weeks in general? "For coaches it's headaches, for players it's a great time to relax and kick back."
* Going easy at practice? That doesn't sound like the Carlyle who coached in Toronto. Indeed, Corey Perry explained that the veteran bench boss has mellowed a bit during his second stint with the Ducks. "He's a little bit quieter, a little bit softer," Perry said. Softer? "Well, you know what I mean (laughs). You know what it can be like sometimes." Bernier agreed. "We have an older team and I think he lets us be ourself and he doesn't step up as much as in Toronto."
* Frederik Andersen was hoping to get the start in his first game back in Anaheim since an off-season trade, but head coach Mike Babcock is sticking with his usual routine of alternating goalies in back-to-back situations. After an inconsistent six-week stretch to start 2017, Andersen seems to be back in a groove recording a .942 save percentage in his last four starts. However, the former Duck has only played on consecutive nights three times this season (1-2-0, .911 save percentage). Since joining the Leafs in January, Curtis McElhinney has gotten the start in the second half of each back-to-back situation and the journeyman back-up was sharp in a 37-save shutout of the Hurricanes in his last start on Feb. 19.
Andrew Cogliano is disappointed he won't face Andersen on Friday. "He's not playing tonight?" Cogliano said with an eye roll. "Typical!" The two became close during the goalie's time in Anaheim. "My couch, the indent is taking a nice little break," the Ducks forward said with a grin. "He spent a lot of time at my house and became good friends with me and my fiancé. Me and Freddie, we talk a lot. He's one of those guys I've always liked and I respect. He's a worker and a player that, he's only going to get better, because of his work ethic and how he approaches the game. He's very professional with how he prepares and how he acts. He's a good goalie and a good person. I think Toronto has a guy who's going to be in their net for a long time." Why does Cogliano believe Andersen has the right temperament for the Toronto market? "Honestly, I've always noticed that whenever we played in front of him, I thought our team played pretty calm. And I think he had a nice calming demeanour. He's a pretty simple guy off the ice in terms of his personality and I think he's a calming influence back there. Now that he's gotten older I've seen him focus on the other parts of things in terms of nutrition and working out. He's a professional and I think he deserves to have a good, long career because he approaches the game at a high level."
* The Leafs have lost four straight for the first time since October. But the team has also gained at least a point in five of six. So, is the glass half full? "It's tough," said Morgan Rielly following Thursday's loss. "I mean, you want to take the positives out of a game like tonight. I thought that we battled well. It was a good road game like everybody said, but the only thing that counts is wins." The Leafs did not hold a morning skate on Friday.