Bernier gets first win, Leafs shut out Kings
Jonathan Bernier stopped all 26 shots he faced to pick up his first victory of the season as the Toronto Maple Leafs blew out the Los Angeles Kings 5-0 Saturday night at Air Canada Centre. Michael Grabner and Leo Komarov each scored twice and Byron Froese had his first NHL goal to turn the game into a rout.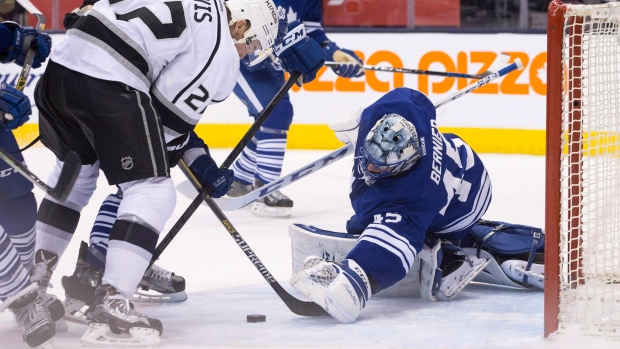 TORONTO - Jonathan Bernier's confidence may have been wounded, but his sense of humour is in tact.
Minutes after picking up his first victory of the season by shutting out the Los Angeles Kings 5-0 Saturday night at Air Canada Centre, the Toronto Maple Leafs goaltender flashed a wry smile.
"I won last week," Bernier quipped about winning in the minors.
Following 11 losses to start his NHL season a humbling journey on a minor-league conditioning assignment, Bernier shined against the Kings by stopping all 26 shots he faced.
"I've had a tough time, but I've been saying it: If you stick to the program and you work hard, at one point you'll get rewarded," Bernier said. "Definitely that was a big win for myself and for the team. Guys played really well and we deserved the win tonight."
Bernier had been 0-8-3 with some of the worst stats among NHL goaltenders. But he was on point Saturday night, stopping several quality scoring chances and remaining calm under pressure.
The Leafs (11-13-7) played a strong defensive game against a tired Kings team at the end of a six-game road trip. But all the post-game smiles had to do with getting the job done for Bernier.
"It hadn't gone as good for Bernier," Babcock said. "It's got to be unbelievably hard on him mentally and you get put through the ringer — he's been down in the minors, he watched (Garret) Sparks play ahead of him, that's not easy. ... We're thrilled for him, the whole team is thrilled for him, I'm thrilled for him."
The Kings (20-10-2) credited Jonathan Quick's former backup for beating them.
"You hear him talking in interviews lately, he was talking about how he was feeling like he was getting better and better and better things were going to come for him," winger Milan Lucic said. "It seemed like everything we put on net hit him and he was in the right spot and played a really good game."
Bernier also had some help in the form of an offensive explosion. Michael Grabner and Leo Komarov each scored twice as part of a dominant performance alongside new linemate Nazem Kadri.
"We created some chances," said Grabner, who had a career-high four points. "We gave up a couple chances against we've got to get a little bit better at, but overall I think it was a pretty good game for the first game together."
Komarov gave the Leafs an early lead, and Bernier made it stand up until the third period when goals came in quick success. Grabner scored twice, Komarov added his team-leading 13th goal of the season and Byron Froese had his first NHL goal to turn the game into a rout.
A big-time glove save by Bernier on Marian Gaborik allowed the Leafs to score the third goal, and at the other end Kings backup Jhonas Enroth couldn't make the same kind of stop.
"We had a really good chance going one way, and then they come back down and score and it's 3-0," Kings captain Dustin Brown said. "I thought the (final) two goals were goals we normally don't give up. It's just sometimes how it goes, and the game got out of reach real quick for us."
The Leafs extended their point streak to five games going into a road trip next week at the Colorado Avalanche and Arizona Coyotes. While goaltending has been a question for several weeks, Bernier showed Saturday night that he can still make the most of a major opportunity.
That's what Babcock wanted to see.
"He should feel proud, feel good about himself," Babcock said. "We're pulling for him like crazy, so it's great that it happened."
Notes — The Leafs experienced a scare late in the second period when defenceman Morgan Rielly slid awkwardly into the boards. Rielly returned for the third period. ... Babcock said the Leafs would recall an extra forward before the holiday roster freeze that began at midnight. ... The Kings went 3-2-1 on their road trip.
---
Follow @SWhyno on Twitter