Bet on Bautista to battle back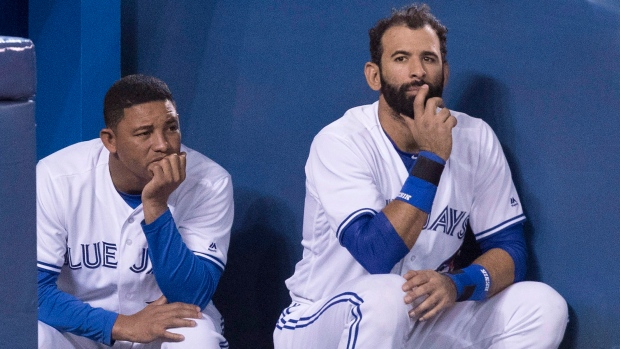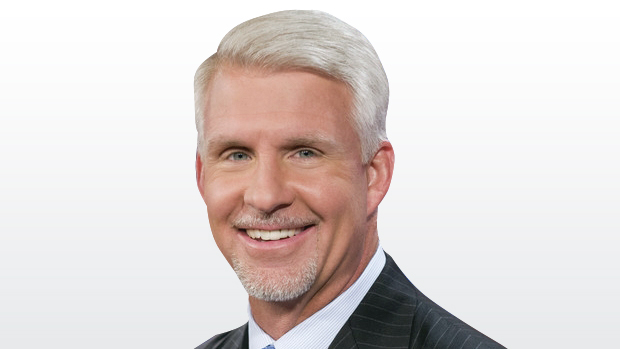 The Toronto Blue Jays' 2017 season has already hit critical mass. It feels like there is a chance it's over before it really even got started. Just when you think it can't get any worse, it does.
Chris Sale and Craig Kimbrel combined for 18 strikeouts in the Jays' 10-inning loss to the Boston Red Sox on Thursday. It was pure domination by the Red Sox pitchers. There's no shame in getting struck out by Sale and Kimbrel, but it felt like the Jays had no chance to score, save for the solo homer from Kendrys Morales off Kimbrel in the ninth inning.
Toronto's offence has been the biggest problem so far this young season. They've scored the second fewest runs per game in the American League, are tied for 13th in home runs and have the lowest OPS in all of baseball. Those numbers are disastrous, to say the least.
The Jays struggled out of the gate and then lost star slugger Josh Donaldson, who was one of the only guys on the roster hitting. They need multiple other hitters to step up their game in his absence, but it's just not happening.
So much of the attention has fallen on Jose Bautista. For years, he has taught us to expect him to be the saviour. He was the guy you could always count on to drive in runs. But we've only seen his worst so far this season.
He's hitting just .109/.242/.145 this season, with a single RBI and 22 strikeouts in 66 at-bats. He went 0-for-11 with two walks and seven strikeouts in the series with the Red Sox, including a golden sombrero against Sale on Thursday. The Jays struggles aren't all Bautista's fault, but he's the one fans targeted with boos during the game.
Of course, the knee-jerk reaction is to think that Bautista is washed up and the Jays never should have resigned him. I'm here to tell you that Bautista will give Blue Jay fans a lot to cheer about before this season is over.
Yes, he's a bit lost at the plate right now, but he is a warrior and a battler. Bautista will fight his way out of this funk. He is caught between pitches right now: behind the fastball and in front of the off-speed stuff. His swing isn't flawed and his body isn't too old. He just isn't thinking properly right now. He is aggressive when he should take a pitch and takes a pitch when he should swing.
Bautista needs a couple of days off to clear his head. The problem is manager John Gibbons must feel like he can't afford to sit him, but, in reality, he can't afford not to. The Jays can't string multiple hits together, so they need someone who can hit the ball out of the yard. That guy is Bautista. He needs to get right as quickly as possible.
Despite his slow start, I still expect Bautista to hit 25-30 homers. He's going to get hot and make opposing pitchers pay. The question is if it will be too little too late for the Blue Jays.
Rotation on the ropes
The Blue Jays started the season with the deepest and best starting rotation in the American League. Fifteen games in, they find themselves with 40 per cent of that stellar rotation on the disabled list (Aaron Sanchez with a blister, J.A. Happ with elbow inflammation).
It is likely that the Jays will ask Mat Latos and Casey Lawrence to fill the holes until their pitchers return healthy. Neither of those names will strike fear in opposing hitters, but they are in line with the quality of pitchers other clubs would call upon in a similar situation. The Jays had difficulty getting starting pitching depth candidates to sign with them in the off-season because most didn't see much of an opportunity in Toronto.
Latos is 71-58 with a 3.60 ERA in his career. He is 29 years old and has spent parts of eight seasons in the majors. He has experience and decent stuff. Latos isn't quite the same pitcher he was when he broke in the big leagues but he does have moxie and toughness.
Lawrence is also 29, but just made his major-league debut earlier this year after seven full seasons in the minor leagues. His story fits this Jays team very well. He's another guy who has had to prove his worth throughout his career and never had anything handed to him. Lawrence is a sinker-ball pitcher who will try to keep the ball in the park and let his defence work behind him.
The replacement starters just need to give the Jays a chance to win. Of course, with the offence struggling, they might need to shutout the Angels this weekend.
A PED contract proposal
The news that Pittsburgh Pirates outfielder Starling Marte has been suspended 80 games for failing a drug test stirs a range of emotions.
I'm shocked and disappointed that a player still thinks he can beat the system. I'm sad for him, his parents, his teammates and the fans. I'm angry that a player disrespects the game in this way. It makes me think the testing program is working, but it also makes me think that maybe the penalties aren't stiff enough.
Although I'm sure there are some players who are still getting away with cheating, I believe the game is much cleaner now than it has been in a long time. The penalties and testing system is the strongest of all professional sports, yet players still try to cheat. They do it because they are willing to lose half a season and their good name and reputation for the money. If they can perform and get a $50-million deal like Marte or Miami's Dee Gordon (who was suspended last year), it is worth it to them.
The way to stop the use of performance-enhancing drugs is to take the money away when players test positive. I propose that when a player fails a drug test, his contact immediately becomes non-guaranteed. The club would have the right to get out from under whatever deal the player had signed previously.
The player should also be ineligible for guaranteed contracts for the rest of his career. This makes sense because players who use PEDs are committing fraud. They're pretending to be something they are not. They do it to get the money, but off the drugs they are not the player the club paid for. It's the only fair resolution.
There has been enough negative response from players regarding Marte that I believe players would vote to have their union approve such a change to the joint drug agreement.
As for the Pirates, their playoff hopes are minimal. They had very little margin for error to begin with and now it's gone. Marte is arguably their best player. His absence, coupled with the absence of Jung Ho Kang, crushes their offence and defence. They've moved Andrew McCutchen back to centre field and will fill right field from within.
This pretty much ensures that McCutchen will be traded at the deadline. The Pirates hope he bounces back and has a great first half because they want his production, but they also want his value to improve for a potential trade.
Excitement in the Bronx
Yankee fans are going nuts in the New York area. The team has won nine of their last 10 games and there is growing excitement that the rebuilding process is happening much more quickly than anticipated.
The development of outfielder Aaron Judge and the potential of injured catcher Gary Sanchez have Yankee fans dreaming of an offensive powerhouse. Veterans Jacoby Ellsbury, Chase Headley, Matt Holliday and CC Sabathia are all playing out of their minds so far. Michael Pineda and Luis Severino look like they have solved their past issues of command and control.
But before we start taking ring sizes, remember that on May 13 of last season the Chicago White Sox were 24-12 and in first place in the AL Central. It turned out that they were a hot team, not a good team. They floundered from that point on, finishing with a 78-84 record.
The most inconsistent players in the majors are the youngest guys and the oldest guys. The Yankees roster is loaded with youth and aging veterans, with very few in the prime of their career. Maybe their young players will be an exception and figure it out. Maybe the old guys will drink from the fountain of youth and sustain one last run.
My experience says neither will happen and they will falter. I can't see the Yankees winning more than 83 games.
Spitting Seeds
- Mookie Betts' streak of 129 at-bats without a strikeout was ended by Toronto starter Francisco Liriano on Wednesday. In this day and age of swings and misses, Betts stands out as one of the game's best hitters. He isn't a "Punch and Judy" contact hitter. The Boston outfielder is a slugger who doesn't strikeout – a very rare breed.
- Yoenis Cespedes of the Mets left Thursday night's game with a cramp in his hamstring. That can only mean one thing: He will be playing golf tomorrow. Last year, Cespedes found himself in the middle of a controversy when he played golf while claiming he was unable to play for the Mets due to a quad strain. I wonder if he learned his lesson.
- Dodgers ace Clayton Kershaw was miffed Wednesday night when Rockies starting pitcher Tyler Anderson threw a few extra pregame warm-up pitches in the bullpen and walked across the field after Kershaw had thrown his warm-up pitches to start the game. The umpire made Kershaw wait for Anderson to clear the field, delaying the start time of the game. Kershaw was clearly upset and wasn't quite himself in the first inning, yielding an early run. Although unintentional, Anderson got under Kershaw's skin and it affected his performance. Don't be surprised if someone does this again to Kershaw for gamesmanship.
- Seattle Mariners outfielder Mitch Haniger was an extra player in the deal that sent pitcher Taijuan Walker and infielder Ketel Marte from Seattle to Arizona for shortstop Jean Segura. He's proving he is ready to produce immediately, hitting .323/.432/.597 with four homers and 15 RBIs.
- Mets fans got all worked up about my trade proposal last week, in which I suggested sending Jay Bruce and Robert Gsellman to the Jays for Liriano and Dalton Pompey. You'd think I had suggested trading for Mo Vaughn or something. Bruce has been red hot early in the season. Mets fans have short memories ­– they all wanted to run Bruce out of town last year when he hit only .219 after being acquired by the Reds at the trade deadline. In fact, this off-season the Mets exercised Bruce' option with the hopes they could trade him but had no takers. Now they couldn't dream of parting with him.