Bhullar: It's on me to show heavyweight veterans the door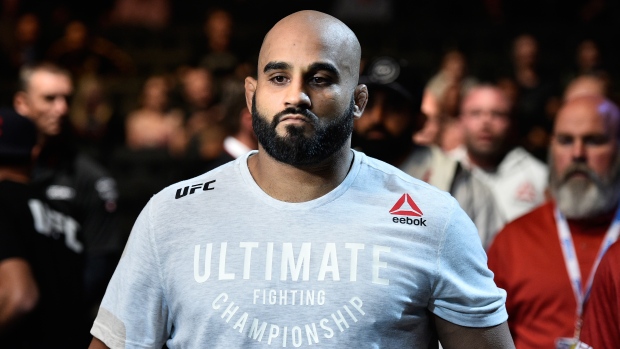 Ever since Cain Velasquez defeated Brock Lesnar for the UFC heavyweight championship in 2010, the division has been rife with stagnation.
Junior dos Santos beat Velasquez just over a year later, and then Velasquez won the title back the following year. Velasquez held the title for roughly three years before losing it to Fabricio Werdum, who dropped it nearly a year later to current champion Stipe Miocic.
It has been a revolving door of talent at the top of the division, with Miocic, Velasquez, dos Santos, Werdum and Alistair Overeem sitting atop the rankings for eight years.
It wasn't until 2017 that some new blood arrived in the division to shake things up. Francis Ngannou, who many thought would be the heir to the heavyweight throne, knocked out former UFC champion Andrei Arlovski and former Strikeforce champion Overeem in just over three minutes combined.
In January, Ngannou's ascension to the title was thwarted by Miocic, who made the Cameroonian look human for the first time in his young UFC career.
Just when it looked like the old guard was starting to return to prominence, Curtis Blaydes and Alexander Volkov, two fighters in their twenties, scored wins over Mark Hunt and Werdum respectively to infuse the heavyweight division's top-5 with some youth for the first time this decade.
It doesn't stop there, other heavyweights like Australia's Tai Tuivasa and Canadian Arjan Bhullar look to be part of the division's next generation.
"I could care less about the other heavyweights, I'm focused on what I've got to do," Bhullar told The TSN MMA Show. "I will say that the pioneers, the legends have been around for a long time. The guys that you watched before you got into the sport have been dominating up until now even. I do believe that it's on guys like myself to show them the door. They're not going to leave otherwise. They've been great for a long, long time, but it is a new generation, a new era and I'm excited to be a part of that and make my mark."
At 1-0 in the UFC, the Sikh Canadian has some ground to make up, but with a decorated freestyle wrestling background that includes a gold medal at the Commonwealth Games and a bronze medal at the Pan-Am Games, he has the grappling background so many heavyweights lack.
Bhullar has the highest of hopes for his UFC career, but he's more concerned with being in line for a title shot by the end of 2018 than where he is ranked.
"I don't care about ranking. I don't look at that stuff, that's for fans. Any given day, anyone can beat anyone," he said. "If it went by ranking then there wouldn't be any fights. You may as well just strap your belt around the number one guy all the time. So for me, I will be in a position to fight for that title, that's my goal, I will be undefeated and we will have India opened up as a market and lined up for 2019. Those are my goals."
Bhullar's second UFC fight takes place next month at UFC Fight Night in Glendale, Ariz., against 9-1 Polish prospect Adam Wieczorek, who hasn't lost since his second professional fight in 2011 against current top-10 heavyweight Marcin Tybura.
Recently, Bhullar went to Phoenix to promote the fight, but did so autonomously from the UFC.
"I've got great management at CAA. We got together and we made that happen. It was a great weekend. We got out to the Phoenix Suns versus Warriors game. Coach [Jay] Triano, he's from Vancouver, so we were able to get that thing organized," said Bhullar. "Aside from that, the local Indian community came together to setup a whole bunch of media for me, Good Morning Arizona, FOX, all that stuff and then I got out to the local temple and met the community leaders and got them all revved up"
Bhullar is quick to mention the importance of his Indian heritage and the support he gets from his community whenever he is interviewed.
It is for that reason that he hopes to fight in July during International Fight Week.
"This camp will be out of Vancouver and then I'm hoping on getting down south of the border after this fight and getting DC [Daniel Cormier] ready for the Stipe [Miocic] fight and try to get on that card myself," said Bhullar. "If you want a nation of over a billion people and really make a push, it makes sense, so we will cross that bridge when the time is right. I intend on being in on that training and that camp anyhow, and if we're able to get a fight lined up too, that would be a bonus"
After celebrating the birth of his first child, a daughter named Ajuni, Bhullar's sights are now set on the Wieczorek fight. He has enlisted the help of fellow heavyweight Anthony Hamilton, Wieczorek's last opponent, who he is bringing to Vancouver to help him get ready for this challenge.
"He's been in there with this guy, so he'll know where we're at and where Adam will be at. He's got a good feel that way and aside from that, he's a quality big guy, so you're able to get two different factors with him. I'm excited to welcome him into Vancouver," said Bhullar.
With the weight of both Canada and India on his shoulders, Bhullar has embraced the responsibility and isn't shying away from the expectations.
"You have to be your own priority and make things happen for yourself. That's always been my approach, not only with media and promotions, in terms of competition too," said Bhullar. "You can't rely on other people to set you up for success, so you have to have that philosophy in life and that's what I continue to live by."