Big night for the Big E
Eric Lindros will have his No. 88 raised to the rafters tonight in Philadelphia during a 30-minute pre-game ceremony.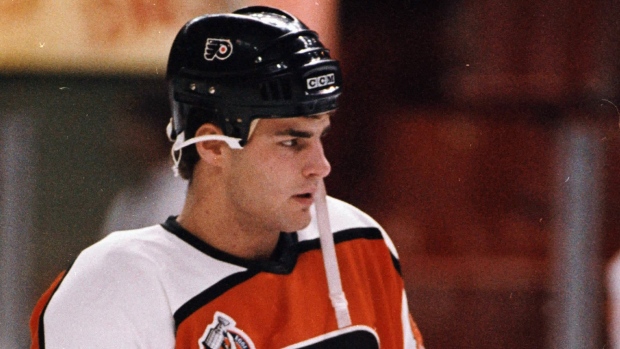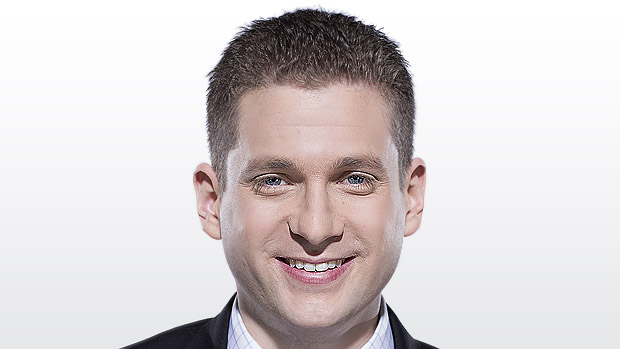 TSN Toronto reporter Mark Masters checks in daily with news and notes from Maple Leafs practices and game-day skates. The Leafs and Philadelphia Flyers held an optional skates at Wells Fargo Center on Thursday morning.
Eric Lindros will have his No. 88 raised to the rafters tonight in Philadelphia during a 30-minute pre-game ceremony that will kick off at 7 p.m.
"He did it every which way," said Flyers winger Wayne Simmonds. "He'd power through you, he'd stickhandle around you and if you wanted to drop the gloves, he'd drop the gloves and beat the crap out of you. He was a special player and that's why he's having his number retired."
Nazem Kadri has had the chance to meet the former Flyers captain on several occasions. While Lindros was an imposing figure on the ice, Kadri was struck by how warm and welcoming he was off it.
"He's just like a big teddy bear. He's just so nice," said Kadri, who like Lindros is a native of London, Ont. "Then you watch highlights and he had a mean streak to him. He defined the game and created that position of that big forward. He was the first one to come in and do what he did. He's an unbelievable guy, a great mentor, role model, professional and a very genuine and generous guy."
Each seat at the Wells Fargo Center has a No. 88 shirt draped over it ahead of the festivities. The ceremony will feature speeches by Flyers president Paul Holmgren and Lindros.
"It's unbelievable," Lindros said in a pre-game news conference. "This is one of those days that you take for the rest of your life. Just extremely special moments where you feel lucky. You really feel lucky."
After the Leafs wrapped up their skate, Lindros got the chance to take the ice with his three-year-old son, Carl, for about 20 minutes.
"You just never know when you're ever going to have another chance to do something like that with your kid and Carl's at an age now where he's starting to grasp hockey and understand what's going on," Lindros said. "He came home, and he normally doesn't nap, and he slept the entire afternoon with his Flyer jersey on and was right out. That's the coolest part. He's fired up."
Warm-up for the teams will happen after the tribute, with puck drop scheduled, appropriately, for 8:08 pm.
---
Connor Brown has 11 goals this season despite playing mostly in a fourth-line role. And even though Toronto has struggled to score of late (10 goals in the last six games) the versatile winger has continued to skate alongside Matt Martin and Frederik Gauthier.
Mike Babcock bristled when asked if, in a perfect world, he would want to get Brown more minutes.
"Why don't you canvass the top nine and see who wants to give him that," the coach said flatly. "I mean, my wife can tell me what's wrong, but in our business you got to figure out a way to find what's right."
Brown is averaging 11:27 of even strength ice time per game, which ranks 10th among all Leafs forwards.
"Brownie is playing on our power play, playing a regular shift and penalty killing for us," Babcock noted. "So, I think he does a pretty good job. I thought he was one of our best players last game and any time a guy like that plays like he has, he's sending a message to everybody else at the same time, right? He wants more ice time, he wants their job. I think that's a good message for our team."
The Kadri line hasn't seemed right of late and some would like to see Brown take the place of Leo Komarov, who has just one goal in 20 games.
"When Leo gets those chances and doesn't score, we got to believe it's going to go in [eventually based on] shooting percentage," Babcock noted.
Komarov's shooting percentage this season is 5.6, which is down from his career average of 10.9.
Kadri believes what Komarov brings to the line sometimes gets overlooked.
"He's not super flashy, but he's going to get the puck in, he's a great forechecker and he'll get you pucks back," Kadri said. "He's smart. He's very sound positionally. I think he's one of the best penalty killers in the league. He's got a great stick. He's got a lot of PK minutes for us and killed off a lot of penalties that we needed to give ourselves a chance to win."
---
Mitch Marner is looking for a bounce-back performance after his overtime gamble on Tuesday backfired. The shifty winger made a bad read allowing Blues defenceman Vince Dunn to get a two-on-one rush and score the winner.
Babcock had some tough words for the young winger in the immediate aftermath of the loss saying Marner got caught cheating for offence. So, what sort of response is he looking for tonight?
"When you don't win, any time there's mistake I think you talk about it more," Babcock said Thursday morning. "If you make a mistake and you win, you don't talk about it as much. It was just earlier [Morgan Rielly] made mistakes. No one is trying to make mistakes. Mitch isn't trying to make mistakes; he's trying to help our team win. I think he's actually had a pretty good run here of late so what's important for him is not to dwell on it. There's no sense carrying the weight of the world. You made a mistake; it's over with and let's get back at 'er."
---
The Flyers won both previous games against the Leafs this season, triumphing 4-2 on Dec. 12 in Philadelphia and 4-2 on Oct. 28 in Toronto.
"We've done a good job of putting pressure on their D," Simmonds explained. "They're a really, really good team in transition so you don't turn pucks over in the neutral zone and try to get them deep and grind their D down. When you're successful against the Leafs, that's the way you have to play."
James van Riemsdyk said there's a specific area of the game his team wants to clean up tonight.
"If I remember correctly they got a couple goals off face-offs so we have to be dialled in off that," he said.
----
Dominic Moore, Josh Leivo and Andreas Borgman stayed out at the morning skate and are expected to be scratched tonight.
Projected lineup for Thursday's game:
Forwards
Hyman-Matthews-Nylander
Marleau-Kadri-Komarov
van Riemsdyk-Bozak-Marner
Martin-Gauthier-Brown
Defence
Rielly-Hainsey
Gardiner-Carrick
Dermott-Polak
Andersen starts