Blackhawks rally to beat Ducks in OT
Artem Anisimov scored 1:53 into overtime and the Chicago Blackhawks rallied from a two-goal deficit in the final moments of regulation for a 3-2 victory over the Anaheim Ducks on Friday.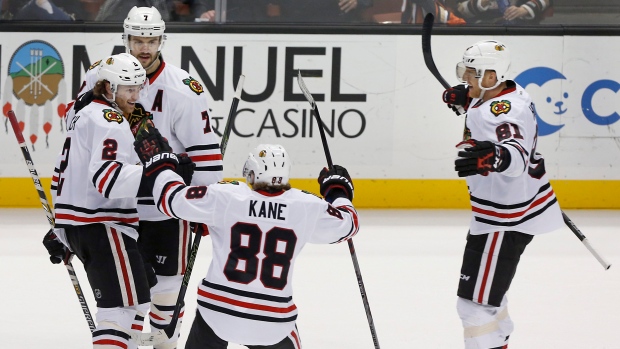 ANAHEIM, Calif. - The Chicago Blackhawks' visit to Honda Center on Black Friday for a meeting of Western Conference powers has become an annual NHL staple in recent years.
In another new tradition that isn't limited to holidays, the Blackhawks always seem to find remarkable ways to ruin the Ducks' day.
Artem Anisimov scored 1:53 into overtime, and the Blackhawks rallied from a two-goal deficit in the final moments of regulation for a 3-2 victory over the Ducks.
After 58 scoreless minutes in which the Blackhawks largely were dominated, the defending Stanley Cup champions roared from behind in their first trip to Anaheim since winning Game 7 of the conference finals here six months ago.
Marian Hossa and Duncan Keith scored man-advantage goals in the final 1:41 of regulation before Anisimov ended it with his 10th goal, delighting the usual hundreds of Blackhawks fans in the sellout crowd.
"Well, I don't think that is the way we'd like to draw it up, but we'll take the win," Keith said. "I thought they outworked us most of the game. We just found a way at the end and snuck out with the two points."
Brent Seabrook assisted on all three scores in Chicago's fourth straight win at Anaheim on Black Friday. Chicago won the final two games of the conference finals before claiming their third Stanley Cup title in six years.
"It's a good rivalry we have going with them," Patrick Kane said. "It's fun when you kind of stick with it the whole game. No one really panics."
With an assist on Keith's goal, Kane extended his points streak to 18 games, matching Phil Kessel and Eddie Olczyk for the longest streak by an American-born player in NHL history. He was moments away from losing the streak and the game, but Chicago and the streak survived.
"You look at the Americans that have played the game, and the two guys that are part of that record with Kessel and Olczyk, that's some pretty elite company," Kane said. "Been a fun little ride here."
Hossa ended John Gibson's shutout bid during a 6-on-4 power play with 1:41 to play after a debatable tripping call against Ducks captain Ryan Getzlaf on Andrew Shaw. Keith got the tying goal with 26.6 seconds left after Kane and Seabrook kept the puck alive.
The Ducks have lost seven of 10 after this gut-punch defeat, but they avoided suggestions that Shaw took a dive.
"I touched him on the back of the leg, and obviously he went down," Getzlaf said. "I don't know how easy it was or whatever it was, but there's 2 minutes left and we're trying to battle them. I don't think that's a necessary call. It had nothing to do with the play. I just think it's such a great hockey game. Both teams are playing so hard, and to end it like that, I didn't think it was necessary."
Corey Crawford stopped 23 shots for the Blackhawks, who improved to 3-1-1 on their annual six-game trip while the circus takes over United Center.
Andrew Cogliano and Chris Stewart scored early goals for Anaheim, and Gibson stopped 29 shots.
"You knew they were going to come eventually," said Gibson, who got within moments of his second shutout of the Blackhawks in two seasons. "They were going to get something. They found a way to do it."
After Anaheim's season ended one victory shy of the Stanley Cup Final last spring, the clubs revived their rivalry last month in Chicago.
This rematch included plenty of after-the-whistle chippiness, particularly from Ducks centre Ryan Kesler and Chicago captain Jonathan Toews. They even dropped their gloves late in the first period, but the linesmen separated them before anybody could throw a punch.
NOTES: Anaheim hosted Chicago on Black Friday for the ninth time. ... NL MVP Bryce Harper was in the Blackhawks' dressing room after the game, chatting with Kane. ... Chicago F Teuvo Teravainen returned from a three-game absence with an upper-body injury. ... These teams' only remaining meeting of the regular season is Feb. 13 in Chicago.