Blue Jackets C Letestu has groin surgery, expected to miss next six weeks
Columbus Blue Jackets centre Mark Letestu has undergone surgery to repair groin and abdominal injuries and is expected to be sidelined approximately six weeks, the club announced on Tuesday. The surgery was performed by Dr. William Meyers at the Vincera Institute in Philadelphia.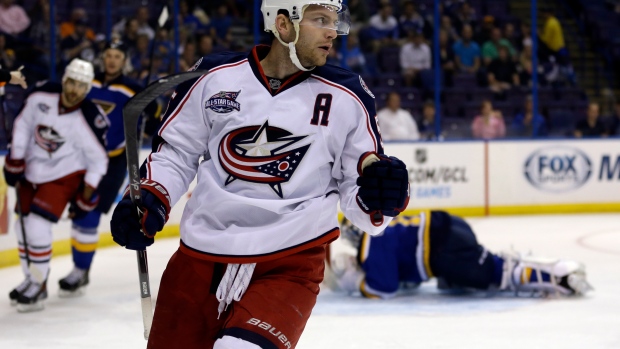 COLUMBUS, Ohio - The injury-plagued Columbus Blue Jackets have received even more bad news.
Centre Mark Letestu underwent surgery on Tuesday to repair groin and abdominal injuries that have kept him out of the lineup for over a month and he is expected to be out for approximately six more weeks.
Seven top players are currently on the injured-reserve list. One of the few metrics that track injuries is man-games lost due to medical problems and the Blue Jackets have 161 man-games lost to date. A year ago, while making a second-half spurt to the playoffs, they totalled 292 man-games lost.
At their current pace, the Blue Jackets will have 550 man-games lost this season.
As a result of all the injuries, the club has stumbled to a 7-15-2 record (16 points), matching Edmonton for the worst in the NHL.
Nathan Horton, the Blue Jackets' headline-grabbing free-agent signing two years ago, has a deteriorating condition in his back which may prevent him from playing again.
Brandon Dubinsky, one of the club's leaders, has yet to play this season because of a lower-body injury. He is just now beginning to skate with his teammates.
Another centre, Artem Anisimov, has a torn muscle in his upper body that will sideline him for two or three months.
The defence has been hit particularly hard, with blue-liners Fedor Tyutin, Ryan Murray and Cody Goloubef all out for the past few weeks with knee injuries. General manager Jarmo Kekalainen has added some support by picking up Jordan Leopold and Kevin Connauton. Star goaltender Sergei Bobrovsky, winner of the Vezina Trophy two years ago as the top goalie in the NHL, even missed a week or two.
Most of the injured are still weeks away from returning. Owner John P. McConnell and the front office have said they do not plan on trading draft picks to bolster the roster during the injury crisis. As it stands, the Blue Jackets already have several rookies on the current roster or waiting in the wings at their American Hockey League affiliate in Springfield, Massachusetts.
Letestu had three goals and two assists in nine games before being injured in late October.
The 29-year-old has 54 goals and 65 assists in 273 career NHL games, including 39 goals and 51 assists in 188 games with the Blue Jackets. Last season, he set career highs for assists (22), points (34) and games played (82). He added a goal and an assist in six playoff games.
The club has topped the 300 man-games lost mark just twice in franchise history - 411 in 2011-12 and 343 in 2008-09.