Blue Jackets fire Richards, hire Tortorella
The Blue Jackets have fired head coach Todd Richards after Columbus dropped a 4-0 decision to the Islanders to slide to an unfathomable 0-7-0. Richards will be replaced by John Tortorella, who has not coached since being fired by the Canucks after the 2013-14 season.
By Frank Seravalli wit CP Files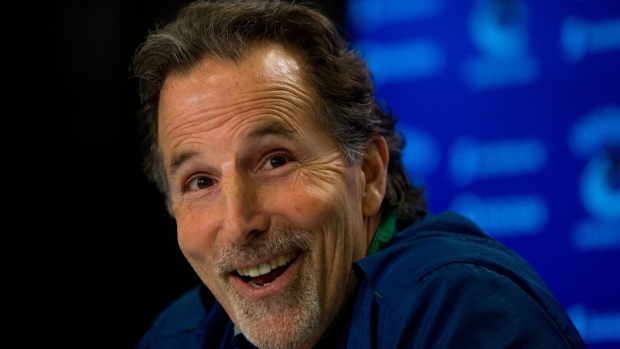 Off to the worst start for an NHL team in 18 years, the Columbus Blue Jackets made Todd Richards the first coaching casualty of the young season.
Richards, 49, was fired Wednesday morning after Columbus was shutout by the Islanders to slide to an unfathomable 0-7-0. His dismissal, two weeks into a regular season with the highest expectations in franchise history, is the NHL's quickest since the Flyers canned Peter Laviolette after just three games in 2013.
Richards will be replaced by John Tortorella, who has not coached since being fired by the Canucks after the 2013-14 season. The incendiary Tortorella, 57, is still the all-time winningest American-born coach in NHL history and he has close ties to Blue Jackets president of hockey operations John Davidson.
Even for a franchise steeped in losing, the Blue Jackets had never opened a campaign with as many as four straight losses in their 15-year history. They are now one of only three teams since the NHL's 1967 expansion to open with seven regulation losses.
Columbus is the only NHL team without a point so far this season.
"One of the problems right now is expectations," Tortorella said in a press conference Wednesday. "Expectations that weren't there last year with this club."
The limp start has been shocking, considering the Blue Jackets finished 2014-15 with a league-best 16-2-1 record and added blossoming star Brandon Saad from Chicago during the offseason. Columbus' newly formed top line of Ryan Johansen, Saad and Nick Foligno combined for a staggering 29 points in just four games together during the pre-season.
If Columbus was overconfident heading into the season - after going 5-2-1 in exhibition action - any shred of mental fortitude was wiped away within a week. Goaltender Sergei Bobrovsky admitted after giving up a career-worst six goals in one game that he had "no confidence." Bobrovsky, the former Vezina Trophy winner, allowed 23 goals in five starts for a mind-blowing .835 save percentage.
The Blue Jackets have allowed 18 goals in the third period alone, when only three other teams - Tampa Bay (20), Boston (21) and Calgary (25) - have allowed more goals in the entire season.
"I'm surprised how, in just five days, we've gone from a very confident group to one that is the opposite of that," GM Jarmo Kekalainen told the Columbus Dispatch last week. "Our confidence, our game … it's off the rails right now."
Tortorella will be tasked with getting it back on track, beginning on Thursday night in Minnesota.
The Blue Jackets are Tortorella's fourth NHL stop, including Tampa Bay, where he helped the Lightning to the Stanley Cup in 2004. He has previous ties to one current player - Blue Jackets alternate captain Brandon Dubinsky - whom he coached in New York.
Tortorella's contract in Columbus extends two additional years beyond this season, the same amount of time remaining on his deal in Vancouver. The Canucks will still pay a portion of his salary, the difference between what Columbus was willing to pay and what Vancouver still owed. The Canucks will also receive a second-round pick from Columbus for an in-season hire, as per NHL compensation rules, even though Tortorella was fired 538 days ago. Columbus has until June 1 to determine whether the pick will be in the 2016, 2017 or 2018 NHL draft.
"I have searched and looked at situations of what I could've done a better job there, and I do have some answers with that," he said of his time with the Canucks. "So sure, I think you become a better coach when you dig deep."
Despite the steep price, the time was now for Kekalainen to make a move.
Since 2005-06, only seven teams have gone on to make the playoffs after sitting more than four points out of a playoff spot as the calendar flips to Nov. 1. Last year, the Jets were the only team to do it, and they were just five back and they had the advantage of two games in hand.
The Blue Jackets are currently six points back of playoff positioning. And it's only going to get tougher. Columbus will play seven of the next eight on the road, including two separate trips out west.
Richards was the third-longest tenured coach in the Eastern Conference behind Boston's Claude Julien and the Islanders' Jack Capuano. Only seven other coaches league-wide have been with the same team longer (Joel Quenneville, Dave Tippett, Ken Hitchcock, Bruce Boudreau and Darryl Sutter) since Richards was promoted on Jan. 9, 2012.
Richards has been an NHL head coach in each of the last seven seasons since 2009-10, when he started with the Minnesota Wild. His career record is 204-182-37 (.526) and he went 127-111-21 (.531) in parts of five seasons in Columbus after taking over for Scott Arniel midway through 2011-12.
Richards' teams have only qualified for the Stanley Cup playoffs once. He led the Blue Jackets to their first playoff win in team history on April 16, 2014, before Columbus succumbed to Pittsburgh in six games.
The Blue Jackets then failed to make the playoffs last season, ravaged by more than 500 man-games lost due to injury.
Richards had one additional season remaining on his contract at just under $1 million per season and will be paid by Columbus through June 30, 2017.
"None of us saw our season unfolding the way it has and every one of us from management to coaches to players bears responsibility," Kekalainen said in a statement. "There is still a lot of hockey to be played and we believe this change was necessary to give our team the best chance to accomplish the goals we've set for this season."
Frank Seravalli can be reached at frank.seravalli@bellmedia.ca.