Predators acquire Johansen for Jones
The Nashville Predators traded defenceman Seth Jones to the Columbus Blue Jackets for centre Ryan Johansen on Wednesday, giving up a young piece of their defence in search of some more offence.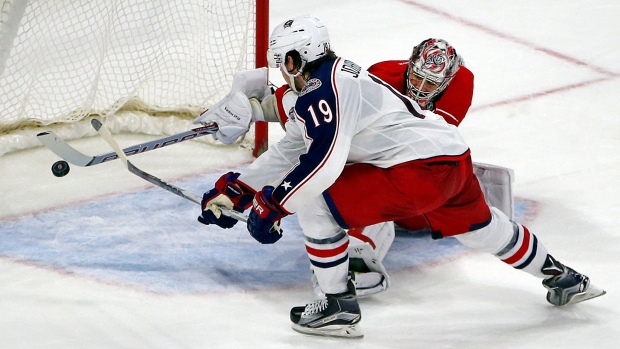 NASHVILLE, Tenn. - General manager David Poile hopes he finally has gotten Nashville the No. 1 centre he's been trying to land for 18 years.
All it took was one of his best young defencemen.
The Predators traded Seth Jones to the Columbus Blue Jackets for Ryan Johansen on Wednesday in a move Poile hopes boosts Nashville's offence and position in the Central Division standings.
"A lot of good players come through here and we've had some good centres, but I think we have a chance here to have truly a number one centre, something that we've been coveting for a long time," Poile said Wednesday night.
Poile called it a steep price to pay. But Nashville ranks 13th in goals against and only 17th in goals scored. Poile said this season has been a struggle with the Predators inconsistent on offence. Nashville currently is in the second wild-card spot in the Western Conference with 45 points, four ahead of Colorado.
"Having Ryan Johansen at centre ice, still with the defence that we have with our top four still being intact, I think this is a better balance for our club and gives us a better chance to win on a nightly basis," Poile said.
Johansen, 23, played in every game for Columbus the past two seasons, and the 6-foot-3, 218-pound centre from Vancouver, British Columbia, had six goals and 20 assists in 38 games this season after scoring 26 goals and 45 assists last season. He has 79 goals and 114 assists in 309 career games and was the fourth overall pick in the 2010 draft.
The forward said the trade didn't come as a surprise with the rumours of a swap involving him for Jones the past few days.
"No secret we need defencemen here in Columbus, they wanted a centerman in Nashville," Johansen said on a conference call. "I think both teams might be winning. Seth Jones obviously is an elite defenceman. Every time we play him you know he's on the ice and you're aware of him, and I'm hoping I can be that dangerous top line centre in Nashville."
Johansen said he hoped to arrive in Nashville later Wednesday night and join the Predators in time for a four-game road trip that starts Friday night in Colorado.
Jones, 21, was the fourth overall pick in the 2013 draft, and the right-handed 6-foot-3 defenceman has played 40 games for Nashville this season with one goal and 10 assists.
Johansen also has a 51.8 per cent success rate on faceoffs, including 52 per cent this season. That puts him in the top 10 among players with at least 400 draws.
Nashville leads the NHL with goals by defenceman thanks to captain Shea Weber and Roman Josi, and the Predators ranked second only to Dallas (103) for most points by a defensive corps with 100, according to STATS. But Nashville is 9-13-3 when outshooting opponents this season with their latest loss Tuesday night, a 4-1 decision to Winnipeg after outshooting the Jets 44-18.
"I hope as a manager this many years that I'm not making decisions based on one game," Poile said. "Last night was certainly typical of our year. You had 44 shots and you get one goal and that goal being very late in the game. It's been a frustrating year for us from that standpoint. We've actually been talking about this for a while."
Johansen was the MVP of the All-Star Game last season, and now he joins a Nashville squad with three All Stars in Weber, Josi and goalie Pekka Rinne.
"The first half obviously hasn't been how I drew it up, but I got a chance now to really get my game back on track and where I want to be and have a great finish to the season," Johansen said. "And hopefully make a long run in the playoffs."
___
AP Freelance Writer Jim Diamond contributed to this report.