Blue Jays beat Rangers, force Game 4 in ALDS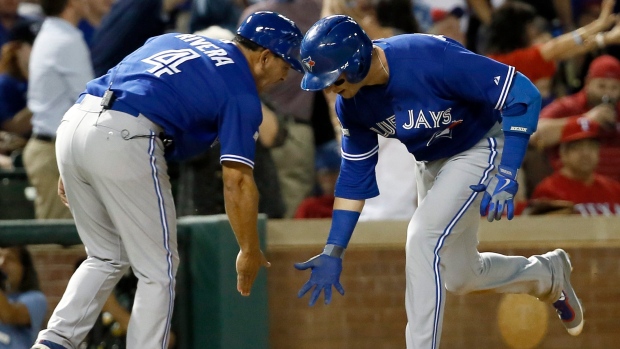 ARLINGTON, Texas - One week after posing for the cover of Sports Illustrated's playoff preview, Toronto manager John Gibbons found himself on the brink of post-season extinction.
The Blue Jays were flying high at the time of the Tampa photo shoot, partying their way into the playoffs after a 22-year absence. Exactly seven days later, Texas had AL East champion Toronto floundering.
Marco Estrada and Troy Tulowitzki threw Gibbons, the Jays and a good chunk of Canada a timely lifeline Sunday night as the Blue Jays defeated the Rangers 5-1 to stay alive in their American League Division Series.
Estrada limited the Rangers to one run over 6 1/3 innings and Tulowitzki, who had been hitless in the series, drove in four runs — including a three-run homer in the sixth — to cut Texas' lead to 2-1 in the best-of-five series.
Toronto faces another must-win situation Monday to bring the series back to Toronto for one final showdown, but the swagger seems back.
In his first post-season start, the ice-cool Estrada shouldered an entire franchise — at least for the night.
"Shoot, he was unbelievable," said Gibbons. "But I've got to tell you, especially you guys who follow us all the time, he's been doing that all year. Do-or-die game, doesn't surprise me he stepped up.
"You could tell early on, too, he was on. I mean, we talked about nerves for guys that are a little too emotional, how it would affect him. I didn't see that out of him at all. So job well done, but he's been doing that all year."
Added catcher Dioner Navarro: "Outstanding. He did exactly what we wanted him to do. He gave us six-plus innings and he was pounding the strike zone."
Shin-Soo Choo, Prince Fielder and Mitch Moreland, who hit two through four for Texas, went 0-for-12.
Estrada quietly led the majors by holding opponents to hitting .183 after the all-star break. He does it with a signature 79-m.p.h. changeup that makes his cutter, four-seam fastball and curveball all the more difficult to hit.
The 32-year-old right-hander can also elevate his pitches, adding a 3D-like dimension to his control.
Estrada said he felt great going into the game, despite the high stakes. He just thought about getting the win.
"I wasn't really thinking about the situation," he said. "Obviously I know we're down about two, or we were. I don't want to think about it, I just kept thinking, hey, the way you thought about pitching the entire year, why not keep doing the same thing, you know."
The Jays plan all hands on deck Monday, with starting pitchers David Price and Marcus Stroman both available to come out of the bullpen if needed to back up veteran knuckleballer R.A Dickey against Rangers starter Derek Holland.
Price warmed up in the bullpen in the seventh, when the Rangers finally got on the board.
Tulowitzki kick-started the offence on a 3-2 changeup off reliever Chi Chi Gonzalez. It marked the Jays' third all-time three-run homer in the playoffs, joining Candy Maldonado in the 1992 AL Championship Series and Joe Carter's winning blast in the 1993 World Series.
At the plate, the Jays showed patience in attacking starter Martin Perez. It worked, although they wasted a slew of chances leading up to Tulowitzki's homer.
The Jays shortstop showed that patience, working the count until it was in his favour.
Tulowitzki's four RBIs are the most by a Jay in the post-season since Carter's four in 1993. The franchise post-season record is five by Tony Fernandez in 1993.
While Estrada mowed down one batter after another, the Jays' offence was squandering chance after chance early on a steamy 33-degree Celsius night at Globe Life Park, with a sellout crowd of 50,941 in Rangers red and blue.
Toronto grounded into four double plays, a franchise record for the post-season. The previous mark was two, which had happened five times.
It seemed like another Houdini-like escape for Texas in the sixth, with a bases-loaded threat with no outs looking like it might fizzle after yet another double play denied the Jays by removing the lead runner. But Tulowitzki, 0-for-11 in the series up until then, slammed the ball 367 feet into right field for a 5-0 lead.
"Tulo needed that, he really did," said Gibbons. "He had that long layoff after the (shoulder) injury and then it's been kind of a battle for him this year.
"Offensively he's got some key hits along the way, but he hasn't hit it like he normally does. ... If he catches fire, we're real dangerous."
Rangers manager Jeff Banister called the homer "the big blow," lamenting the choice of changeup.
"The margin of error in these type of games is so slim that one pitch typically can get you and that really was the story of tonight," he said.
Estrada, meanwhile, cooly retired the first eight batters he faced and 12 of the first 13. He allowed just three Rangers on base in the first six innings, on a double and two singles.
He struck out four and walked none in a typically efficient 89-pitch outing that featured 57 strikes.
Estrada had little margin for error as the Jays offence, despite a slew of chances, only backed him with single runs in the third and fourth inning until Tulowitzki's first post-season hit as a Jay.
Roberto Osuna pitched a 1-2-3 ninth to close out the Toronto win.
History was not on Toronto's side going into Sunday's game.
Going into Sunday's contest, home teams that lost the first two legs of a five-game playoff series — including League Championship Series — were 2-27 according to Elias Sports. Teams that lost the first two games of a Division Series were 5-42.
Banister said he expected Toronto to come out guns ablazing.
"That's a quality ballclub in that other clubhouse," he said. "They know how to play, they know how to play very well. They have won a lot of baseball games this year. We knew that tonight would be a tough ball game. We know that (Monday's) going to be a tough ball game and we've got to come out and play well. We've got to continue to play well."
Follow @NeilMDavidson on Twitter