Blue Jays searching for impact in the outfield
Other names could eventually enter the fray, but Toronto manager Charlie Montoyo will open the season mixing and matching last year's group, hoping that something clicks, Scott Mitchell writes.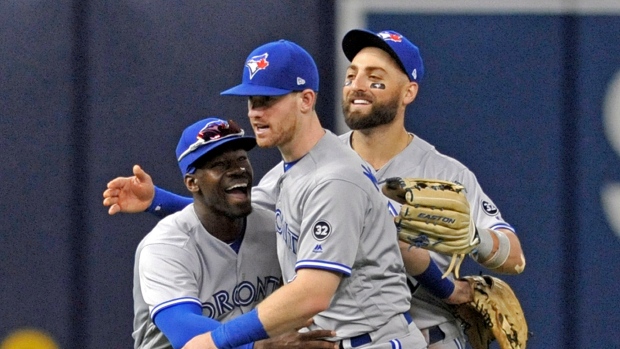 TORONTO — When you add up the 2018 WAR of the four Blue Jays outfielders slated to break camp and head north at the end of March, you get a total of 4.4 wins above replacement.
Mookie Betts alone racked up 10.4 on his way to MVP honours.
While it's completely unfair to compare anyone to the Boston Red Sox superstar, it illustrates the picture in Toronto perfectly.
There simply hasn't been enough impact since Jose Bautista was crushing baseballs in his prime.
Instead of going out and fixing that situation for 2019, the Jays opted to reboot a couple of potential breakout attempts, as well as bring back a veteran stalwart and fan favourite in Kevin Pillar.
There are things to like about Teoscar Hernandez, Randal Grichuk and Billy McKinney, but it's an uninspiring situation when you start to look around at all the outfield stars in the division.
Beyond the four names that won't face much competition early on, there isn't a wave of top prospects on the way, either.
Eventually, other names, like Lourdes Gurriel Jr. or Cavan Biggio or Devon Travis — or maybe all three — could enter the outfield fray, but, for now, manager Charlie Montoyo will be mixing and matching last year's group, hoping something clicks.
STARTERS
LF Teoscar Hernandez
CF Kevin Pillar
RF Randal Grichuk
BENCH
LF/RF—Billy McKinney
Hernandez has oodles of power, but his flaws are obvious. The defence was rough in left field last season — his eight outfield errors were the second-most in baseball behind Minnesota Twins' Eddie Rosario's nine — while the strikeout issues he showed in 2017 remained. The 26-year-old whiffed in 31.2 per cent of his 523 plate appearances.
Even through all that, Hernandez managed to club 22 homers, leading to a 107 wRC+ (100 is league average).
With Kendrys Morales returning to lock up most of the DH at-bats, Hernandez will have to fend off left-handed hitting Billy McKinney, who came over from the Yankees in the J.A. Happ trade.
Swing changes have helped McKinney unlock some power over the past two seasons, and his six home runs in 38 games in a Jays uniform last year prorates to a 25-homer campaign.
Pillar continues to chug along and enters his thirties coming off two-straight campaigns of exactly 2.0 fWAR, but the defensive metrics don't love Superman as much as they once did, and his on-base percentage sunk to a career-low .282 in 2018.
TRYING TO IMPRESS
Anthony Alford
Jonathan Davis
Dwight Smith Jr.
Dalton Pompey
Forrest Wall*
*Not on 40-man roster
If there's one area of the minor-league pipeline that's devoid of potential impact talent, it's the outfield.
Anthony Alford has the tools, but the 24-year-old former two-sport star has either been hurt or mediocre, and last year he was both.
A hamstring injury derailed a hot spring, and Alford slumped to a .240/.312/.344 slash line at Triple-A when he returned.
Jonathan Davis fits the profile of a fourth outfielder who provides speed and defence, while Dwight Smith Jr. and Dalton Pompey haven't done much with their fleeting opportunities over the past couple of seasons.
SPRING STORYLINES
Can Randal Grichuk author an age-27 breakout?
When Grichuk hit the disabled list at the end of April with a .106/.208/.227 slash line, the Twitter mob was calling for his release.
Instead, Grichuk used the downtime to find a more upright stance in the box, returning a different hitter on June 1.
From that day on, Grichuk slashed .271/.319/.553 with 23 home runs, cutting his season strikeout rate to a career low 26.4 per cent.
That finish has people excited, even if Grichuk has been a second-half hitter over the course of his career.
Grichuk might be the best bet on the roster to break out, especially as he enters his prime years.
Will Teoscar Hernandez fix defence, strikeouts?
Sent to his native Dominican Republic this winter with the goal of working on tracking fly balls in left field, Hernandez feels progress has been made.
"It's working," Hernandez said last month. "I had a really good winter ball season and I'm just excited to be back and keep working."
One of the attributes Montoyo brings with him from his days in the Tampa Bay Rays system is the ability to work with young players on the defensive side of the game.
Montoyo is confident Hernandez will be able to improve, which might help his confidence at the plate.
When the defensive miscues starting piling up last season, it was clear it affected Hernandez with the bat in his hands. He slashed just .209/.292/.395 after the all-star break, looking like a shell of the player who had been peppering the second deck at Rogers Centre early in the year.
Should we be talking about Billy McKinney more?
McKinney is the type of player and personality that might always fly under the radar.
Unassuming and quiet in the clubhouse, McKinney isn't blessed with a standout tool, either, instead relying on the well-rounded skillset that made him a first-round pick in the 2013 MLB Draft.
Once a contact bat with little power in the lower minors, McKinney is coming off a year that saw him slug 22 homers, by far the most he's hit in any one season since turning pro in 2013.
At the age of 24, McKinney has nothing left to prove in the minors, and even though he'll have to fight fellow breakout candidates like Grichuk and Hernandez for at-bats, he could turn some heads if he continues his evolution as a hitter.