Blue Jays will hope bullpen arms become trade chips
No one in Toronto's front office will say it, but the goal of signing, developing, or salvaging relievers over the next couple of seasons will be to eventually flip them for young assets, Scott Mitchell writes.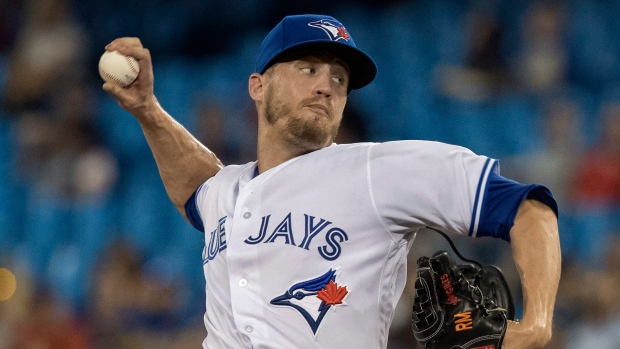 DUNEDIN, Fla. – When a ball club is rebuilding, the bullpen is the last room in the house to get furnished.
Simply put, resources aren't going to be poured into protecting leads when you're not expecting to have many to protect in the first place.
But with the evolution of the bullpen over the last few years, especially in the postseason, the value of quality relievers may be at an all-time high.
No one in the Toronto Blue Jays front office is going to say it out loud, but the goal of signing, developing, or salvaging relievers over the next couple of years will be with one goal in mind: turn them into trade chips.
Ken Giles will be just that in a few months, and the Jays are hoping Ryan Tepera and free-agent signings David Phelps and John Axford pitch well enough to join him.
Expect the bullpen to be a fluid situation this season, and GM Ross Atkins might not be done adding to the mix over the next couple of weeks, as a host of veteran options sit unsigned, many of whom could immediately provide quality innings and much-needed depth.
The Jays should carry eight relief arms for the majority of the season – it's important to note that a number of the names currently vying for rotation jobs could also end up being bullpen candidates by the end of March – and here's a look at who's currently in the mix for those jobs.
BULLPEN
RHP Ken Giles
RHP Ryan Tepera
RHP John Axford
LHP Tim Mayza
RHP David Paulino
RHP Elvis Luciano
RHP Joe Biagini
RHP David Phelps (Elbow: Questionable to start season)
--
Giles, Tepera, Phelps, when healthy, Mayza, and the newly-signed Axford will be locks.
That leaves three spots up for grabs.
Rule 5 draft pick Elvis Luciano will have to stick or the Jays will have to send him back to the Kansas City Royals, but there are creative ways around that, at least to start the season.
Big right-hander David Paulino, one of the three pieces that came over in the Roberto Osuna trade, will likely be a part of manager Charlie Montoyo's pen with a strong spring, and Joe Biagini will be given the month of March to find the magic that made him so successful as a rookie in 2016.
--
TRYING TO IMPRESS
RHP Javy Guerra*
RHP Mark Leiter*
RHP Justin Shafer*
LHP Shawn Morimando*
RHP Willy Ortiz*
RHP Zach Jackson*
*Not on 40-man roster
--
It's likely Atkins will address the issue of depth over the next couple weeks and bring in more arms to compete, but Leiter, Shafer and Guerra all have big-league experience, while Morimando is one of the few lefties the Jays have in camp.
Zach Jackson, a third-round pick in 2016, is a name to keep an eye on down the road. The 6-foot-4 righty racks up the strikeouts, but he'll have to iron out command issues before he's able to really make an impact.
--
SPRING STORYLINES
Can Ken Giles be a dominant closer in 2019?
The easy answer is yes.
Why?
Because he already has been one, as recently as in 2017 when he piled up 34 saves and pitched to a sparkling 2.30 ERA across 62.2 high-leverage innings for the Houston Astros.
Much was made about Giles' reputation and penchant for angry outbursts on the mound when he arrived last July in the Osuna trade, but more should be made about how elite the hard-throwing right-hander has been for most of his career.
With a career 11.9 K/9, 2.7 BB/9, and four seasons of at least 1.5 WAR, Giles has proven in the past to be one of the best closers in the game – it's the reason the Astros gave up a haul to pry him away from the Philadelphia Phillies in December of 2015 – and he could be the apple of contenders' eyes come July.
--
Is Tim Mayza ready to take the next step?
After bouncing back and forth between Triple-A and the majors the past two seasons, the Blue Jays are hoping Mayza is ready for a full-time role.
Last year, there were encouraging signs that the lefty has started to figure things out, as he posted a 3.28 ERA across 35.2 innings and struck out 40 batters in the process.
It's been a while since the Jays have employed a hard-throwing lefty like this, and the upside is significant, even if it's just in a setup role.
--
Will Rule 5 draft pick Elvis Luciano stick?
This question could be answered in March, or it could wait until the fresh-faced 19-year-old – he celebrates his birthday Friday – recovers from some sort of "injury" and a stint on the newly minted injured list.
Plucked from the Kansas City Royals organization in the Rule 5 Draft back in December, Luciano is an intriguing upside play, but one that will likely take his lumps and have to be sheltered in a low-leverage bullpen role.
There's also a chance he doesn't make it through spring training and is offered back to the Royals after showing he's clearly not ready for the big stage, which is a distinct possibility considering the right-hander has never pitched above rookie ball.
Despite the odds being stacked against him, the Jays made the pick for a reason and are looking at Luciano as a starter down the road.​