Bolts sign Kucherov to 8-year, $76M extension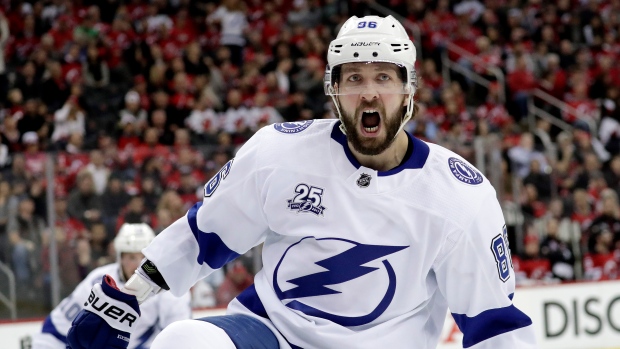 Nikita Kucherov has signed an eight-year, $76 million extension with the Tampa Bay Lightning.
Kucherov, who was set to be a restricted free agent for the final time next summer, will carry a $9.5 million AAV in each year of the deal. He carries a cap hit of $4.76 million for the 2018-19 season.
Kucherov finished third in the NHL - and first on the Lightning - in points last season with 102 and tied for ninth in goals with 39. Over the past two NHL seasons, only Edmonton Oilers centre Connor McDavid has more points than Kucherov.
"I'm truly grateful to sign this contract extension to keep me in Tampa for the next eight seasons today," Kucherov said in a team release. "I'd like to thank the Lightning organization and all of the fans for the support since making the Bay Area my home."
The 25-year-old has scored 30 or more goals in each of the previous three seasons and had seven goals and 17 points in 17 playoff games this past spring.
Starting in 2019-20, Kucherov will be the highest paid player on the Lightning. Steven Stamkos is currently the Lightning's highest paid player, carrying an $8.5 million cap hit, followed by defenceman Victor Hedman, who has a $7.88 million hit. TSN Hockey Insider Pierre LeBrun reports $44.5 million of Kucherov's $76 million total will be paid in signing bonuses.
According to CapFriendly, the Lightning now have $65 million in salary committed towards the cap for the 2019-20 season.
"My thought is we get the opportunity to open negotiations after July 1 of their last year of their contract, let's sit down with the players and their agents, and see if we can get something done early," Lightning general manager Steve Yzerman said Tuesday in a conference call with reporters.
"From a player's perspective, I think it eases their minds and they can plan their future a little bit and settle in. And from the team's perspective, it helps us going forward knowing the cap number of the players, knowing the commitment that we have, to make other decisions accordingly."
Kucherov's agent, Dan Milstein, first announced the contract on Tuesday.
"Nikita Kucherov signs 8 year extension with the Tampa Bay Lightning," Milstein wrote on Twitter. "He would like to thank the Lighting organization and all of the fans for the support. @GoldStarHockey"
The Russian winger was drafted by the Lightning in the second round of the 2011 NHL Draft and made his debut with the team during the 2013-14 season. He was named to his first All-Star game in 2017 and was honoured again in 2018.