Bombers sign former NFL player Westerman to deal
The Winnipeg Blue Bombers shored up their defensive line by signing Canadian Jamaal Westerman on Thursday. The six-foot-three, 260-pound Westerman joins the Bombers after six seasons in the NFL with the New York Jets (2009-11), Arizona Cardinals (2012), Indianapolis Colts (2012), Buffalo Bills (2013) and Pittsburgh Steelers.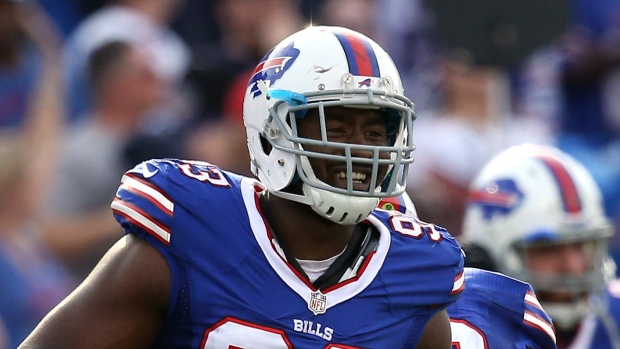 It's back to three downs and being a yard off the football for Jamaal Westerman.
The six-foot-three, 260-pound defensive lineman signed with the CFL's Winnipeg Blue Bombers on Thursday. Westerman, a native of the New York borough of Brooklyn who grew up in Brampton, Ont., returns to Canada after time south with the New York Jets (2009-11), Arizona Cardinals (2012), Indianapolis Colts (2012), Buffalo Bills (2013), Pittsburgh Steelers (2013) and Cleveland Browns (training camp, 2014).
Westerman, 30, follows younger brothers Jabar, a defensive lineman with the B.C. Lions, and Jawaan, a former receiver/defensive back with Winnipeg, into the CFL.
"I always thought I'd play one day in the CFL," Westerman said during a conference call. "It's exciting for me to get another opportunity to continue to play football."
Westerman comes to the CFL having appeared in 58 career NFL games. He registered 62 tackles, six sacks, four fumble recoveries and one forced fumble while adding 27 special-teams tackles.
Two adjustments Westerman will have to make with Winnipeg are lining up a yard off the line of scrimmage and playing three downs. But considering he played three-down football during his high school career in Brampton, Westerman isn't expecting a difficult transition.
"It's not a concern but, of course, it's an adjustment I'll have to make," he said. "It's not an issue for guys but it does take time to get used to.
"It's a different aiming point with setting up your pass rush movement."
After being released by Cleveland, Westerman remained out of football. Although he spent time doing radio work at his alma mater, Westerman continued training because he knew he wasn't finished as a player.
"This game is great but it's so hard to play that you can't take time off," he said. " You can't just say, 'I'll take four months off and start back training again,' because the moment will pass you in an instant."
Westerman said he spoke with all nine CFL teams before settling upon Winnipeg (7-11), which missed the CFL playoffs last year after finishing last in the West Division.
"It was an extremely difficult process, meeting with all the teams and talking with all the teams," he said. "I don't think any team lost, I think Winnipeg was the right fit for me right now.
"I met with the head coach (Mike O'Shea), I met with the GM (Kyle Walters), the president (Wade Miller), everybody on down and it all fit with the things I wanted moving forward in my career. The fans are frothing at the mouth for a winner . . . and with it (Grey Cup) being at home is going to be great."
Westerman's contract details weren't divulged but Walters said he didn't overpay for the former NFL player.
"I believe we were on par with the other offers he had from other teams," Walters said. "It certainly didn't get into a bidding war-type subject by any means.
"Everybody put a fair offer together and let Jamaal and his people go around and see where was the best fit for him."
Westerman will provide Winnipeg with roster flexibility because he's a Canadian playing a position usually manned by an American. Now, the Bombers can put an International player elsewhere in their game-day lineup.
"It brings a Canadian pencilled into a spot where we didn't have a Canadian, which is real nice for our ratio," Walters said. "It's almost like you get another high draft pick in the organization so it helps add depth quicker than maybe you thought was possible prior to this."
Walters is also looking to Westerman to be a big contributor on the field.
"He's a professional," Walters said. "He's been around the NFL for a number of years, he's a tough, ferocious, strong defensive end.
"He can get to the quarterback pretty well, he's played special teams. There will be an adjustment as there would be with any player coming from the American game to the Canadian game but we fully expect Jamaal to adapt quickly."