Boudreau on Foligno's collision with Myers: 'He fell'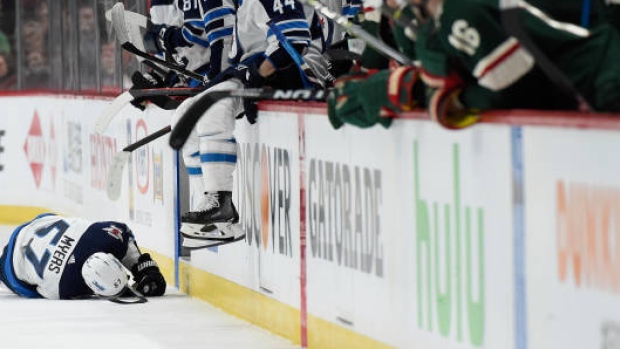 Minnesota Wild head coach Bruce Boudreau said Monday he believes Marcus Foligno had no intent to injure Winnipeg Jets defenceman Tyler Myers when the two got tangled up on Sunday night.
Myers left Game 3 on Sunday in the second period after an awkward collision with Foligno. Foligno lost his footing blocking a shot and fell into Myers, taking both players into the boards.
Jets head coach Paul Maurice would only say Sunday that he "didn't love" the collision, but Boudreau defended his forward on Monday. Maurice did not have an update on Myers during a news conference later in the day.
"He fell," Boudreau said bluntly. "Anybody that thinks anything different that there was something to it is trying to create something that's not there. He went to block a shot and he fell."
Some have accused Foligno of punching Myers as the two went to the ice. Foligno reminded members of the media on Monday that he and Myers were teammates in Buffalo.
"No, honestly I did not punch his knee," Foligno said, per The Athletic. "I've looked at it 100 times and my stick's in my hand and I think I'm trying to grab whatever I can before going down... I'm sure a lot of Winnipeg fans are saying that, but no I'm not trying to hurt someone out there, especially a good friend like Myers."
The Jets have not provided an update on Myers' status. Winnipeg leads the series 2-1 with Game 4 taking place on Tuesday.