Marchand believes Leafs, Lightning among teams best prepared to return
Boston Bruins forward Brad Marchand held a video conference call with the media on Thursday and spoke about teams he thought would be best prepared to resume the NHL season and how proud he was to be included on a gold medal winning Canadian roster.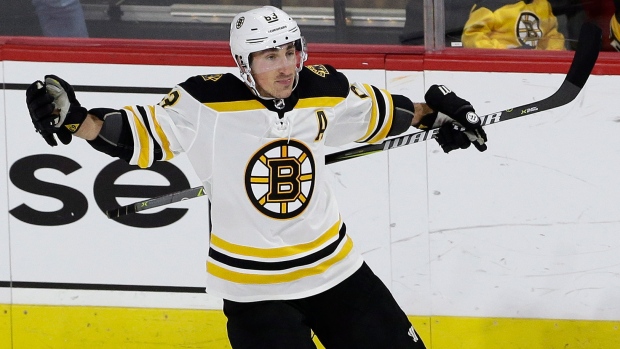 When the NHL season was paused due to the COVID-19 pandemic, there were questions about which teams should be considered playoff teams. One place where there are no questions is the top of the standings where the Boston Bruins hold a six-point advantage over the St. Louis Blues in the race for most points and eight points over the Tampa Bay Lightning for both the Atlantic Division and Eastern Conference lead.
Bruins forward
Brad Marchand
, who has 28 goals and a team-leading 59 assists in the 2019-20 season, believes that it's going to be a tough road back for everyone, but picked the two teams directly behind his team in the Atlantic Division as two that might best hit the ground running if the NHL is able to return to action this campaign.
"Everyone is going to be sloppy, I honestly think the teams that are going to come back and look good are the really young teams, teams like Toronto or Tampa, really high-end skilled teams," Marchand told the media during a video conference call. "They are going to have the legs and be able to get back quick, but all teams are really going to struggle."
The 31-year-old has produced many highlights over the course of his career that has spanned 751 regular season and 108 playoff games. Outside of winning a ring with the Bruins in 2011, Marchand spotlights his inclusion in an international tournament as not only a high point of his career, but a stepping stone for everything that came after.
"Winning a Cup will always be the top thing, but one of the things I'm most proud of is being part of the World Cup team with Canada," said Marchand. "It kind of, I feel, put me on a different level, a different calibre of player. Before that I never really thought I could play with guys that were on that team, I never put myself in the same category as anybody on that team. Coming out of that, I felt a lot more confident about my abilities and my game and where I could play in the league and I elevated from there. I was really proud to be part of that team."
Marchand played six games and contributed five goals and three assists for the gold-medal winning Team Canada, who topped Team Europe in the best-of-three final at the 2016 World Cup of Hockey. He says anytime you wear the country's jersey, it's something to feel good about.
"It's truly a huge honour to play for any Canadian team and I really set some big goals to make that team, so I was very proud about that."