Braves plunk Bautista after bat flip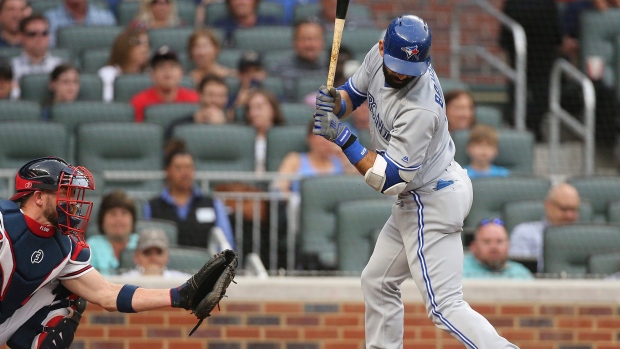 The Atlanta Braves and Toronto Blue Jays managed to keep their emotions in check in the fourth and final game of a heated series on Thursday night.
However, though the incident didn't lead to the benches clearing, the Braves made sure to respond to Jose Bautista's Wednesday night bat flip.
Braves starting pitcher Julio Teheran hit Bautista with a pitch in the top of the first inning, one day after Bautista's bat flip following a home run drew criticism from the Braves. Teheran's first pitch to Bautista was inside. The second pitch hit Bautista's thigh. Bautista walked to first base as home plate umpire Paul Emmel issued warnings to both benches.
The benches cleared for a second time on Wednesday night - the first coming after Kevin Pillar's homophobic slur towards Braves pitcher Jason Motte - when Bautista flipped his bat on an eighth inning home run with the Jays trailing 8-4. Braves first baseman Jace Peterson said something to Bautista as he rounded the base and the Jays' slugger briefly stopped before continuing toward second. Atlanta catcher Kurt Suzuki also had some words when Bautista arrived at home plate and the two dugouts to emptied once again.
"(I) basically just let them know that I wasn't trying to show up anybody and hopefully it's in the past...it has nothing to do with (frustration) but it was definitely not something that was fitting for the moment," Bautista said after the game.
O'Flaherty had a more biting analysis of Bautista's actions, referencing his altercation with the Rangers' Rougned Odor in Texas last season.
"That's something making the game tough to watch,'' O'Flaherty said, per ESPN. "It's turned into look-at-me stuff. He hit a home run with [the Braves holding] a five-run lead and throws the bat around. I'm just tired of it. I've seen it from him enough.'
"I'm surprised he's ready to fight again after what happened last year."
The Blue Jays won Thursday's game 9-0 to avoid a sweep in the series.
Braves first baseman Freddie Freeman was injured Wednesday night when Aaron Loup hit him in the hands, fracturing Freeman's left wrist.