Bridgewater leads Vikings past Lions
Teddy Bridgewater threw for a season-high 316 yards and two touchdowns, and the Minnesota Vikings beat the Detroit Lions 28-19 on Sunday.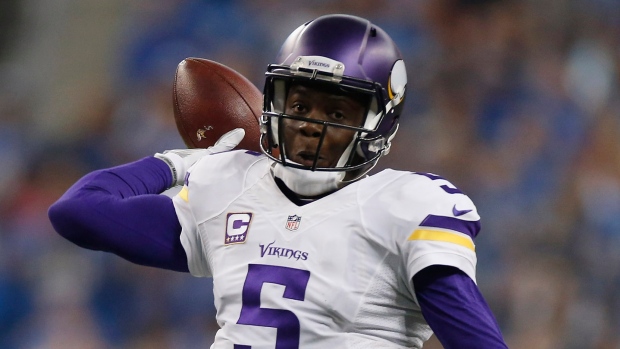 DETROIT - Teddy Bridgewater dropped back, lofted a long pass and Stefon Diggs did the rest.
Diggs leaped from just inside the 5 and landed in the end zone with a 36-yard, go-ahead touchdown in the third quarter, helping the Minnesota Vikings rally for a 28-19 win over the Detroit Lions on Sunday.
"I thought it was going to be a little bit out of my reach," Diggs recalled. "So, I didn't try to run under it. Usually, I just try to run under it. I was just trying to lay out for it."
The Vikings (4-2) won an NFC North road game for the first time in three years, and Bridgewater gave second-year coach Mike Zimmer the game ball.
"We are all so excited to give him first road win in the division," Bridgewater said.
With a big-play receiver like Diggs, the Vikings may have an easier time on the road this season. The rookie had six receptions for 108 yards, giving him 19 catches for 324 yards in three games after being inactive for the first three games.
Diggs and Anquan Boldin, who made his debut with the Arizona Cardinals in 2003, are the only NFL players since at least 1960 to have that many catches and yards receiving in their first three games, according to STATS.
"You have to love that guy because he's so energetic and so excited about playing in the NFL," Bridgewater said. "Even (Saturday) at our walkthrough, when everyone was at walking tempo, he was running at full speed. That's just how he is."
Detroit (1-6) had an 11-point lead after Matthew Stafford threw for TDs on its first two drives, but blew it in large part because the offensive line couldn't protect the quarterback. Minnesota had a season-high seven sacks, which also was a season worst for Detroit.
"Anything that doesn't go well, I'm concerned about it," Lions coach Jim Caldwell said. "We had a number of things that didn't go well."
The Lions led 17-6 on Matt Prater's 52-yard field goal late in the first half.
"Everyone told us that this team couldn't win a road divisional game, so this was big for us," Zimmer said. "We didn't give them anything in the second half, and that was huge."
Bridgewater had his best passer rating of the season in last month's 26-16 win against the Lions, and was solid again in the rematch.
Bridgewater was 25 of 35, connecting with 11 teammates, for a season-high 316 yards. The first of his two TD passes was a 1-yard toss to Kyle Rudolph that got Minnesota within five late in the second quarter. Blair Walsh's 51-yard field goal ended the first half and cut Detroit's lead to 17-15.
Adrian Peterson ran for 98 yards on 19 carries, including a 75-yard run. He played a day after being listed as questionable and scoffed at a report that indicated his illness stemmed from swallowing chewing tobacco.
"I've been dipping for over 10 years and I'm immune to swallowing dip when I need to," Peterson said. "I think it was something I ate."
The Lions had a chance to make the final minutes potentially dramatic, but turned the ball over on downs at the Vikings 1.
Minnesota had punter Jeff Locke run out of the end zone on the ensuing possession, taking a safety to stay two scores ahead with a 28-19 lead with 59 seconds left.
Detroit drove to the Vikings 36 on its final drive before turning the ball over on downs again, and getting booed by the sparse crowd that was still in Ford Field.
Stafford didn't have much time to throw after a strong start.
He capped the opening 75-yard drive with a 1-yard TD pass to Calvin Johnson. He connected with Eric Ebron on a 7-yard scoring pass to end an 80-yard drive on his next possession. The rest of the game, he was getting sacked, hit and hurried.
Stafford finished 18 of 26 for 256 yards, and needed X-rays on his left hand.
"I think it's fine," he said.
NOTES: Minnesota had not won a division road game since winning in Detroit on Sept. 30, 2012. ... Lions CB Rashean Mathis and Vikings WR Jarius Wright were evaluated for concussions.
___
AP NFL website: www.pro32.ap.org and www.twitter.com/AP_NFL
___
Follow Larry Lage at http://www.twitter.com/larrylage