Chara out 4-6 weeks with knee injury; surgery unlikely
Boston Bruins captain Zdeno Chara will will four to six weeks with a posterior cruciate ligament tear in his left knee. Chara suffered the tear in a collision with New York Islanders captain John Tavares midway through the first period on Thursday night, he then played one more shift that ended with 8:04 remaining in the period. There was no outward indication of an injury at that time.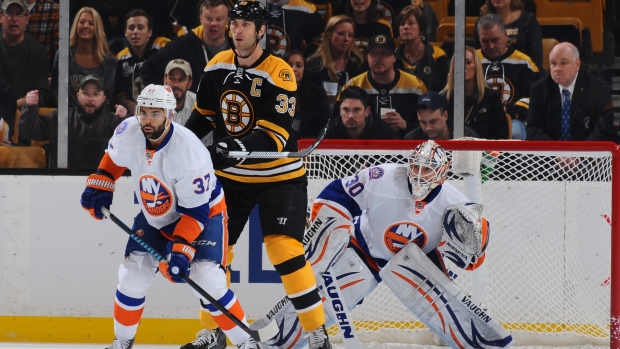 BOSTON - Boston Bruins defenceman Zdeno Chara tore a ligament in his knee and will miss four to six weeks.
General manager Peter Chiarelli said the 2009 Norris Trophy winner will not need surgery on the posterior cruciate ligament in his left knee. Chiarelli said it was good news in that other ligaments in the knee would require a longer recovery.
Chara left Thursday night's game against the Islanders in the first period, one shift after a collision with New York forward John Tavares. He did not appear injured at the time, but his teammates knew it was serious when the 6-foot-9 defenceman left the bench.
The Bruins lost 3-2 to fall below .500 for the season and into a four-way tie for fifth place in the NHL's Eastern Conference.
The six-foot-nine Slovak, a third-round pick of the Islanders in 1996, is Boston's No. 1 defenceman and spends more time on the ice than any other Bruins player. He has two goals and an assist in nine games this season.
The Bruins will play the Maple Leafs in Toronto on Saturday night.