Cassidy blasts late penalty call on Moore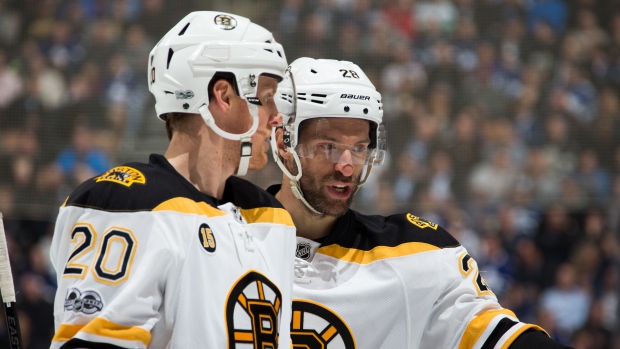 Boston Bruins head coach Bruce Cassidy didn't hold back when asked about the late penalty call on Dominic Moore that led to Tyler Bozak's game-winning goal Monday night.
"I thought it was an egregious call, to be perfectly honest with you," Cassidy told NHL.com after the game. "A guy driving the net, their guy is there, it happens probably 100 times during the course of a game."
Moore was called for interference with less than three minutes remaining in the game after he knocked down forward Nikita Soshnikov in front of the Toronto Maple Leafs net.
Bozak scored a minute later as the Leafs would go on to win 4-2 and sweep the season series over the Bruins. Toronto is now just one point behind Boston for third in the Atlantic Division.
Despite the call, Cassidy said the team still needed to get it done on the penalty kill.
"But we have to get the job done on the penalty kill. It's been good for us all year, and unfortunately we needed one more," he said.
Soshnikov had a part in Toronto's first goal of the game as well. In the opening frame, the 23-year-old Russian hit Bruins forward Patrice Bergeron into the boards from behind. He was called for boarding on the play, but Bergeron got two minutes for roughing as well after going after Soshnikov following the hit.
With only four players on the ice for each team, Morgan Rielly finished off a nice feed from Mitch Marner to tie game 1-1.
Bergeron was confused as to why he was called for a penalty on the play.
Up next for the Maple Leafs is a clash with the Blue Jackets in Columbus on Wednesday.