Bruins' Krug fractures jaw on puck to face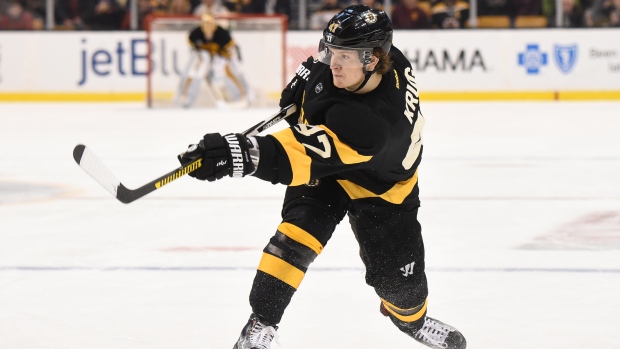 The Boston Bruins have ruled out defenceman Torey Krug for the remainder of training camp and the start of the season due to a fractured jaw.
Krug took a puck to the face in Tuesday's preseason win over the Detroit Red Wings, leaving him with a non-displaced fracture.
The team said he would be re-evaluated in three weeks. The Bruins open their regular season on Oct. 5 against the Nashville Predators.
Krug, 26, scored eight goals and posted 43 assists in 81 games with the Bruins last season while logging 21:36 of ice time per contest. He missed the playoffs last season due to a lower-body injury.
Undrafted in the NHL, Krug has appeared in 319 games over the past four seasons, posting 38 goals and 136 points.
The team also announced forward Matt Beleskey has been ruled day-to-day with a foot contusion sustained in the team's Sept. 18 preseason game in Quebec City.