Bruins: Pastrnak expected to return this season after falling, injuring thumb
Boston Bruins forward David Pastrnak will be out at least two weeks due a thumb injury sustained off the ice on Sunday which required surgery.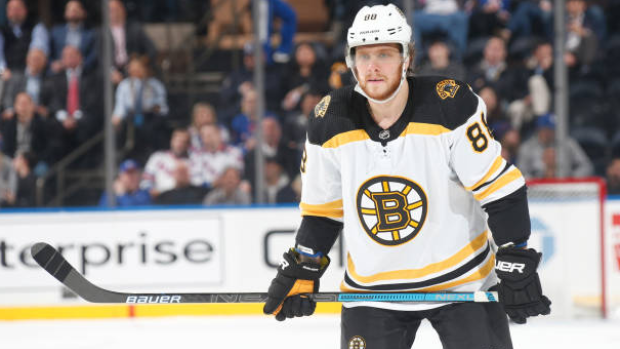 Boston Bruins general manager Don Sweeney said Tuesday that forward David Pastrnak is expected to return this season after undergoing surgery to repair a thumb injury sustained off the ice Sunday night.
Sweeney said Pastrnak, the team's leading scorer with 66 points in 56 games this season, will be re-evaluated in two weeks after undergoing succesful surgery on his left thumb. Sweeney said Pastrnak fell while walking to his transportation after a team function and injured his left thumb.
The general manager added that the injury will not impact the team's plans ahead of the Feb. 25 trade deadline.
Pastrnak has 31 goals and 35 assists this season and had been on pace for career-highs in both categories. He is averaging a career-high 19:02 of ice time per contest this season.
The Bruins currently sit third in the Atlantic Division, one point back of the Toronto Maple Leafs for second and one point ahead of the Montreal Canadiens for the top wild-card spot.