Budaj's play puts Kings' goalie search on hold
TSN Hockey Insider and ESPN Senior Hockey Writer Pierre LeBrun has all the latest NHL rumours in his rumblings blog.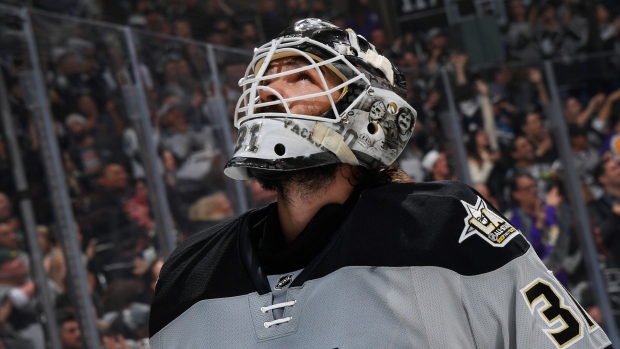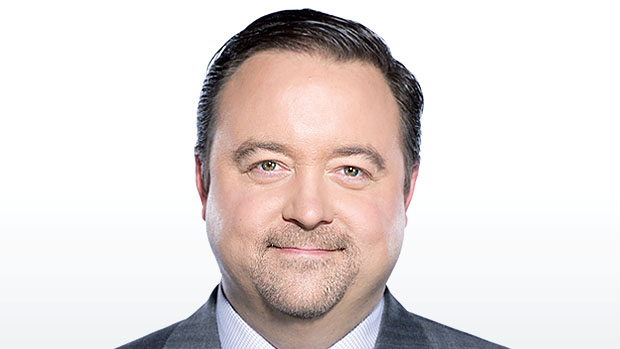 When star goalie Jonathan Quick went down early in the season with a long-term injury, the Los Angeles Kings looked at all their options.
And then after backup Jeff Zatkoff later went down with injury too, all the trade options were examined and debated internally with more urgency.
But in the meantime, veteran Peter Budaj has put up a respectable .912 save percentage and 2.06 goals-against average. Budaj has answered the bell and alleviated the urgency for the Kings to make a move.
"That's what you need, right? You've got to stop what you're supposed to stop and give us a chance, and I think he's done that," Kings GM Dean Lombardi told ESPN.com Monday over the phone from his L.A. office.
"He's done a good job," Lombardi added of Budaj, who was AHL goalie of the year last season. "It's not easy going in for one of the best goalies in the world. He's done what he needs to do and it's up to the rest of our team to give that extra 2-3 percent and fill the hole."
With Zatkoff now back from injury and Budaj playing well, it means the Kings can hold off trading for goaltending help -- I believe the likes of Reto Berra, Mike Condon, Ondrej Pavelec et al., were looked at.
"You have still to be cognizant that you have cap issues not only now but also going forward, whether the contract is moving forward into next year and things like that," said Lombardi.
"Sure, we looked around, you wouldn't be doing your job if you didn't. But [replacements] just weren't practical. We'll just have to keep fighting our way through it."
My read is that as long as the Budaj-Zatkoff tandem can hold down the fort, the Kings will hold off making a move. But if their play deteriorates to a level that's just not acceptable, the Kings have to look again.
But fitting in another salary is not easy for the Kings: Take Pavelec, for example, whom the Jets sent to the AHL before the season. His $3.9 million cap hit, even if the Jets were to absorb 50 percent of it, is tough to juggle under the Kings' cap. Because at some point later this season Quick will return, as will his cap hit. So it's not like they truly have Quick's money to play with under the cap.
You just don't replace a star player such as Quick. Lombardi and his staff talked about the possibility of injuries before the season began, because of the impact of the World Cup of Hockey and the compressed schedule.
"You looked at it and you knew it wouldn't be easy," said Lombardi. "We got hit, and we got hit hard. But you deal with it."
Elsewhere:
Trouba not quite set: Jacob Trouba ended his contract stalemate with the Winnipeg Jets, but I doubt it ends the speculation about his future. Publicly, everyone is saying the right things, but I truly believe Trouba might still welcome a change of scenery before this two-year deal ends. I mean, he made a pretty strong stand asking for a trade to begin with. He's a young man of conviction. But in the meantime, this is the smart move for everyone involved. The Jets need his top-four presence to win games. Trouba can come back and raise his asset value by playing lights-out. He's got a contract that's easily moveable and by playing well, his next deal will be much more lucrative. Jets GM Kevin Cheveldayoff played this whole thing very well; he was patient. He certainly can keep Trouba for the full two years, but he can also quietly take offers from other teams over the next two years without pressure. Much better position to be in.
No one gets out: Interesting, isn't it, that four players who asked for trades or hinted at needing a change of scenery over the past year weren't dealt? Travis Hamonic of the New York Islanders, Patrick Marleau of the San Jose Sharks, Jonathan Drouin of the Tampa Bay Lightning and now Trouba have all stayed put. Now, they all were in different circumstances. But they had one common theme: the team they belong to would have wanted immediate help in exchange for those players, and those are hard trades to make. I don't think any of those teams were interested in future considerations. In a cap world, that's not easy to pull off.
Net changes in Colorado: Semyon Varlamov is no longer the uncontested No. 1 goalie for the Colorado Avalanche. Head coach Jared Bednar said it's an open competition between the Russian veteran and Calvin Pickard, the latter carrying a .946 save percentage into Tuesday's game with the Arizona Coyotes compared to .881 for Varlamov.
"We've got a real good tandem here," Bednar told ESPN.com Tuesday. "Based on what we've seen over the first 10-11 games here now, we're still confident in both guys, but to be honest, Pick has been real good for us when he's been in. He's 3-0, he's made the big save when we've needed it; on the other side of spectrum, our team has played a lot better in front of Pick than we have in front of Varly."
Bednar still very much believes in Varlamov, but the bottom line now is that the No. 1 job is open.
"Yeah, I think that's fair to say," said Bednar.
The compressed schedule this season means the Avs will need both anyway. All 30 teams will need two goalies with all the back-to-backs and three games in four nights.
Long-term, I wonder what it means for Varlamov in Colorado. He's got two more years left on his deal after this season at a $5.9 million cap hit. If Pickard takes over this season as the No. 1, or at the very least makes it a 50-50 job, which goalie would Colorado protect in the expansion draft? I would assume Pickard, just given that he's four years younger.
Hanzal on the block?: As the March 1 trade deadline approaches, keep an eye on Coyotes center Martin Hanzal, 29. He's a pending unrestricted free agent and an absolute beast at 6-foot-6. Hanzal is the kind of skilled help at center playoff teams drool over. Think of a younger David Backes.
Contract discussions between the Coyotes and agent Craig Oster took place during the summer and at training camp. I suspect one of the issues is term. The Coyotes organization is loaded with young centers, so they probably wouldn't want to sign Hanzal to a long-term deal and block any of those young centers when they're ready. So a short-term deal makes more sense. But if you're Hanzal, why would you do that? This is an important contract in his career. In a perfect world, he'd sign long-term in Arizona, with the only team he's ever played for. He loves it there.
Also, I'm not sure how eager Coyotes GM John Chayka is to get more picks and/or prospects, which is what he'd be offered in any deal for Hanzal as a rental player. The rebuilding Coyotes have picked up plenty of picks and prospects the last few years. They want to start turning the corner. So, if Chayka does end up trading Hanzal, the return has to include at least a young player who can help the Coyotes now. Or, perhaps they find a way to re-sign Hanzal.
Expansion draft decision: It sounds like the NHL and NHLPA are pretty much on the same page as to the 65-70 players on the protected list for the expansion draft in June (these are players with no-movement clauses, etc.). Now, because some clauses are written differently than others, as of Tuesday one player still needs to be classified. One thing to remember: The players on the protected list will have the right to waive and go unprotected in the expansion draft to Las Vegas. Also important to note, any player who signs a contract extension before the expansion draft that includes a full no-move clause will be added to that list of protected players.
Calming the storm: NHL executive vice-president Colin Campbell spoke with Vancouver Canucks GM Jim Benning about Erik Gudbranson's comment to the media after Saturday's wild 6-3 loss in Toronto in which he said Toronto Maple Leafs winger Matt Martin was "dead" next time both teams played Dec. 3. I don't blame Gudbranson nor any of the Canucks for being mad after Martin fought rookie defenseman Troy Stecher. But talking about revenge in public is a huge no-no in this league, dating back to the Steve Moore-Todd Bertuzzi incident. Expect Campbell to talk to both the Leafs and the Canucks again before that Dec. 3 game.
Hit parade: There was a lot of outrage among Canucks fans that the Leafs' Nazem Kadri wasn't suspended for his huge hit on Daniel Sedin over the weekend. The NHL player safety department deemed it not to be a head hit and the video seems to back that up. However, it was certainly a blindside hit to a player in a vulnerable position, which is what I didn't like about it. Problem is, that type of hit doesn't qualify currently under Rule 48 for hits to the head, or for supplemental discipline. A lot of people didn't notice but the "blindside" terminology was taken out in 2012. However, this is precisely the type of hit -- blindside hit to a vulnerable player -- that Columbus Blue Jackets GM Jarmo Kekalainen tried to convince his colleagues about last March at the GMs meeting to add to Rule 48 and to the sphere of supplemental discipline. "Basically, I got crushed," Kekalainen told me that day.
Kekalainen still doesn't like that hit but until he's got other GMs on board, Kadri's hit will remain outside of Stephane Quintal's sphere as sheriff. No question this topic will get picked up again Nov. 15 at the GMs meeting in Toronto. This debate is not going away.