Buff Boeser ready for 82-game grind of first full NHL season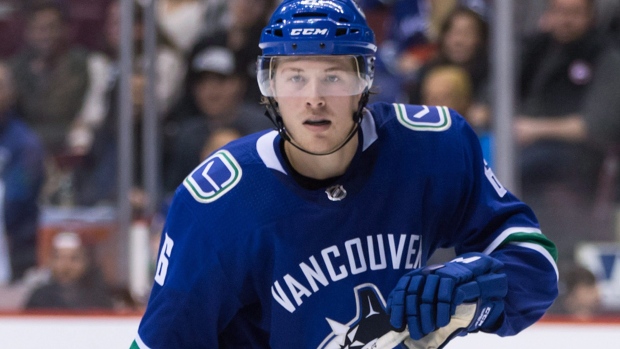 VANCOUVER – Brock Boeser belongs in the National Hockey League. He demonstrated that in a successful nine-game audition at the tail end of last season and reinforced that notion with a solid preseason showing over the past month. On Tuesday, Boeser was rewarded with a spot on the Vancouver Canucks' 23-man opening night roster. Now the real work begins.
As impressive as the 20-year-old right winger has been in limited engagements in Canuck colours, he is well aware that things will only get tougher from here. It's no longer about trying to impress in five exhibition outings or in nine games when the season is out of reach. No, now it's about Boeser trying to hit the ground running in Saturday's season opener and finding a way to maintain a level of excellence for the 81 games that follow.
That's the challenge all rookies face. So Boeser's not alone in that regard. And like so many who have left the college ranks behind to embark on their paths as professionals, the Burnsville, Minn., native has never seen anything that resembles an NHL schedule.
Last season, a wrist injury limited Boeser to just 32 games at the University of North Dakota. The year before, he played 42 and another seven for Team USA at the world junior championship. In his draft year (2015), Boeser appeared in 57 games for Waterloo of the United States Hockey League. If all goes well, he'll be expected to tack 25 games onto that number – and against the best players in the world.
"It's obviously a challenge," he told TSN 1040 after practice at Rogers Arena. "Compared to college, obviously you need to take care of your body better because you're playing almost every other night. I think that's a huge thing. I need to make sure I'm fresh and ready to play every single night."
To help in those battles, Boeser bulked up over the summer, adding eight pounds to his 6-foot-1 frame. He weighed in at 202 pounds at camp and feels the additional pounds have served him well through a preseason that saw him score four times and add three assists in five outings.
The need to bulk up was one of the key takeaways for Boeser after turning pro and testing himself against NHL opponents last March and April. While the individual numbers were impressive – four goals, an assist and 25 shots on goal while averaging 16:13 of ice time per game – it was the things that don't show up on the stats sheet that told Boeser he had plenty of work to do.
"In small, little battles in the corner, guys were stronger," he explained. "I knew that was something I needed to work on in the summer. I definitely got stronger over the summer and feel better in those battles and feel now that I can come out of the corner with the puck or beat a guy to the front of the net."
While his physical stature was something Boeser worked on during the off-season, more importantly, he thinks he's better mentally prepared for his first full NHL season. While he made goal scoring look easy last spring and again this fall, he knows the road in front of him is a long and winding one surely to include a few potholes along the way.
He's done a fine job of maintaining an even keel through the preseason and is now anxious to get going, so he can take the many lessons he learned in his short time on the roster and put them to the test. Boeser's banking on the fact that by getting his feet wet in the NHL last spring, his eyes are now wide open to just how difficult it's going to be for him to become an impact player. But he's excited about the opportunity to prove he can be a key contributor for the Canucks.
"Just learning how hard everybody works," Boeser said of the biggest thing he gleaned from getting a sneak peak at the NHL last season. "Even in the weight room at the end of the year, just how hard Henrik and Daniel (Sedin) worked to get better. Everybody works so hard not just on the ice, but off the ice to pay attention to small details. Going home in the summer, it taught me how hard I have to work and talking to (head coach) Travis (Green), I learned what I needed to do to come to camp to make this team."
With that mission accomplished, Boeser is now itching to start his full season in the NHL. With his goal-scoring pedigree, he gives every indication he's ready for what lies ahead. However, there's only one way to find out and he starts down that path on Saturday night. He excelled in a sprint late last season. Now it's time to see how he fares in the marathon.