Bulls' Portis suspended 8 games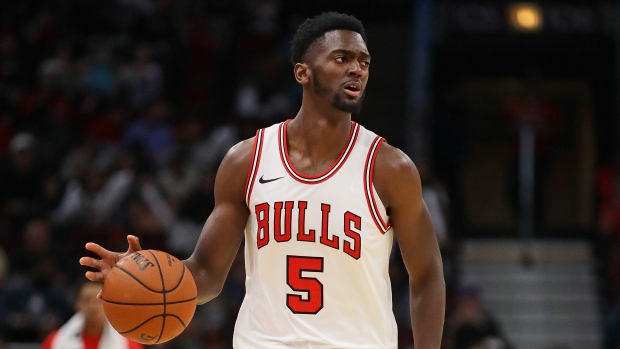 Chicago Bulls forward Bobby Portis has been suspended eight games by the club for an altercation with a teammate, according to K.C. Johnson of the Chicago Tribune.
Forward Nikola Mirotic and Portis were involved in a physical altercation at Tuesday's practice that ended in Mirotic having to go to the hospital.
The Bulls expect Mirotic to miss four to six weeks, but he will have to clear concussion protocol to return.
Bulls vice-president of basketball operations John Paxson said that while Portis was the only one that threw a punch, it was not a cheap shot and there was fault on both sides.
"Bobby Portis is not a bad person. He's a good kid but he made a mistake," Paxson said.
The team announced that Mirotic suffered a concussion and maxillary (upper jaw) fractures. Surgery will likely be required, but the team says the decision is up to Mirotic.
"Our locker room is a family. We've created competitive environment. I'm disappointed. My job is to not let moment derail us," head coach Fred Hoiberg told the Chicago Tribune.
Hoiberg added that Portis is remorseful for the incident.
Chicago starts the season on the road on Thursday against the Toronto Raptors.
Twenty-year-old first-round pick Lauri Markkanen could replace Mirotic to start the season.
Mirotic averaged 10.6 points per game and 5.5. rebounds per game in 2016-17 with the Bulls.
The 26-year-old power forward has spent his entire three-year career with the Bulls.
Portis was drafted in the first round (22nd overall) in the 2015 NBA Draft. The 22-year-old averaged 6.8 PPG last season.