Burns scores twice as Sharks shut out Blues
Brent Burns scored San Jose's first two power-play goals of the Western Conference finals and Martin Jones stopped 26 shots for his second shutout of the post-season as the Sharks beat the St. Louis Blues 4-0 Tuesday night to even the series at a game apiece.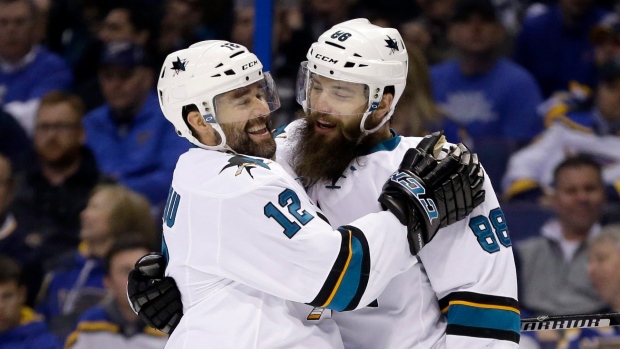 ST. LOUIS — The San Jose Sharks got their power play revved up. Martin Jones took care of everything on the other end, cementing the victory that evened the Western Conference finals at a game apiece.
"Guys came out with a good sense of urgency and got after it," said San Jose captain Joe Pavelski, who had an assist in a 4-0 victory over the St. Louis Blues that silenced another big home turnout Tuesday night. "It's good to see the power play strike a little bit."
Brent Burns scored San Jose's first two power-play goals of the Western Conference finals and Jones stopped 26 shots for his second shutout of the post-season.
Jones wasn't happy about giving up the go-ahead goal in Game 1 to Jori Lehtera on a shot that slipped through his left armpit.
"Obviously, Game 1 you don't like to lose on a goal like that, "Jones said. "But I thought I played well other than that and wasn't about to change anything. We got the bounces tonight."
Tommy Wingels and Dainius Zubrus also scored and Logan Couture had two assists to help the Sharks bounce back from a tight loss. Couture leads the post-season with 19 points.
Game 3 is Thursday night in San Jose.
Brian Elliott made 20 saves for St. Louis, which is 4-5 at home and 5-2 on the road in the post-season. Elliott wasn't as sharp as he's been throughout the Blues' run to their first conference final since 2001, nor were players who leaned on him heavily in Game 1.
"(The Sharks) have got their 'A' game going right now and it's our job to catch up," coach Ken Hitchcock said. "We have played two 'B' games. We'll take 1-1 right now with the way we've played."
Burns' fifth and sixth goals of the post-season both came on one-timers with Troy Brouwer in the penalty box, and were his only shots of the game. The 6-foot-5, 230-pound defenceman made it 2-0 in the second off a nice setup from Pavelski just 16 seconds after Brouwer went off for slashing, and made it a three-goal gap about 12 minutes into the third off a feed from Patrick Marleau 24 seconds after Brouwer was whistled for high sticking.
Coach Peter DeBoer said Burns' shot is the "best I've ever seen."
"I think just how he can get it off from every angle, how he can get it to the net off balance, in bad spots. He finds a way to get it there," DeBoer added. "If it's in the right spot, it's going in."
Jones also blanked Nashville in San Jose's second-round clinching victory.
Zubrus assisted on Wingels' goal early in the first and added an empty-netter in the final minute.
Vladimir Tarasenko led all players with six shots at the end of a long day — his wife, Yana, gave birth to a son earlier Tuesday. The Blues' star was looking at the video board when the team announced the arrival to a standing room crowd of 19,586.
For a change this post-season, the stands were emptying ahead of the final horn.
"They played well. We didn't," captain David Backes said. "We've got to park this one like we've parked every other one in the playoffs and come into San Jose and win a road game."
Forward Alexander Steen said the Blues were too emotional after falling behind and lacked discipline.
"I thought we let frustration creep in at certain times in the game," Steen said. "That can't happen at this time of the year."
The Sharks entered the series clicking at 31 per cent on the power play, best in the post-season. They were 0 for 3 in the opener and DeBoer complained about the lack of calls during the day between games.
San Jose also killed off a four-minute high-sticking call against Marleau early in the third period without too much trouble.
"We did a great job," Couture said. "We kept our shifts short, we were clearing pucks well and Jonesie was making saves when we had breakdowns."
Wingels scored his second goal 2:07 in, seconds after Jones thwarted Tarasenko on the other end. Tarasenko had pickpocketed Paul Martin in the San Jose slot.
Burns is the lone Sharks player with a hat trick against the Blues, doing it on Nov. 13, 2013, in San Jose.
NOTES: The Blues were shut out at home in a playoff game for the first time since April 14, 2001, in a 1-0 to the Sharks in Game 2 of the first round. ... The Blues flew in a blind father and his 12-year-old son that calls play by play to keep him in the game. Gerry and Wyatt Nelson of Saskatoon, Saskatchewan, appeared on a "Discover Card Day with the Cup" video and the pair were invited to the radio broadcast booth and some of Wyatt's play-by-play was aired during a break in the second period. ... Neither team made any lineup changes. ... Sharks F Matt Nieto (undisclosed injury) missed his third straight game.