Buyer beware when it comes to Beleskey
It appears that Anaheim Ducks forward Matt Beleskey is headed to unrestricted free agency, looking to cash in after an impressive 22-goal season. Travis Yost examines the underlying numbers and has some concerns about Beleskey's value.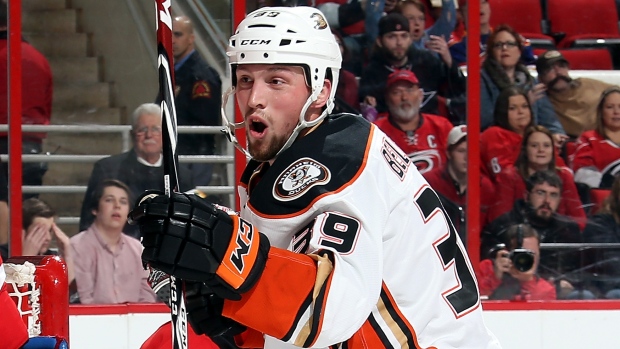 It appears that Anaheim Ducks forward Matt Beleskey is headed to unrestricted free agency.
Beleskey, not surprisingly, is looking to cash in after an impressive 22-goal season. He turned down Anaheim's final offer – a four-year, $16-million deal – on Tuesday afternoon, likely anticipating more lucrative offers once the unrestricted free agency period opens up.
Beleskey's wager here is that at least one of the twenty-nine other general managers out there will see his explosive goal-scoring in 2014-2015 as a sign of things to come.
History has shown that this type of wager is usually a sensible one from the player perspective – players like Ville Leino and David Clarkson, for two quick examples, have successfully parlayed small samples of success into mega-deals.
From a team perspective, it's a fascinating position. Beleskey's production last season clearly deviates from years past – prior to October 2014, Beleskey had scored just 35 goals in 264 regular season games. Extrapolated over an 82-game season, that's roughly 11-goals per season. And, it's probably important to keep in mind that he's already 27-years old. Even by 'late bloomer' standards, he's pushing the thresholds of most normal developmental curves.
What we need to investigate from a team perspective is pretty simple: did an improvement in play lead to Beleskey's newfound goal scoring ability, or did a change in luck lead to Beleskey's newfound goal scoring ability?
To the last question, I generally think there are a couple of 'red flags' that give pause during a theoretical investigation. One of those would be a sharp rise in a player's individual shooting percentage out of line with his career norms. Another would be data suggesting a player appears reliant on another to produce.
Beleskey's shooting percentage last season, as you might expect, easily set a career high. Beleskey's career shooting percentage is about 9.9% (9.0% if you omit last year's run) – in 2014-2015, Beleskey scored on 14.3% of his shots on goal.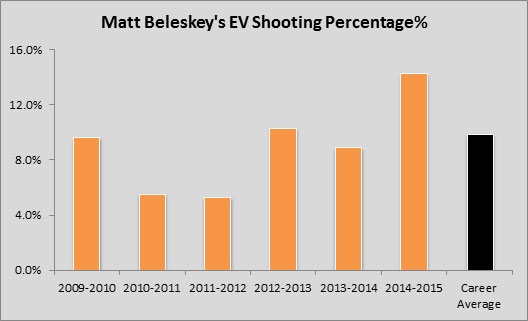 Beleskey appears to be a rather ordinary shooter, which isn't necessarily a bad thing. Even if he can't convert on more than 14% of his shots on goal long-term, there's plenty of room in the league for a player who can do it on, say, 9% of his shots on goal. But, it's still important to keep the framework of our question in mind – whether or not the player in question deserves the salary he is likely to command.
The second angle worth looking at – particularly when considering awarding a player a lucrative contract, like the one in question – is whether or not that player has an ability to 'lift' the play of his teammates. Take, for example, Sidney Crosby. The data is rather clear that no matter what linemate is blessed to play on his wing, their performance and production instantly improves. This makes intuitive sense, but the numbers can be a bit tricky to pull out.
The With Or Without You tool allows you to isolate for teammate effects from both a Goal% and Corsi% perspective. We'll focus on Beleskey's Corsi% effect for the sake of this piece, since the data there will be more voluminous and more meaningful for the sake of forecasting future output.
Below are three measurements – the Corsi% of Beleskey and Teammate X, the Corsi% of Beleskey away from Teammate X, and the Corsi% of Teammate X away from Beleskey. How does Beleskey look here?
By forwards, first: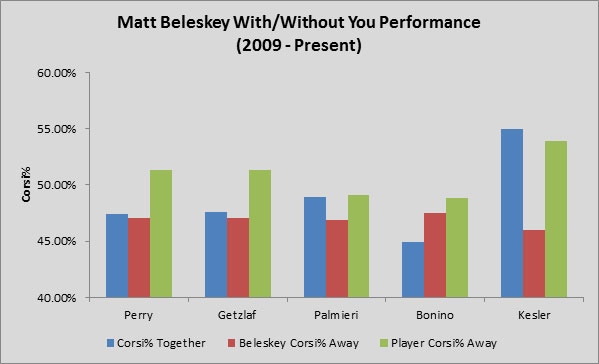 The first question you should be asking: why does every regular forward that's played with Beleskey seem to improve from a Corsi% perspective? Perry and Getzlaf in particular see about a five percentage point spike when Beleskey leaves their wing. If you're looking for a forward who can drive play in all environments and with a mix/match of linemate quality – well, Beleskey doesn't pass the initial smell test.
Let's look at defencemen: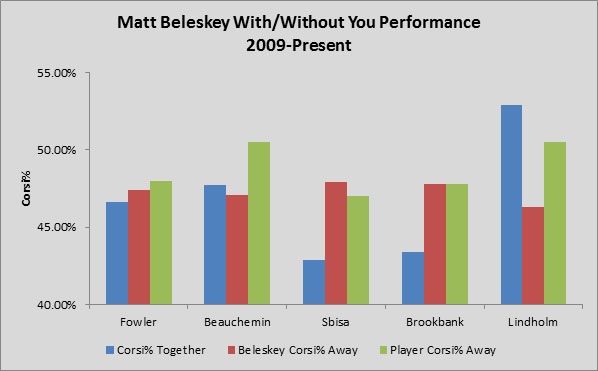 There doesn't seem to be much of an impact one way or another with his most common defensive teammate in Cam Fowler, but there's some ugly looking stuff going on with both Francois Beauchemin and Hampus Lindholm – both of whom enjoy real success away from Beleskey, but not the other way around. None of Fowler's common defencemen over the years seem to have benefited from playing with Beleskey in particular, either. Which, for a guy with years of service, is a bit troubling.
Overall, this really is just the beginning of what should be a significantly more thorough analysis. Video review would likely turn up much more to dissect, as would a more intricate quality of teammate review. However, it does give us a decent starting point – a starting point that, quite frankly, isn't very kind to Matt Beleskey.