What's next in Leafs' rebuilding plan?
Change marked the end of the first year of the Toronto Maple Leafs' analytics era and that's before addressing the on-ice product. Travis Yost looks at an obvious area of concern for Toronto -- their No. 1 line.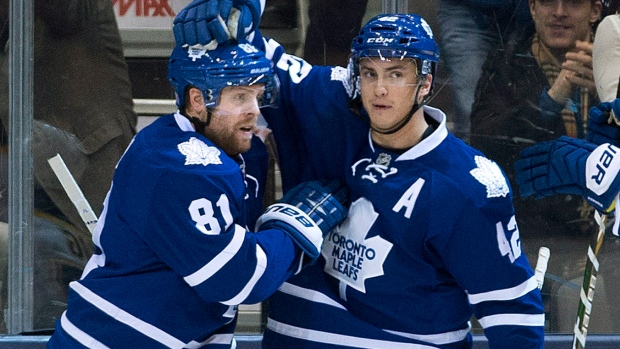 Over the last twelve months, the Toronto Maple Leafs have promised – and delivered – wholesale changes at both executive and coaching levels. It's generally what most of us anticipated Year One of the analytics era would look like – a series of front office firings to hold those accountable for painful roster decision after painful roster decision, and the inevitable termination of a coaching staff that doubled-down on shot quality against meaningful puck possession.
That, of course, was the easy part. Brendan Shanahan and company did their due diligence and simply arrived at the same conclusion other careful observers had in years past.
The hard part? That's just beginning.
Overhauling the roster is the next box to check. What makes this box particularly troubling is that roster overhaul really can be accomplished in a series of ways. I feel rather certain that the Maple Leafs front office – now run by some of the sharpest hockey minds in the sport – will dominate the margins of free agency, working through the market inefficiencies and targeting the players in free agency/trade market who will likely out-produce their current or next contract. (Any bets on if one of these two land in Toronto?)
But, depth players alone won't remedy the primary player issue with this team – a total inability to suppress shots at 5-on-5. Lest we recall, no team has conceded more shots-on-goal over the last three seasons than the Leafs, and it's not particularly close:
SHOOTING GALLERY
| Rank | Team (2013-2015) | Attempts Against per 60 |
| --- | --- | --- |
| -- | League Average | 54.1 |
| 26 | Edmonton | 59.1 |
| 27 | Calgary | 59.2 |
| 29 | Colorado | 59.6 |
| 29 | Buffalo | 63.2 |
| 30 | Toronto | 63.7 |
This isn't a group you want to be in, and Toronto is bringing up the rear. Each of the defensive deficiencies have contributed adversely to this group's ability to win the goal-scoring battle at even-strength – all five teams are in the red individually over the last three seasons, and as a group, they have managed to earn just 45% of the goals.
What makes the Leafs particularly curious – and a team worth watching this offseason – is that some of their defensive problems are created by totally deficient defensive play from some of their core talent. The team's top line, in particular, generally centered by Tyler Bozak and winged by Phil Kessel and James van Riemsdyk, have leaked shots at unbelievable rates.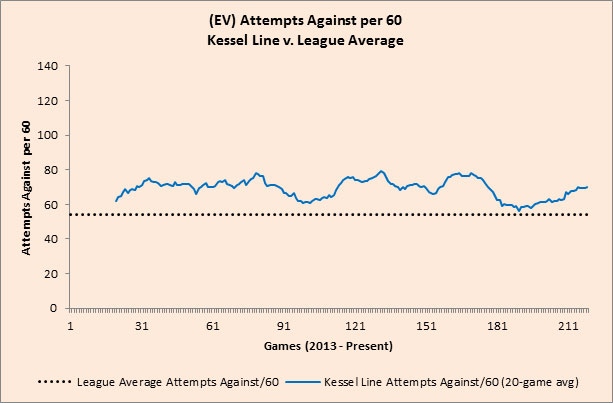 You'll notice that at no point over the last three years did the top-line ever have a 20-game average that touched the league average. For their efforts, Bozak, Kessel, and van Riemsdyk sit (rank) 416, 417, and 418 out of 418 qualified forwards in suppressing shots over the past three seasons.
This brings us back to that 'overhauling the roster' box, because I think you have to answer the top-line question before you act anywhere else. Phil Kessel – the name most frequently bandied about in trade rumors – is indisputably an elite scoring talent, but the numbers above are gruesome. How much are Kessel's linemates contributing to the problem? How much is Kessel?
I think Bozak is certainly playing too far up the depth chart, and van Riemsdyk probably, too. I'm ready to give Kessel a pass for 'linemate drag', but I still think his offense-heavy skill-set could benefit from having a real two-way presence centering his line. Is that player out there?
The list of questions goes on, and on, and on. That's what's going to make Year Two of the analytics era so fascinating from an outsider perspective – the organization could take things in a million different directions.
The one certainty, though, is that many of these moves will be made with an eye for repairing this team's abhorrent defensive play over the years. And those moves could very well start from the top down.