Rinne, Hellebuyck, Vasilevskiy up for Vezina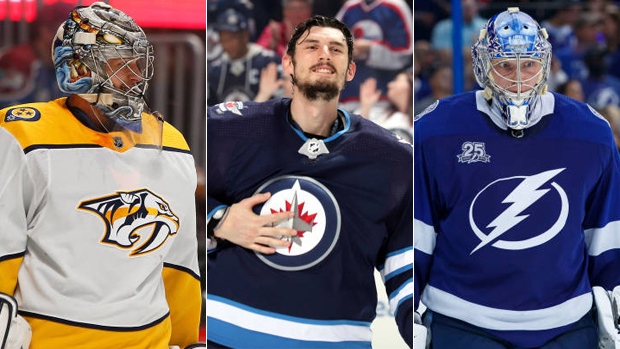 Nashville's Pekka Rinne, Winnipeg's Connor Hellebuyck, and Tampa Bay's Andrei Vasilevskiy were announced as the nominees for the Vezina Trophy on Tuesday. TSN.ca takes a look at this year's race.
Pekka Rinne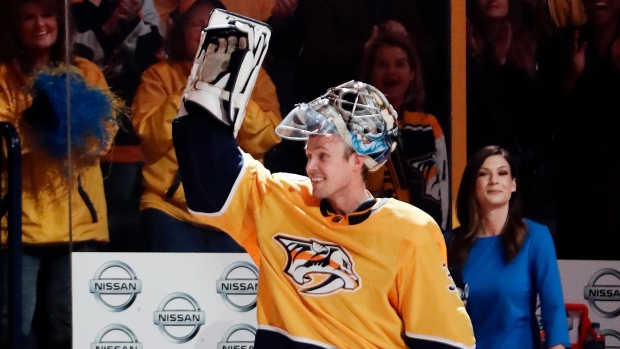 Record: 42-13 GAA: 2.31 SV%: .927
Pekka Rinne has been a finalist for the Vezina Trophy three times, but hasn't won. That could change this year.
Rinne is a big reason the Nashville Predators are strong candidates to repeat their Stanley Cup Final run from last season, especially in the second half of the season. In his past 29 starts, Rinne went 23-5-1 to help the Predators clinch home ice throughout the playoffs and set a franchise record with 117 points. He became just the seventh goalie in NHL history to post three separate 40-plus win seasons.
His season was so good that a catfish thrown on the ice during the playoffs at Bridgestone Arena was wearing a bow-tie and "Pekka for Vezina" garb.
"I know that in our locker room and our organization, there's no question the importance that he [has] to our team," Preds defenceman P.K. Subban said of Rinne. "I mean, I don't think we're talking about the Vezina. I think he should be in the conversation for MVP as well."



Andrei Vasilevskiy
Record: 44-17 GAA: 2.62 SV%: 2.62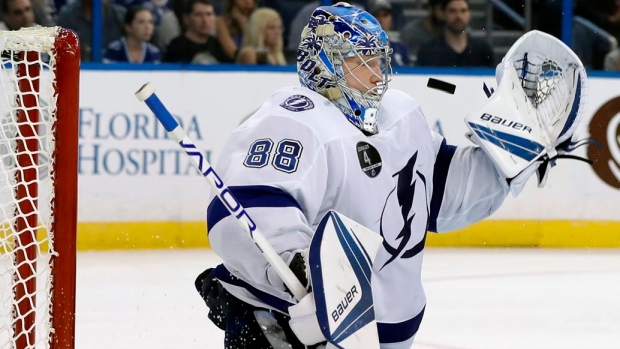 Following the off-season trade of Ben Bishop, the Tampa Bay Lightning handed the No. 1 goaltender role to 23-year-old Andrei Vasilevskiy.
Not only was he ready for it, he emerged as one of the top goaltenders in the NHL and is right in the running for the Vezina Trophy.
Vasilevskiy set a franchise record with eight shutouts and his 44 wins tied for the NHL lead – which no Lightning goaltender has done before – with Connor Hellebuyck of the Winnipeg Jets. Vasilevskiy allowed two or fewer goals in 31 of his 65 appearances.
With Vasilevskiy leading the way, the Lightning rebounded from a disappointing 2016-17 season by setting a franchise record with 113 points and 54 wins.
"You just watched the growth of a young player, and his trajectory continues to go up," Lightning coach Jon Cooper said earlier in the month. "That's what you want to see in guys. If there were questions about whether he could handle the load as the No. 1 guy, I think he's answered them all."
Connor Hellebuyck
Record: 44-11 GAA: 2.36 SV%: .924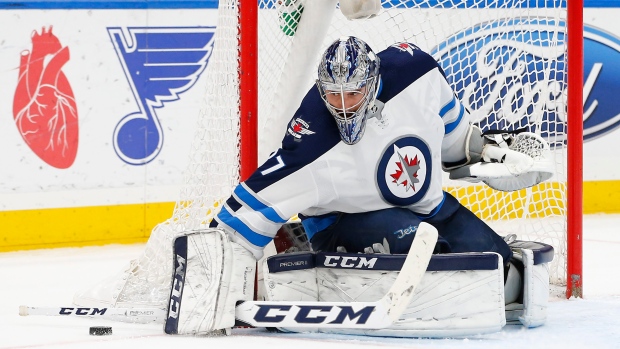 The Winnipeg Jets had their fair share of problems between the pipes last season. They were tied for sixth in goals for but were fourth-last in goals against, missing the playoffs for the second season in a row.
Steve Mason was brought in to help fix that.
The Jets handed Mason a two-year, $8.4 million deal with Connor Hellebuyck slated to serve as the backup. But Mason struggled out of the gate and the job was handed to Hellebuyck, who broke out and quickly grabbed hold of the starter's job. Since then, he hasn't looked back.
He tied for the NHL lead in wins with 44 and had the fewest losses in the league with 11. His 44 wins broke the record previously held by Hall of Famer Tom Barrasso for most wins by an American goaltender in a season.
Jets head coach Paul Maurice said he was impressed with how the 24-year-old rebounded from a pedestrian 2016-17 season.
"He took those lessons last year hard, but got full value from them. All of the things that he went through were difficult. We knew they weren't permanent, that he would grow with them. But all credit to him for the summer he needed to have as a pro."
Past Vezina Winners
| Year | Player | Team | Record | SV% | GAA |
| --- | --- | --- | --- | --- | --- |
| 2016-17 | Sergei Bobrovsky | CBJ | 41-17 | .931 | 2.06 |
| 2015-16 | Braden Holtby | WSH | 48-9 | .922 | 2.20 |
| 2014-15 | Carey Price | MTL | 44-16 | .933 | 1.96 |
| 2013-14 | Tuukka Rask | BOS | 36-15 | .930 | 2.04 |
| 2012-13 | Sergei Bobrovsky | CBJ | 21-11 | .932 | 2.00 |
| 2011-12 | Henrik Lundqvist | NYR | 39-18 | .930 | 1.97 |
| 2010-11 | Tim Thomas | BOS | 35-11 | .938 | 2.00 |
| 2009-10 | Ryan Miller | BUF | 41-18 | .929 | 2.22 |
| 2008-09 | Tim Thomas | BOS | 36-11 | .933 | 2.10 |
| 2007-08 | Martin Brodeur | NJD | 44-27 | .920 | 2.17 |