By The Numbers: Raptors vs. Bucks Game 2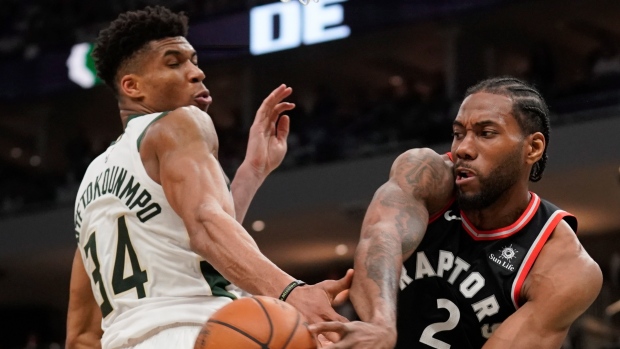 The Toronto Raptors will look to even the Eastern Conference Finals at a game apiece Friday night when they take on the Milwaukee Bucks in Game 2 from Wisconsin.
You can watch all the action starting at 8pm ET/5pm PT on the TSN Network, the TSN App or TSN Direct.
Let's take a look at some numbers heading into Game 2. Stats courtesy of TSN's Kevin Gibson.
Against All Odds
The Raptors were the underdogs coming into this series and had a great chance to steal home court away from the Bucks in Game 1 as they held the lead for most of the contest.
Toronto had a two-point lead with 3:30 left in the game, but missed their last eight shots and suffered the 108-100 loss.
As the below numbers point out, Toronto definitely has their back against the wall going forward and will have to beat the odds to advance to the NBA Finals.
The winner of Game 1 of a Conference Finals has won the series 75 of 96 times since 1971.
The Bucks are an impressive 9-1 this postseason and have outscored their opposition by 146 points, the fifth highest point differential through 10 games in NBA playoff history. Three out of four teams ahead of the Bucks on this list went on to the NBA Finals.
60-win teams have won 120 out of 140 series after winning Game 1. The Bucks won 60 games this season.
In their franchise history, the Raptors have dropped seven of 11 series after losing Game 1.
Raptors
Kawhi Leonard
The Raptors star has scored 413 points in these playoffs, the fourth highest total in team history for entire playoff careers.
Leonard has recorded eight 30-point games in the playoffs which is the most in a single postseason in Raptors history.
Kawhi defended Giannis Antetokounmpo twice in Game 1, forcing a turnover and a missed shot.
Kyle Lowry
Nailed seven three-pointers in Game 1, setting a new career playoff high.
Lowry was the only member of the Raptors to make a field goal in the fourth quarter.
Lowry now has seven 30-point play games as a member of the Raptors, sitting behind DeMar DeRozan (14) and Leonard (eight) for most in franchise history.
Pascal Siakam
The Cameroon native has record 150 points in the paint this playoff run, sitting behind Nikola Jokic and Leonard for most in the NBA.
Siakam has shot under 40 per cent in five of his last seven contests.
Shooting 29 per cent on corner threes this postseason.
Danny Green
Green has made 215 playoff three pointers in his career, seven shy of passing Jason Terry 17th in NBA history.
Serge Ibaka
Ibaka only scored four points in Game 1, matching a postseason low for the big man this spring.
The Raptors are 8-1 when he scored more than five points this postseason.
Marc Gasol
Gasol went 2-11 (18 per cent) in Game 1, his worst field goal percentage with at least 10 attempts.
Bucks
Giannis Antetokounmpo
The Greek Freak is averaging 27.1 points per game this postseason, behind Kevin Durant, Kawhi Leonard and Damian Lillard.
Antetokounmpo can become the third player in Bucks history to average 25 PPG in a postseason (minimum 10 games), joining Ray Allen and Kareem Abdul-Jabbar.
229 of 271 of his playoff points have come in the paint or free throw line.
Antetokounmpo has posted 20 or more points in seven straight games. It's the longest postseason streak by a Bucks player since Ricky Pierce did it in eight straight games in 1989.
Khris Middleton
Milwaukee is outscoring opponents by 133 when Middleton is on the court in these playoffs.
Brook Lopez
Lopez scored 29 points in Game 1. He scored 27 in a five-game series against the Boston Celtics.
Malcolm Brogdon
With Brogdon on the court over the past two games, the Bucks have outscored the Raptors and Celtics by 32 points.