Calvillo, five others to be inducted into CFHOF on TSN.ca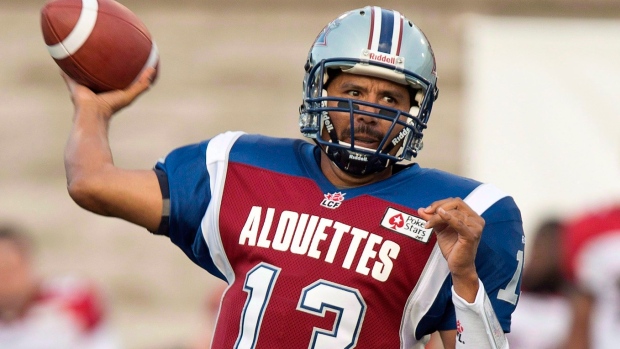 Anthony Calvillo, Geroy Simon, and Mike O'Shea lead the list of six to be formally inducted into the Canadian Football Hall of Fame tonight in Hamilton.
Watch the Canadian Football Hall of Fame ceremony live at 8pm et/5pm pt on TSN.ca
Joining Calvillo, Simon, and O'Shea in the players' category is running back Kelvin Anderson while Stan Schwartz and Brian Towriss will be inducted as builders.
Currently the Montreal Alouettes quarterbacks coach, Calvillo enters the Canadian Football Hall of Fame as pro football's all-time leading passer with 79,816 yards.
The longtime Alouettes QB, he played 16 of his 20 CFL seasons in Montreal, also holds the record for most touchdown passes in the CFL with 455.
The now 45-year-old led the Alouettes to three Grey Cup titles (2002, 2009, and 2010) and was three times named the league's Most Outstanding Player (2003, 2008, and 2009).
Simon enters the Hall of Fame as one of the most prolific pass catchers the league has ever seen. Simon played 12 of his 15 seasons with the BC Lions and finished his career with 1,029 receptions , 16,352 receiving yards, and 103 touchdowns. Simon's receiving yards remain a CFL record while his receptions record was just eclipsed this season by Nik Lewis. Simon won three Grey Cups during his time with the Lions.
O'Shea, currently the head coach of the Winnipeg Blue Bombers, goes into the Hall for his work on defence. The Canadian linebacker finished with 1,151 tackles over his 16 seasons in the CFL, split between the Hamilton Tiger-Cats and Toronto Argonauts. That number is good for second most all-time in the CFL and most by a Canadian born player. O'Shea is also a three-time Grey Cup winner, all with the Argos (1996, 1997, and 2004).
Anderson spent seven of his eight years in the CFL with the Calgary Stampeders, eclipsing the 1,000-yard mark in all of them, as well as his final season played in BC. The three-time CFL All-Star was also a two-time runner up for the league's Most Outstanding Player award (1998 and 2001).
Schwartz is getting recognized for five decades in the game as a coach and administrator. Schwartz oversaw two Grey Cup wins (1998 and 2001) as president of the Stampeders.
Towriss is getting inducted for his work as a coach at the university level. The Saskatchewan native served as head coach of the University of Saskatchewan from 1984 to 2016, winning three Vanier Cups over the span.