Canada beats Swiss in shootout, clinch playoff spot at WJC
Presented by:

Matt Barzal scored the clinching goal in the shootout to lift Canada to a 3-2 win over Switzerland on Tuesday in the preliminary round at the world junior hockey championship.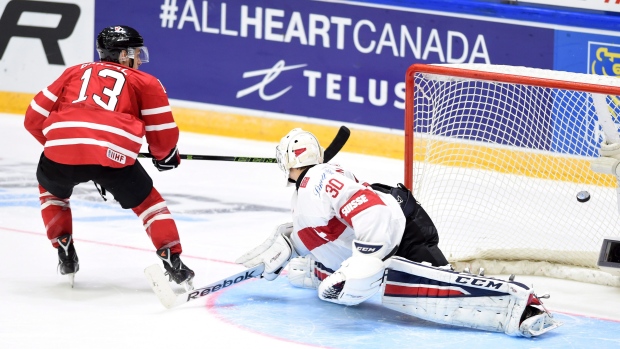 HELSINKI - Canada's world junior team has learned a valuable lesson about respecting its opponent.
Matt Barzal scored the shootout winner as Canada edged Switzerland 3-2 at Helsinki Ice Hall on Tuesday to avoid a big preliminary-round upset at the world junior hockey championship.
The Swiss side gave the defending champions all they could handle, jumping out to a 2-0 lead in the first period. Dylan Strome scored late in the opening frame for Canada and Joe Hicketts tied the game in the second period.
Brayden Point had the other shootout goal while both Swiss shooters were stopped by goalie Mackenzie Blackwood, who was making his world juniors debut.
Barzal and his teammates plan to use the game as a learning experience.
"I think it could be good for us just knowing that we can't take anyone lightly coming out of the gates," Barzal said. "Every game's going to be a hard-fought game and we've got to prepare the same way."
Many Canadian players gave credit to Hicketts for the turnaround. The defenceman gave a speech in the locker-room during the first intermission.
"It was about getting back to work," said Hicketts. "Maybe we underestimated them a little bit, maybe the respect factor wasn't there and maybe it was just a lack of preparation.
"We knew that when we came out for the second period it was going to have to be a 180, to flip the switch, to start playing our brand of hockey."
Damian Riat and Dario Meyer scored for Switzerland, which was defeated for the third time but picked up its first point of the tournament with the overtime loss. Joren van Pottelberghe stopped 32 shots.
Blackwood, who made 23 saves, sat out Canada's first two games as he completed an eight-game suspension from the Ontario Hockey League. Netminder Mason McDonald started the first two games of the tournament with Samuel Montembeault serving as the backup.
Switzerland has relied on a physical, punishing brand of hockey to make up for its relative lack of skill compared to countries like Canada and Sweden. That led to suspensions for three Swiss players after an 8-2 loss to Sweden on Saturday.
A similar strategy was used against Canada on Tuesday with more success. The Canadians, who lost 4-2 to the United States on Saturday and routed Denmark 6-1 on Monday, admitted to not doing their homework on the Swiss or their tactics.
"We didn't come out with the same intensity as we did against the Americans or against the Danes for that matter," said Barzal. "That's a lack of preparation on our part and we're not going to make that mistake again.
"Kind of shot ourselves in the foot with that 2-0 deficit there but I thought we finished strong in the second and third and kind of pushed the pace."
Canada now has a regulation win, an overtime win and a loss for five points. A regulation win at the tournament is worth three points, one more than an overtime victory.
Hicketts is one of four players who played on last year's gold medal-winning team. Although the win over Switzerland was a little too close for comfort, he's glad it happened when it did.
"We have to prepare to play every game. Nothing's easy in this tournament," said Hicketts. "The four returnees especially know that from last year but I think having the whole group go through that at an earlier stage of the tournament is something that going forward is going to (have) an impact."
Canada has a day off before facing undefeated Sweden (2-0) on Thursday.
"Now we know we have to respect everyone in this tournament," said forward Mitch Marner. "Everyone has world-class talent. Next game we have to know that and make sure we come ready to play."
Blackwood, who will likely be in net again for Canada against Sweden, agreed with his teammates on the lesson learned.
"Respecting your opponents," said Blackwood. "Not taking anybody lightly. Any team can come out and surprise anybody.
"They caught us on our heels a little bit and came to play. Kudos to them."