Canada names roster for Rugby World Cup repechage tournament
Tyler Ardron and DTH van der Merwe lead a list of 34 players named by Canada coach Kingsley Jones for next month's Rugby World Cup repechage tournament in Marseille, France.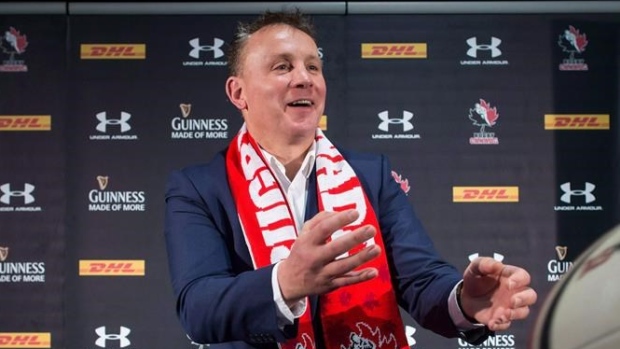 TORONTO — It's called the Rugby World Cup repechage, a last-chance qualifier for the sport's biggest showcase. But for Rugby Canada, it could be dubbed the $10-million tournament.
That's Rugby Canada's estimate of the cost of failing to make the Rugby World Cup. Miss out on the party and World Rugby, the sport's governing body, sends its largesse elsewhere.
Coach Kingsley Jones will be looking to hang on to those much-needed dollar signs next month when he leads Canada into the tournament in Marseille, France.
The Canadian men, currently ranked 23rd in the world, will be battling No. 21 Hong Kong, No. 28 Kenya and No. 29 Germany for the 20th and last berth in the 2019 World Cup in Japan. The round-robin repechage runs Nov. 11-23 at the 5,000-capacity Stade Delort.
Canada, which has never missed a World Cup, dropped into the last-chance qualifier for the first time after losing two-game playoffs against the 15th-ranked U.S. Eagles and No. 18 Uruguay.
Veteran scrum half Phil Mack will captain a team that features star forward Tyler Ardron, who plays for New Zealand's Chiefs, and high-scoring back DTH van der Merwe is with Scotland's Glasgow Warriors.
Other overseas pros on the roster include Jake Ilnicki, Brett Beukeboom, Evan Olmstead, Josh Larsen, Ciaran Hearn, Conor Trainor, Taylor Paris, Matt Evans and Shane O'Leary.
Jones has complained in the past that many of his overseas pros are not getting playing time with their clubs. But he said Friday that that situation has improved in recent weeks.
Scrum half Andrew Ferguson is unavailable due to a torn bicep. That earned a recall for Jamie Mackenzie.
The ongoing dispute with the sevens team has also impacted selection given the players have not joined the centralized playing pool over concern with their playing contract. Jones said two or three of the sevens players might have been considered had they been training.
While a resolution to the dispute appears in the works, Jones is sticking with what is in front of him.
"Those (sevens) guys not playing enough 15s, I think it's only right that we pick the guys who have been working really hard, (who have) put their hand up," said Jones.
"We're happy with what we've got," he added. "We've got a lot of quality."
Canada will warm up for the tournament with a pair of games in England against club sides — Oxford on Oct. 31 and Coventry on Nov. 5. Jones will then cut his roster to 30 for the repechage.
The six-day turnaround between the English warmup matches is the same as that of the repechage.
The repechage winner will slot into Pool B at the world Cup alongside top-ranked New Zealand, No. 5 South Africa, No. 14 Italy and No. 22 Namibia next fall in Japan.
Canada has never played Kenya and Germany. It is 5-1 all-time against Hong Kong.
Canada has competed in all eight previous World Cups dating back to the inaugural tournament in New Zealand in 1987.
"It's a critical part of Rugby Canada's future and obviously a huge part of our history," Rugby Canada CEO Allen Vansen said of World Cup participation.
Vansen and other Rugby Canada officials are in Montreal meeting with provincial rugby organizations.
"Regardless of what the (repechage) outcome is, we've got a lot of work to do to develop this game further, to really reap the potential that we have in the country as a rugby nation," he said.
Canada's RWC 2019 repechage roster:
Tyler Ardron, Chiefs (New Zealand), Lakefield, Ont.; Kyle Baillie, Westshore RFC, Summerside, P.E.I.; Noah Barker, James Bay AA, Courtenay, B.C.; Ray Barkwill, Seattle Seawolves (MLR), Niagara Falls, Ont.; Brett Beukeboom, Cornish Pirates (England), Lindsay, Ont.; Nick Blevins, Calgary Hornets, Calgary; Hubert Buydens, NOLA Gold (MLR), Saskatoon; Luke Campbell, James Bay AA, Victoria; Paul Ciulini, Aurora Barbarians, Vaughan, Ont.; Guiseppe du Toit, UVIC Vikes, Maple Ridge, B.C.; Matt Evans, Cornish Pirates (England), Maple Bay, B.C.; Doug Fraser, Castaway Wanderers, Ladysmith, B.C.; Ciaran Hearn, London Irish (England), Conception Bay South, N.L.; Matt Heaton, Darlington Mowden Park (England), Godmanchester, Que.; Eric Howard, NOLA Gold (MLR), Ottawa; Jake Ilnicki, Yorkshire Carnegie (England), Williams Lake, B.C.; Cole Keith, James Bay AA, Sussex, N.B.; Josh Larsen, Otago (New Zealand), Parksville, B.C.; Ben LeSage, UBC Thunderbirds, Calgary; Kainoa Lloyd, Mississauga Blues, Mississauga, Ont.; Phil Mack, Seattle Seawolves (MLR), Victoria; Jamie Mackenzie, Balmy Beach, Oakville, Ont.; Gordon McRorie, Calgary Hornets, Calgary; Shane O'Leary, Nottingham Rugby (England), Cambleton, N.B.; Evan Olmstead, Auckland (New Zealand), Vancouver; Pat Parfrey, Swilers RFC, St. John's, N.L.; Taylor Paris, Castres Olympique (France), Barrie, Ont.; Lucas Rumball, Balmy Beach RFC, Mississauga, Ont.; Theo Sauder, UBC Thunderbirds, Vancouver; Djustice Sears-Duru, unattached, Oakville, Ont.; Mike Sheppard, Stoney Creek Camels, Brampton, Ont.; Matt Tierney, Pau (France), Oakville, Ont.; Conor Trainor,USON Nevers (France), Vancouver; DTH van der Merwe, Glasgow Warriors (Scotland), Victoria.
Rugby World Cup 2019 Repechage Schedule
At Stade Delort, Marseille, France (All times ET)
Nov. 11: Canada vs. Kenya, 7 a.m.
Nov. 17: Canada vs. Germany, 10 a.m.
Nov. 23: Canada vs. Hong Kong, 3 p.m.
Follow @NeilMDavidson on Twitter