Canada routs Cuba in Women's World Cup qualifying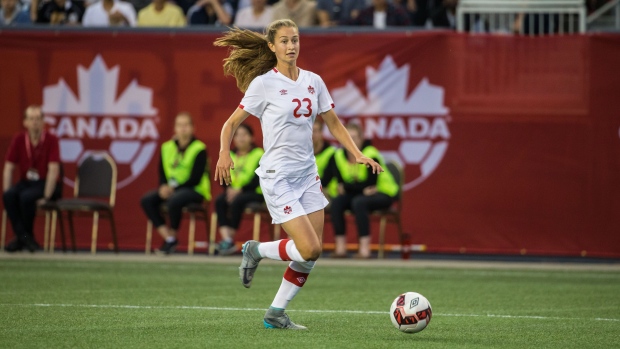 The Canadian women's soccer team displayed its depth in a dominant performance at World Cup qualifying.
Canada cruised to a 12-0 win against Cuba in its second game at the CONCACAF Women's Championship. Both Adriana Leon and Jordyn Huitema had four goals, while Christine Sinclair netted her 174th career goal, putting her 10 back of tying Abby Wambach's all-time record.
Deanne Rose, Rebecca Quinn, and Diana Matheson also scored for Canada. After struggling to finish offensively in their first game against Jamaica, the Canadians recorded their largest margin of victory since June 28, 2000, when they defeated Guatemala 12-0.
"We're feeling pretty good," said Leon. "It was a pretty dominant performance. I thought we kept the level high until the 90th minute. It was a good team performance."
"I think it was a game we set ourselves up to make sure we kept our standards," said head coach Kenneth Heiner-Møller. "We knew that no matter who we're playing, our standards should always be our bar."
Kailen Sheridan, in her fifth career start, earned her fourth clean sheet. The team has yet to concede a goal through its first two games.
Canada, ranked fifth in the world, now sits atop Group B with six points, three more than both Costa Rica and Jamaica. Canada will close out group play against Costa Rica on Thursday. The top two teams in each group advance to the semi-finals, with the top three teams in the knockout stage earning an automatic berth in next year's Women's World Cup in France.
This was just Canada's second-ever meeting with Cuba, ranked 88th in the world. Canada defeated the Caribbean side 2-0 in a 2012 CONCACAF Women's Olympic qualifier.
NEW LOOK LINE-UP
After defeating Jamaica 2-0 in their opener, Heiner-Møller fielded a very different team for the second game of the tournament. Sinclair started on the bench, while regulars like goalkeeper Stephanie Labbé, centreback Kadeisha Buchanan, midfielder Jessie Fleming, and forward Janine Beckie didn't play.
Seven new players were in the starting 11, including 17-year-old Huitema and 18-year-old Julia Grosso, who were making their third and second career starts respectively for the senior team. Overall it was a young group of starters, with an average age of 23.6.
"Sometimes the most important players are actually the ones who aren't seeing a lot of game time, because they make sure that the rest of them stay sharp. I think this time around, we've got a very deep squad, and shows today that they can play in this tournament," said Heiner-Møller.
With Emma Regan and Gabrielle Carle subbing into the game in the second half, every player on the roster has made an appearance in the tournament. Regan, 18, earned her first cap with the senior team.
THE NEXT GENERATION
Huitema has been turning heads since she made her senior team debut at 15, and on Monday the teenager showed why. She tripled her career international goal total, and now has six in 13 appearances for the national team.
Her first two goals came off headers, as she was able to take advantage of her nearly six-foot frame on numerous occasions. In the second half, she completed the hat trick, as her shot from near the top of the box took a deflection and found the far corner.
Huitema, who many have been dubbing as "The Next Sinclair," had a chance to play with her idol in the second half when the captain subbed into the game. Interestingly, the Canadian legend was also 17 when she recorded her first hat trick for the national team (June 28, 2000 against Guatemala).
It was also Sinclair who assisted on Huitema's fourth goal. With the two forwards alone behind the Cuban backline, Sinclair unselfishly put the ball on a platter for Huitema.
Huitema had set up her idol earlier in the game for Sinclair's 174th career goal. After Huitema crossed the ball, Sinclair took advantage of some miscommunication by the Cuban defenders and buried it in the corner. Earlier on Monday, the 35-year-old was also named one of 15 nominees for the inaugural women's Ballon D'or.
"Some people out there have got good taste in soccer players, I guess," joked Heiner-Møller.
"It's a privilege to coach players like Sinclair. I think what's most fantastic about being on the pitch with her is that she just wants to continue improving, and that's what the big players are all about."
LEON ROARS
Not to be forgotten, Leon recorded her first career multi-goal game with the senior team. Usually an impact player off the bench, Leon made her 26th career start, and had entered the game with eight career international goals in 51 appearances.
Just under a week after celebrating her 26th birthday, she opened the scoring for Canada in the 11th minute. Rose caused a turnover, and veteran Matheson, who earned her 198th cap, set up Leon alone in front.
In the 23rd minute, fullback Ashley Lawrence found Leon with a beautiful one-touch pass, and Leon deked around her defender and buried. Her third and fourth goals were also emphatic finishes. Leon added an assist when she set up Huitema on her second goal with a great cross into the box.