Canada sets WJC roster at 22
Canada's roster for the 2017 World Juniors has been set. The team made five final cuts following an 8-0 tune-up win over the Czech Republic. Canada's roster now sits at 22 after the releases of goaltender Michael McNiven, forwards Sam Steel and Zach Senyshyn and defencemen Guillaume Brisebois and Samuel Girard.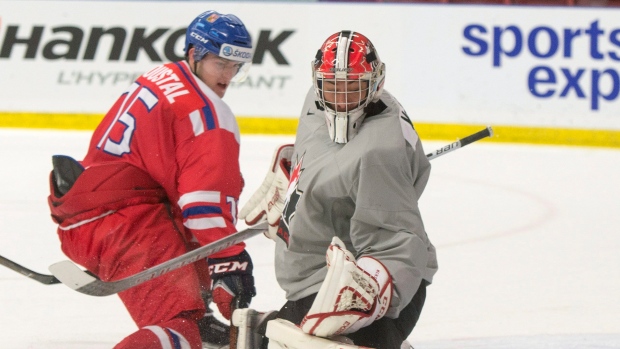 Canada's roster for the 2017 World Junior Hockey Championship has been set.
Canada made five final cuts on Wednesday night following an 8-0 win over the Czech Republic in an exhibition game held in Boisbriand, Que. After the latest cuts, Canada's roster sits at 22.
Gone are goaltender Michael McNiven, forwards Sam Steel and Zach Senyshyn and defencemen Guillaume Brisebois and Samuel Girard.
"We've had a great selection camp, and I can see this group of players really beginning to work together and getting better every day," said Canada's head coach Dominique Ducharme in a release. "It's never easy to make the difficult decisions of releasing players, and that's a testament to Canada's depth of talent. [Assistant coaches] Kris [Knoblauch], Tim [Hunter] and I are looking forward to continuing to work with these players to fine-tune our game and be ready when we start the tournament on Boxing Day."
Of the five released from camp, only McNiven of the Ontario Hockey League's Owen Sound Attack is undrafted. The remaining four - Steel (Anaheim Ducks), Senyshyn (Boston Bruins), Brisebois (Vancouver Canucks) and Girard (Nashville Predators) - were drafted either last June or in 2015.
McNiven did, however, sign a three-year entry level contract with the Montreal Canadiens in 2015.
The released quintet is taking the cuts in stride.
"Obviously, [I am] disappointed, but at the end of the day it's still a game," Brisebois told TSN's Mark Masters. "I'll go back to [the Quebec Major Junior Hockey League's] Charlottetown [Islanders] and just keep going."
McNiven told Masters that he felt he was fighting a bit of an uphill battle to make the squad.
" I was the underdog and, other than the first game, I was pretty impressed with myself," McNiven said. "It is how it is and I hope all the boys have a good time and bring home gold."
Steel looks at his time at camp as a learning experience.
"It's tough now but I'm sure I'll get through it and hopefully learn from it," Steel said. "I thought I played a decent game, but there a lot of good players here."
If any of the five cuts could be considered a surprise, it would be Girard.
"I think it was a question of fit for them," Girard said of his release. "I'll go back to my junior team and perform there and be ready for next year."
This is Canada's "final" roster. The National Hockey League roster freeze for the holidays is set for Monday, meaning it's the final day that an NHL team can loan a player to the Canadian entry, but TSN Hockey Insider Bob McKenzie confirms that the team will not receive any additions from the NHL.
Lawson Crouse and Jakob Chychrun of the Arizona Coyotes, the New York Islanders' Anthony Beauvillier, Mitch Marner of the Toronto Maple Leafs and the Philadelphia Flyers' Travis Konecny were among those still technically eligible for selection.
Edmonton Oilers captain Connor McDavid is also still eligible, but McKenzie says that Hockey Canada didn't even make a call on his availability, knowing that the phone call would be a short one.
Canada will play its first of three pre-tournament games on Monday night when it hosts Finland in Montreal.
The team's first tournament action comes on Boxing Day when it takes on Russia in Toronto.