Canada shuts out Czechs in WJC tune-up
Mitchell Stephens and Taylor Raddysh each scored twice as Canada routed the Czech Republic 8-0 in a preparation game Wednesday for the world junior hockey championship.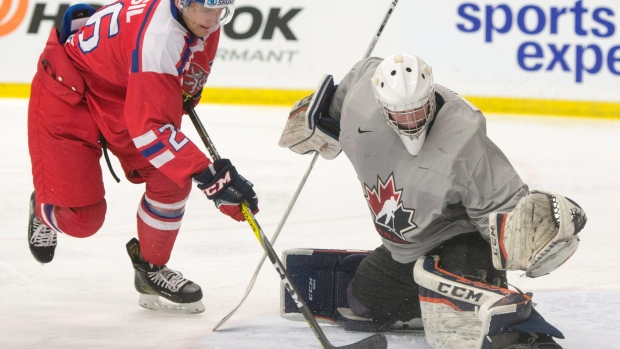 BOISBRIAND, Que. — With final cuts looming, Canada stormed out of the gate and overwhelmed the Czech Republic 8-0 on Wednesday night in a preparation game for the world junior hockey championship.
Mitchell Stephens and Taylor Raddysh each scored twice while Julien Gauthier, Dillon Dube, Anthony Cirelli and Mathew Barzal also had goals for Canada, which played a third game in three days after a pair of wins against the U Sports all-stars. Canada outshot the Czechs 33-17.
"We had a good team game tonight, all our lines were going," said Raddysh. "It's your last time to shine in front of the scouts and the coaches and I feel like every one put it on the line.
"We all knew what was at stake. We all responded well to that. Everyone knew what we had to do."
Canada wrapped up a four-day selection camp for the world juniors Dec. 26 to Jan. 5 in Montreal and Toronto.
The final five cuts were announced post-game to trim the roster to 22 players.
Goaltender Michael McNiven, defencemen Samuel Girard and Guillaume Brisebois and forwards Sam Steel and Zach Senyshyn were the five to be given the bad news.
Canada was all over the Czechs from the outset, outshooting them 11-4 in the first period and scoring three times.
"The guys skated, we were on the puck," said coach Dominique Ducharme. "We were taking time and space and when we had the puck, we moved it well.
"It was simple, but we were playing together. We're getting better at that. We had some guys released and we're geting coser to our final team and it was good to see the way the guys reacted."
Canada made it's first four cuts on Tuesday as defenceman Victor Mete and forwards Brett Howden, Nick Merkley and Auston Wagner were sent back to their junior teams.
Vojtek Budik misplayed a pass at the Canada blue line and Gauthier grabbed it and bulled his way in on a breakaway to beat Daniel Vladar 1:26 into the game.
Another turnover saw Raddysh complete a three-way play with Mathieu Joseph and Barzal at 10:06 and Dube converted a feed from behind the net from Stephens at 11:44. Raddysh knocked over Skarek and Barzal shot into the vacated net at 14:32.
Canada starter Connor Ingram had to be sharp with the glove on a tip by Lukas Andel for his best stop.
Nearly identical goals 14 seconds apart early in the second frame on shots into an open left side of the net by Stephens and Cirelli chased Vladar, who gave up five goals on nine shots, in favour of Jakub Skarek.
Stephens banged in Dube's feed at the side of the net 1:42 into the third and Raddysh one-timed a feed from Barzal for his second at 6:30.
Ingram was replaced by McNiven at 11:04 of the second after stopping all six shots he faced.
McLeod was rocked by an open ice hit to the head by Boston Bruins prospect Jakub Zboril, who drew a minor and a misconduct, late in the first period. He was shaken up but stayed in the game.
Forward Tyson Jost, who took a shot on the ankle against U Sports on Tuesday, was a late scratch and was replaced by Cirelli.
As well as five Tampa Bay prospects (including Cirelli) on Canada's team, Lightning draft pick and Saskatoon Blades defenceman Libor Hajek (37th overall 2016) suited up for the Czechs.
Canada scratched goalie Carter Hart, defenceman Noah Juulsen and forwards Dylan Strome and Nicolas Roy.